Looking for a great way to dress up your Thanksgiving table!? Check out our "no sew" turkey table runner craft.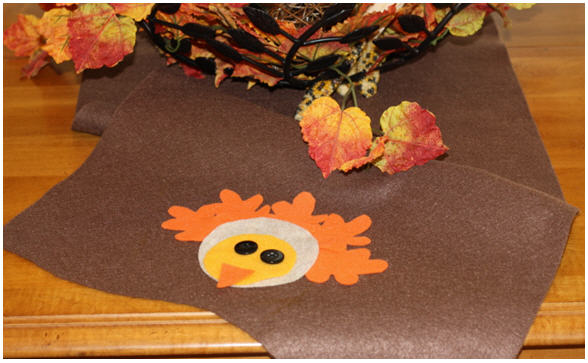 Here's what you'll need:
Brown felt, 19′ x 72′
Orange felt, 12′ x 12′ block
Light brown felt, 12′ x 12′ block
Yellow felt, 12′ x 12′ block
4 black buttons
Fabric glue
Scallop ruler or medium size bowl
And here are the simple steps and a template:
Take a scallop edge sewing ruler (or a medium size bowl) and mark your scallop ends.
Trim your runner to match the length of your scallop. It should be approximately 17′ x 72′.
Cut your scallop onto each end of the runner and set the fabric aside.
Print off our template and cut out each piece. You'll need two of each shape with the exception of the leaf where you'll need 10 (five per turkey). (Orange – leaves; Light brown – large turkey body; Yellow – small turkey body; Orange – beak)
Center the large turkey body circle in the center of your table runner, about 4 inches from the end of your runner and glue down the bottom of the circle. (Tip: Place your runner on the table before gluing and make sure that your turkey will be completely off the end of the table on each end.)
Glue five leaves behind the base body in a fan and then glue down the remaining body circle
Glue on the yellow small turkey body and orange beak.
Sew on button eyes.
Don't forget the placecards to match!
And for more Thanksgiving decorating ideas:  Pumpkin Art Craft and DIY Moss Monogram Wreath.
As always, I hope you're inspired to craft, bake, create and celebrate!
INSTAGRAM | FACEBOOK | PINTEREST | GOOGLE+ | TWITTER | YOUTUBE | BLOGLOVIN
No Sew Thanksgiving Table Runner seen first on The Celebration Shoppe.