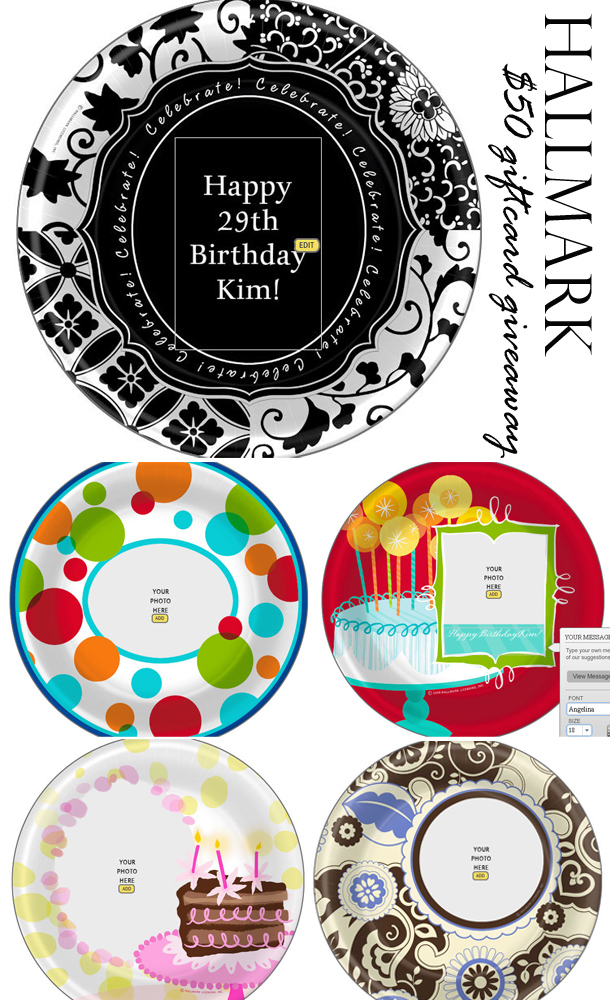 While at BlissDom this year (read my recap) I met some fabulous brands, one of which is letting me give a little something, something away! My new friends at Hallmark are offering one lucky reader a $50 giftcard that can be used for these fabulous personalized party plates and/or personalized greeting cards at Hallmark.com!
Have you seen the personalized plates? I hadn't until I walked into BlissDom and saw Allie and Barbara's faces on plates we were using for one of the snack sessions. FUN! And I love that not only can you add a photo, but you can add text, or just text (note the comedy in the black and white sample above. I can only wish I were still 29…).
The black and white would be perfect with my divine, bubbly or blossoms collections! And I just LOVE the floating dots in the next row. Those would be fun with my deep blue sea collection and the chocolate cake plates below that are perfect with a number of my pink girly girl birthday collections. I could go on and on!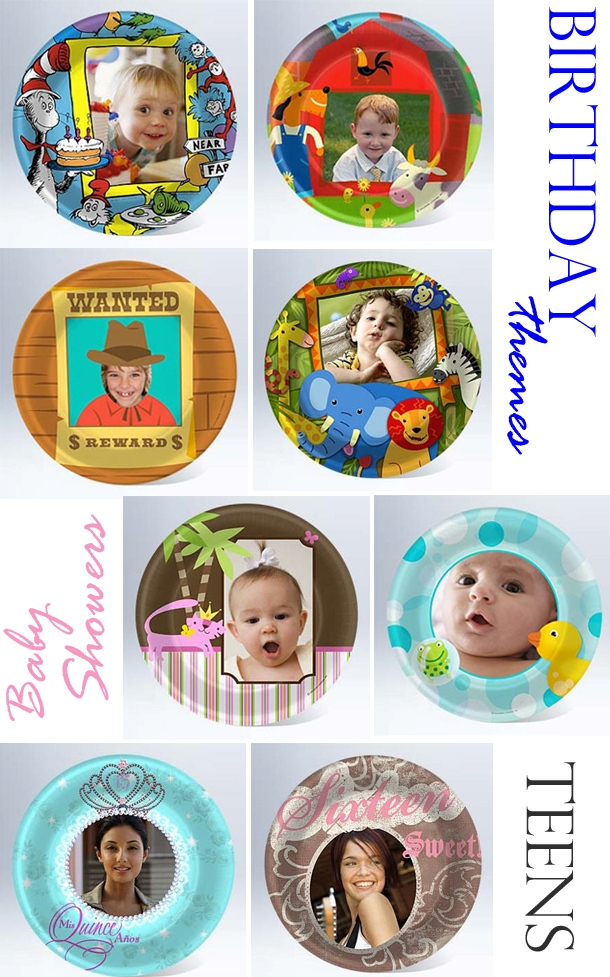 They also have a number of themed plate designs for birthdays, baby showers, teen parties and more!
—————————————–
TO ENTER THE GIVEAWAY
Visit Hallmark.com and let us know what fabulous design you will order if you win! Leave a comment below to enter!
To earn a second entry, like The Celebration Shoppe on

Facebook

! Be sure to come back here and leave a comment so we know you've joined us (and we have your e-mail)! 
To earn a third entry, tweet the following, I entered to win $50 from @hallmarkpr on @celebshoppe http://tinyurl.com/4zkuk9v  
Deadline to Enter is Friday, February 25. Winner will be announced and e-mailed the giftcard code on Monday, February 28.
As always, I hope you're inspired!