This shop has been compensated by Collective Bias, Inc. and its advertiser, Mars Wrigley Confectionery US, LLC. All opinions are mine alone. #FlauntYourHaunt #ZombieBingoCards​ #CollectiveBias
Halloween games for kids are the best! And this year I'm sharing Free printable Zombie Bingo Cards that you'll want to play with SKITTLES® Zombie FUN SIZE® Candy available at Walmart. We're also using the M&M'S® FUN SIZE® Lovers Variety Mix Stand-up Pouch candies for those that prefer to play it safe.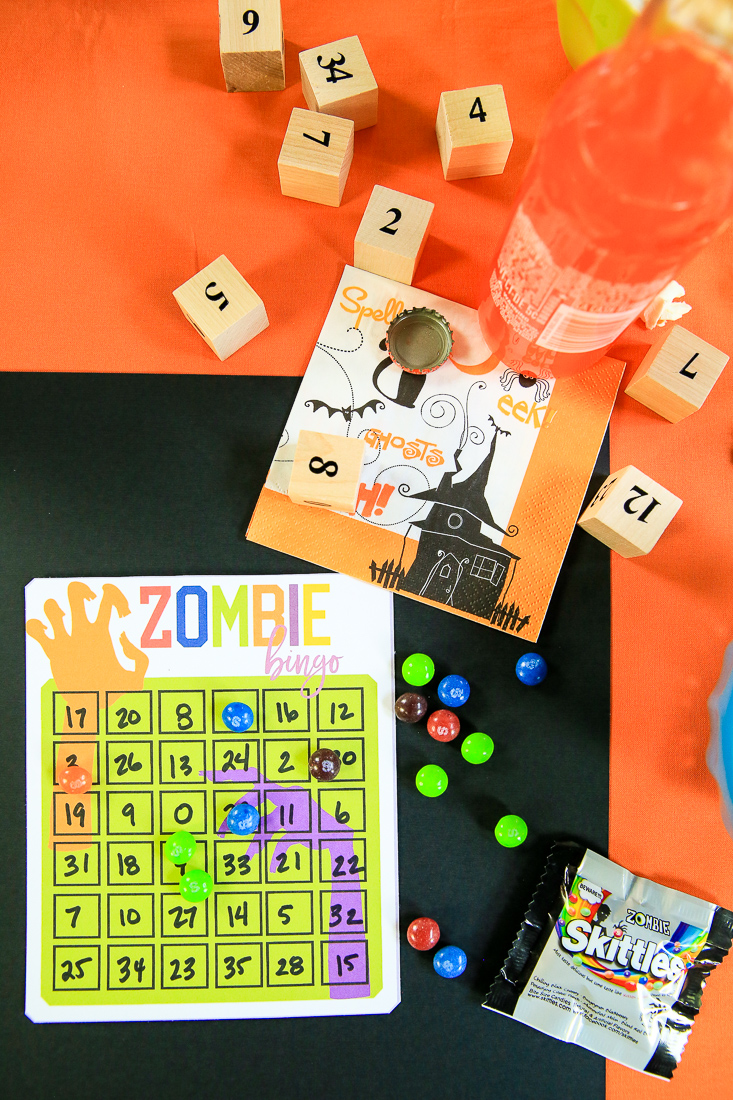 You see, these aren't just any SKITTLES® candy. These are special. Most taste delicious but some taste like ROTTEN ZOMBIE! Do you dare to try?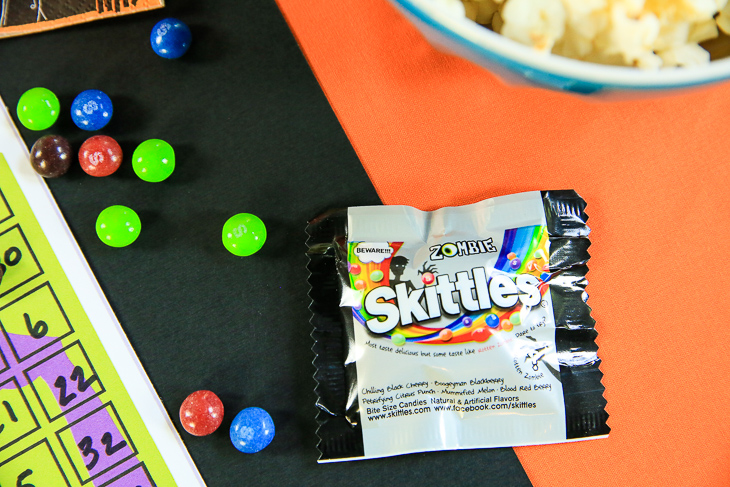 If you read closely the flavors are Chilling Black Cherry, Boogeyman Blackberry, Petrifying Citrus Punch, Mummified Melon, Blood Red Berry, and yes, some Rotten Zombie!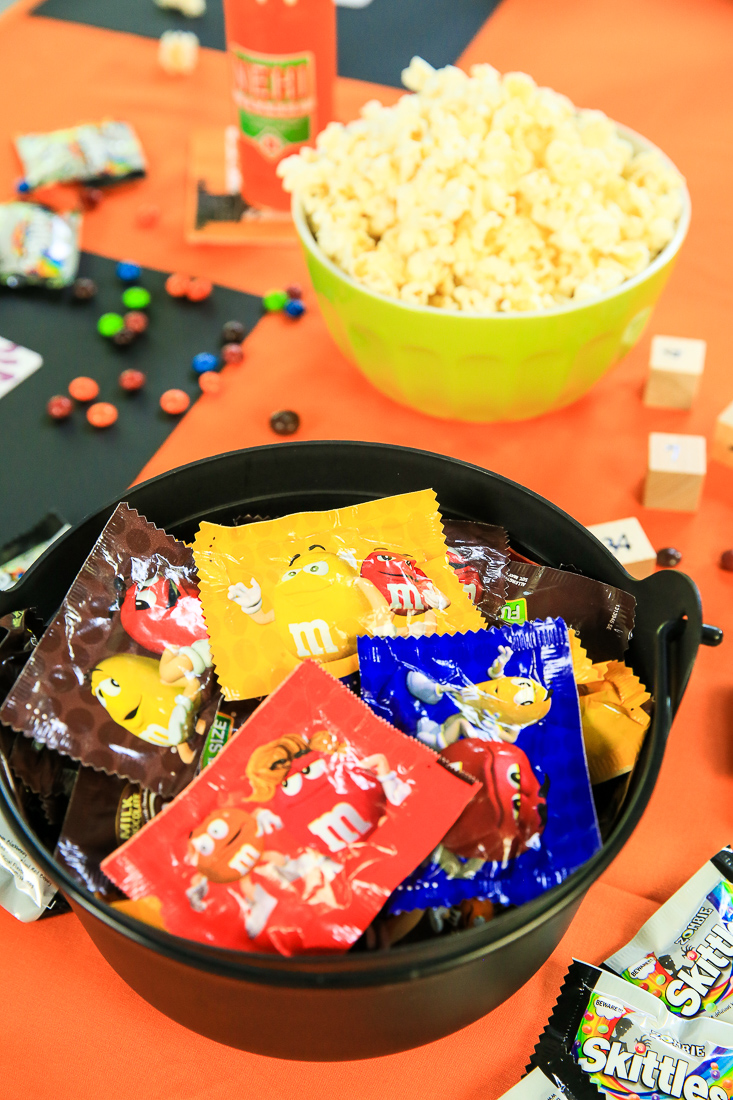 My family really enjoys the Halloween season. We race right from back to school activities head on into fall and Halloween. We start decorating early, we host pumpkin carving parties, have bonfires with friends, it's just such a fun time of the year!
I'm excited to show you how my family flaunts our haunt over five fun and simple ideas to make your Halloween creative and stress-free! Halloween is not just a night, but a whole month of spooks and sweets!
How To Set Up Halloween Games For Kids (and Adults!)
Let's kick things off with how to set up Halloween games for the kids! After many years of hosting Halloween parties, I've found a few things to be true. Make everyone feel welcome, and equal, and you'll have very happy ghosts and goblins!
Serve Snacks – In my home, game night is almost as much about the treats as it is about the game. Make sure you have a variety of goodies.
Choose Games That Everyone Can Play – If you have a variety of ages, make sure you select game ideas that the entire group can play. My ZOMBIE BINGO is perfect for every age. As soon as they know their numbers, they're ready!
Pick Just The Right Spot – If indoors, make sure everyone has a seat, and if you don't have enough, pull up a rug. Just move the game to the floor so everyone feels equal and included.
How To Play My Zombie Bingo Game
I'm really excited to share my Zombie Bingo Game! I was completely inspired by the SKITTLES® Zombie FUN SIZE®​ candies.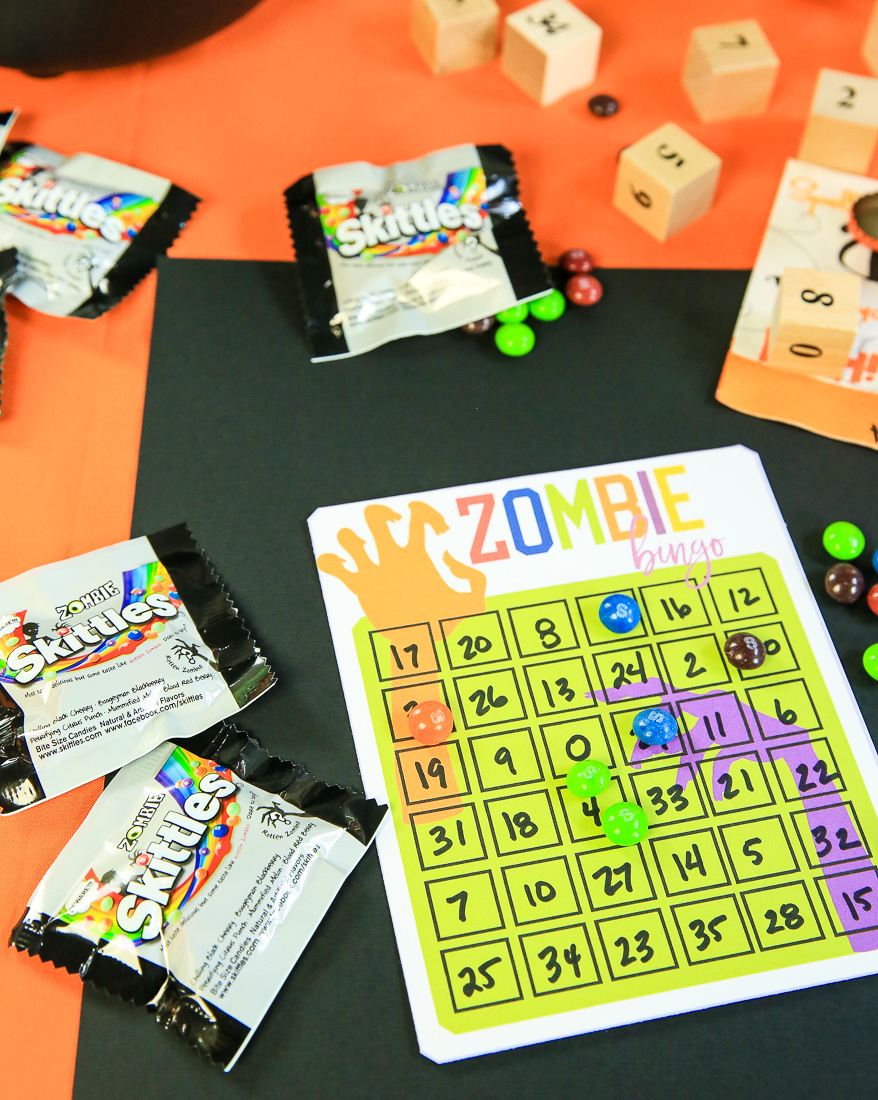 Open Markers – Using the SKITTLES® Zombie FUN SIZE®

​

candies and M&M'S® FUN SIZE® Lovers Variety Mix Stand-up Pouch

​

candies as markers, open two packs by each card.
Roll Die or Select Ball – Place these in a basket. If you have wooden balls, select one. If you're using wooden dice, select one and roll. (Note: Die must be placed back in the basket for other number to be used. If you roll the same number twice, just re-roll.)
Mark Numbers – Place a piece of SKITTLES® candy on the bingo card over the number rolled.
If You Dare – When you get two numbers in a row, try one of the SKITTLES® Zombie FUN SIZE®

​

candies and hope you don't get the ROTTEN ZOMBIE!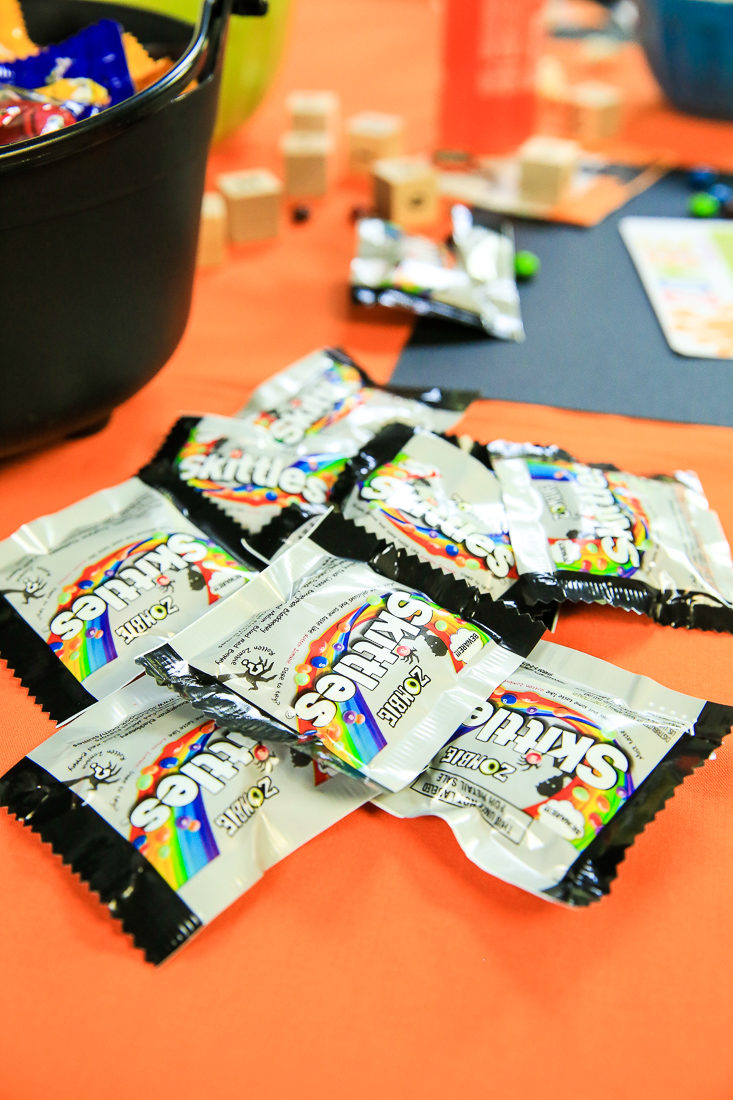 Make The Game
Free Printable Zombie Bingo Cards (download below)
SKITTLES® candies & M&M'S® candies (aka Bingo Markers)
Wooden Blocks or Balls
Number Stickers
Black Marker
Scissors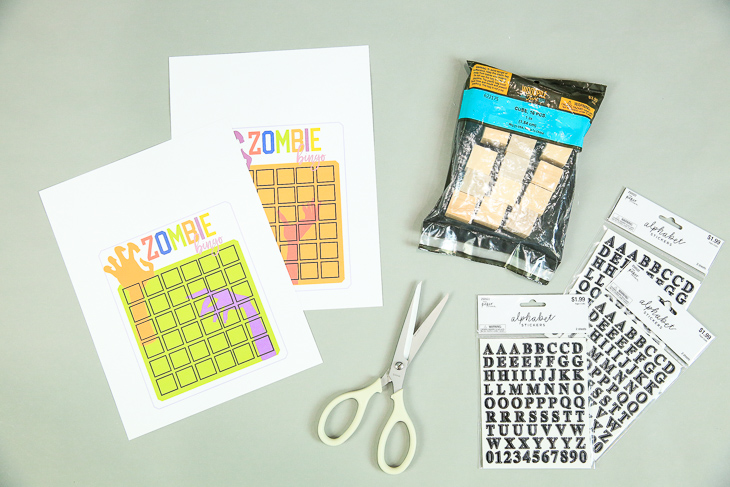 Cut out bingo cards
Mark each square with a number 0 – 35
Place stickers to match on wooden blocks, or balls. (Tip: If blocks, you'll need fewer since you can roll them like dice.)
Download FREE Zombie Bingo Cards
I designed two versions, one orange and one green. Print as many as you need for all your guests!
I recommend printing your trunk or treat signs on 100 lb. white cardstock, but regular printer paper will do great too if that's all you have.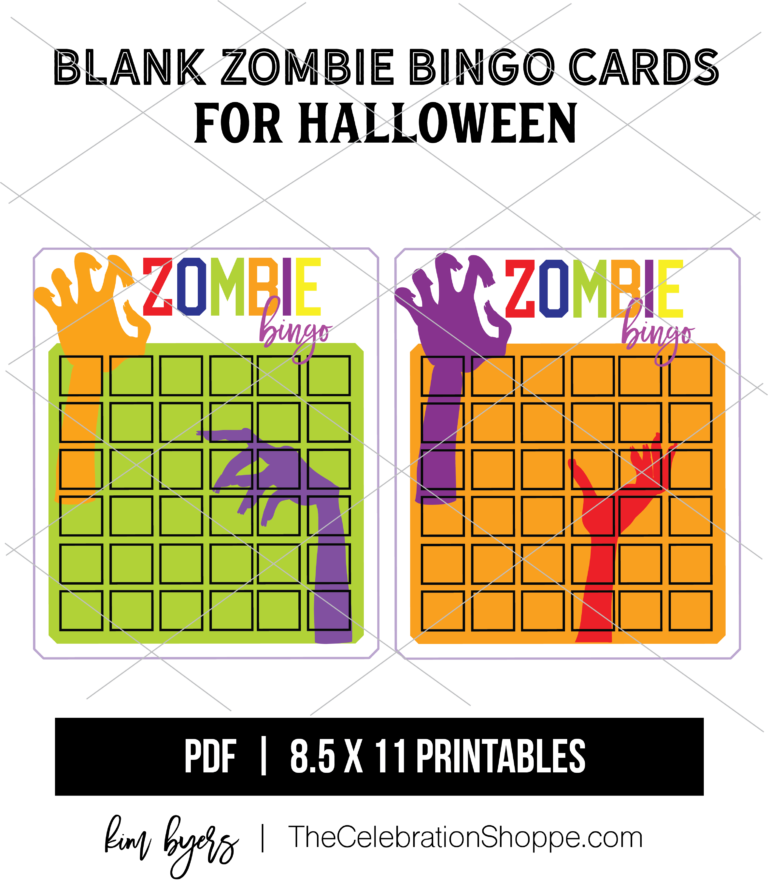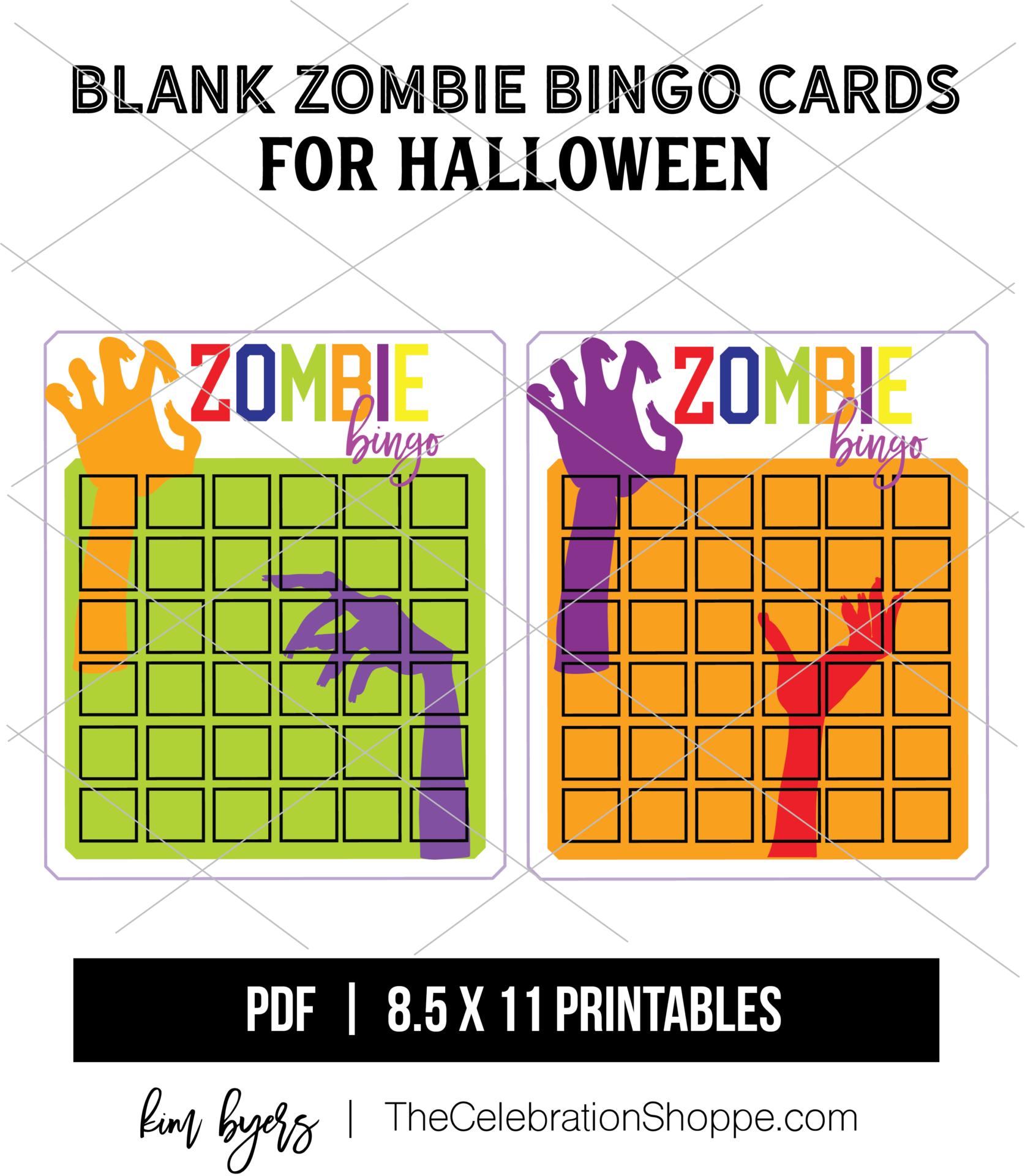 Click and Download Blank Zombie Bingo Cards
Shop This Halloween Idea
Walmart has all the supplies to host a fun family and friends game night, including the fabulous SKITTLES®​ Zombie FUN SIZE® Candy​ and M&M'S® FUN SIZE® Lovers Variety Mix Stand-up Pouch​!
Click The Image
To Buy M&M'S® Lovers and SKITTLES® Zombie FUN SIZE® Candy right now!
More Halloween Ideas Coming Your Way
I'll be sharing new Halloween ideas with free printables every Tuesday for the next four weeks so make sure you stay tuned. If you liked this week's Zombie Bingo, you'll love next week's fun and creative ideas for trunk or treating! Don't miss it!
Nutritional Information


As always, I hope you're inspired to craft, bake, create and celebrate!
INSTAGRAM | FACEBOOK | PINTEREST | TWITTER | YOUTUBE
This post contains affiliate links, which means if you purchase something through this post I will earn a small fee from the retailer at absolutely no cost to you. They pay me for bringing you to them and I use it to keep the craft room stocked and the coffee pot working! Don't worry. All content, ideas, photography and opinions are that of my own and I'd have it no other way!