Homemade hot chocolate stir sticks! The perfect cold winter's day treat. YUM!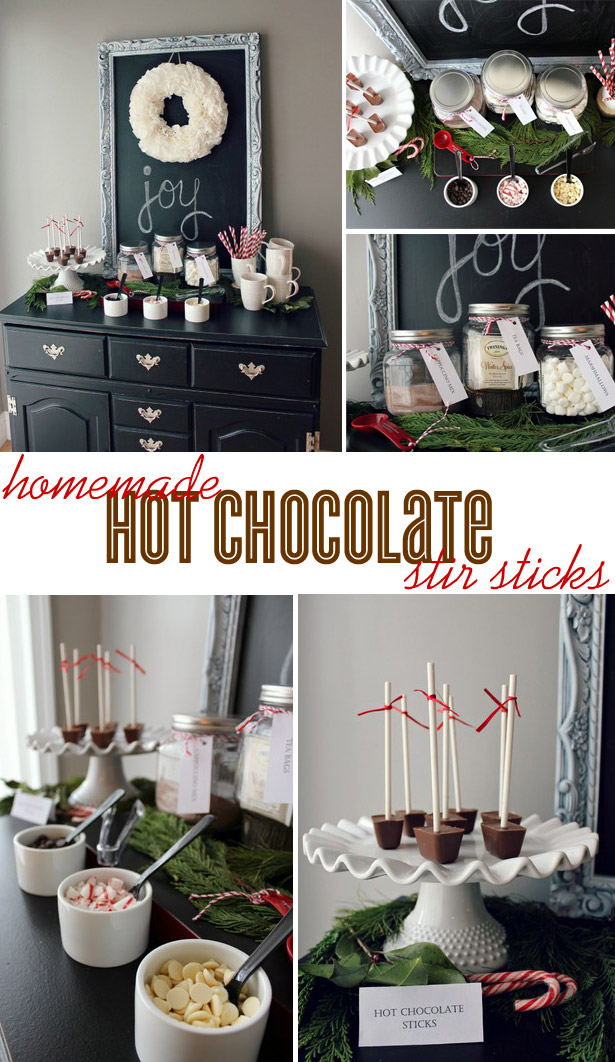 Hello friends! It's my favorite time of year! The season of festivities, family, friends, and too much good food, is among us!
Last Winter, I arranged a hot drink bar in hopes of kindling a 'help yourself' atmosphere for guests in our home. It was a huge hit! I love when guests feel welcome, and free to help themselves. This year I did the same bar again, featuring Homemade Hot Chocolate Stirrers! Your family will love this fun alternative to traditional hot chocolate mix!
Hot Chocolate Stirrer Recipe
1/2 cup heavy cream

14 oz can sweetened condensed milk

2 cups semisweet chocolate chips

1 cup white chocolate wafers

3/4 cup unsweetened baking chocolate

lollipop sticks
…………………………………………..
Heat cream and condensed milk over low heat, until steaming.

Remove from heat and add chocolate. Allow it to melt.

Return the chocolate mixture to low heat to completely melt.

Whisk until mixture is thick.

Spoon into ice tray molds, trying to evenly distribute chocolate.

Shake the tray to level and settle chocolate.

Put tray into the refrigerator for 10 minutes.

Check, and when solidifying, stick lollipop sticks into the center of each unit.

*the chocolate should hold, and each stick stand upright.

Place back into the refrigerator for 1 hour.

Pop each block out of the mold.

To make the hot chocolate, simply add a stick to a cup of hot milk.

Stir until completely melted.
I like to make a double batch of stirrers for freezing, and to have on hand. They are prefect for last-minute company, and gift-giving! Enjoy and come visit me at Amelia Marie Design for more creative ideas!


As always, I hope you're inspired to craft, bake, create and celebrate!