Chalkboard banners are all the rage. One banner that you can easily change for any occasion… love! I created four chalkboard crafts for Jo-Ann Fabric and Craft Stores' latest Idea Market Lookbook. The Lookbook is online and in stores so make sure you pop in and grab a copy. My projects and my face are in stores too. Eek! I'm not sure where it will be in your store, but look for the isle dedicated to chalk crafts.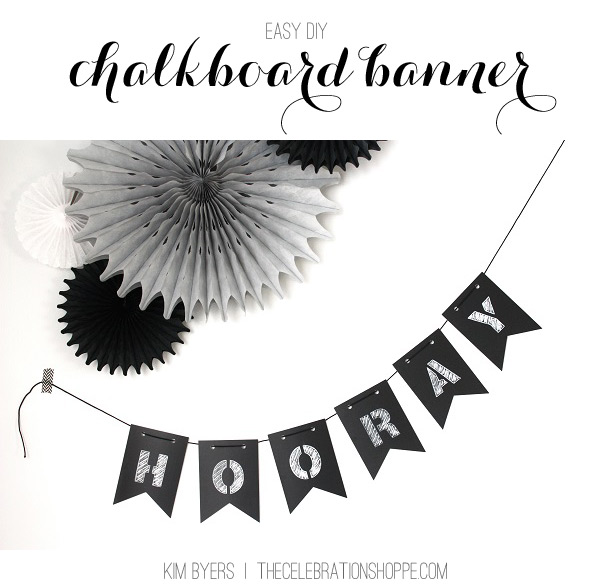 You can skip right over to Jo-Ann for all the details on how to create this easy banner, plus you can purchase all the supplies right there online and they'll ship to your house! Love that feature.
Want to know how to transfer a hand drawn or printed design to chalkboard? 
Type or write sentiments
Transfer sentiment – flip paper over and chalk entire back with the side of a piece of chalk. Center and tape paper to chalkboard. Pencil over entire design and the chalk will transfer to the chalkboard. Remove paper.
Darken chalk – the pencil transfer may be enough, but if you prefer a brighter effect, use a piece of chalk to go over the design again.
Cleanup – A damp paintbrush, fine tip is best for small areas, is the perfect eraser and if you're like me, you'll need one.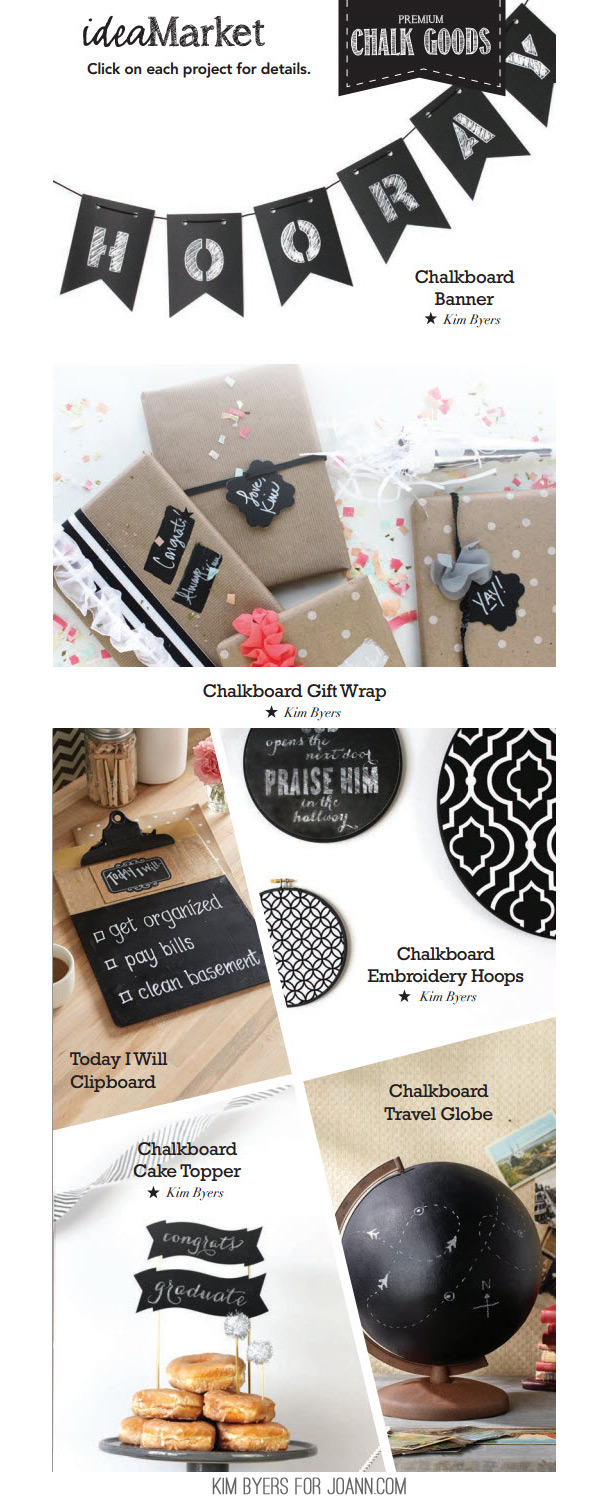 You can see all my projects in the Jo-Ann Fabric and Craft Stores Summer Lookbook AND in stores. This is just a little peek. And as I mentioned above, most stores even have an isle dedicated to chalkboard project supplies, along with bigger images of these projects. It's a bit surreal and I'm so thankful.
Did you miss my chalkboard embroidery hoop crafts and a peek into one corner of my studio? Make sure you hop over for a look and to get the designs!
As always, I hope you're inspired to craft, bake, create and celebrate!
The Celebration Shoppe receives a form of compensation for ideas, styling and photography from time to time. All opinions expressed are genuine and not that of the sponsor.