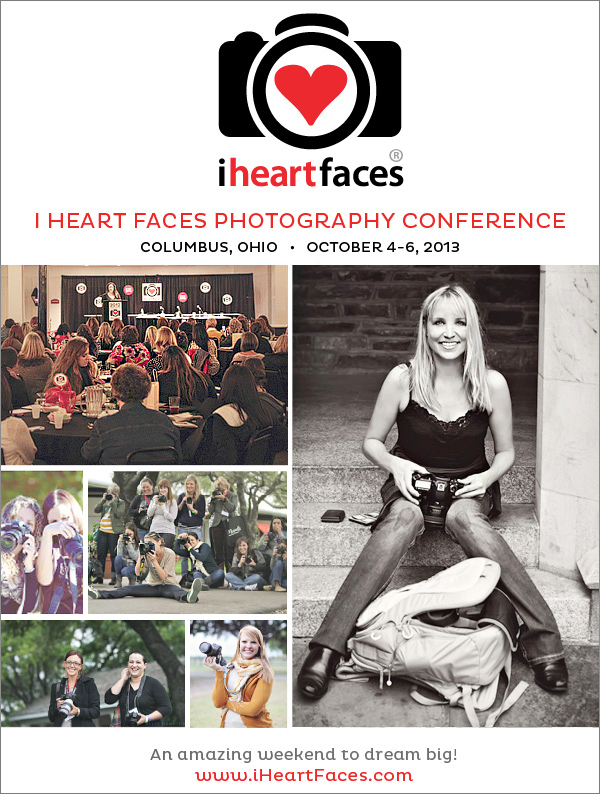 Hey ladies! Okay, I'm giddy. I'm heading to this year's I Heart Faces Photography Conference for Women! Woo Hoo!
It's going to be amazing! It's this October in Ohio. For those of you know me, you know I live in Ohio so I want to be the first to tell you that the change of seasons here is an amazing burst of color! It's total eye candy for photographers.
And I've known Amy and Angie, the co-founders of I Heart Faces, for years. They are both amazing photography talents, but not only that, they're smart business women. If you want to take your photography skills (I know I do!) or your photography business to the next level, join us!
As you can tell from this video, the conference is covering a multitude of topics. You'll find amazing speakers and teachers, creative entrepreneur business sessions, hands-on camera lessons, photo editing, specialty workshops, a photo walk and oh yeah, a opening night party!
There is a ton more detail about this year's conference on I Heart Faces including details about each workshop and the guided tour of Amish Country that is open to the public (those not attending the conference).
If you come, please find me. I'd love to meet you in person! And if you can't come this year, make sure you stop over at the I Heart Faces website for regular photography tips and challenges. I swear I learn something new from there every single week.
And as always, I hope you're inspired to craft, bake, create and celebrate! 

Join The Celebration Shoppe on facebook, sign-up for the daily ideas to come right to your inbox (never miss an idea, giveaway or free printable!), connect with Kim on twitter, pinterest and on instagram. And don't forget to shop the party store for birthday, baby shower and holiday party supplies. Oh, and now you can follow the blog with Bloglovin too! Hope to see you around!