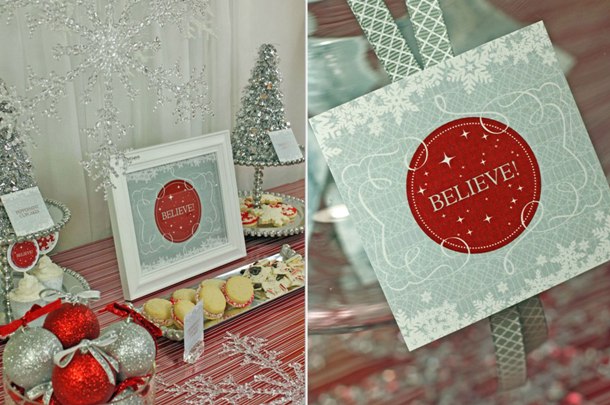 I'm so very proud to introduce BELIEVE as our 57th collection! BELIEVE offers an elegant palette for cookie parties, cocktail parties, family gatherings and even charitable events. In addition to the custom invitations and thank you cards, and silver square dinner and dessert plates, this collection has several printable components as well. Above you can see our 8×10 "BELIEVE!" mat, which we used on our dessert table flanked by two silver serving trays topped with shimmering Christmas trees and our "BELIEVE!" tag, perfect for favors or even Christmas presents from Santa!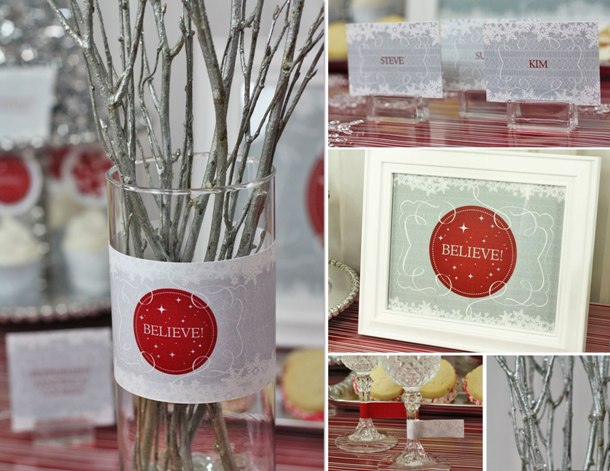 Our beverage wrappers are not only great for wrapping wine and water bottles, they are also perfect for embellishing your centerpieces. We chose silver branches from the craft store to give the table a little pop. We also designed beverage markers so you won't lose your glass of wine and beautiful placecards to help your guests' find their seats.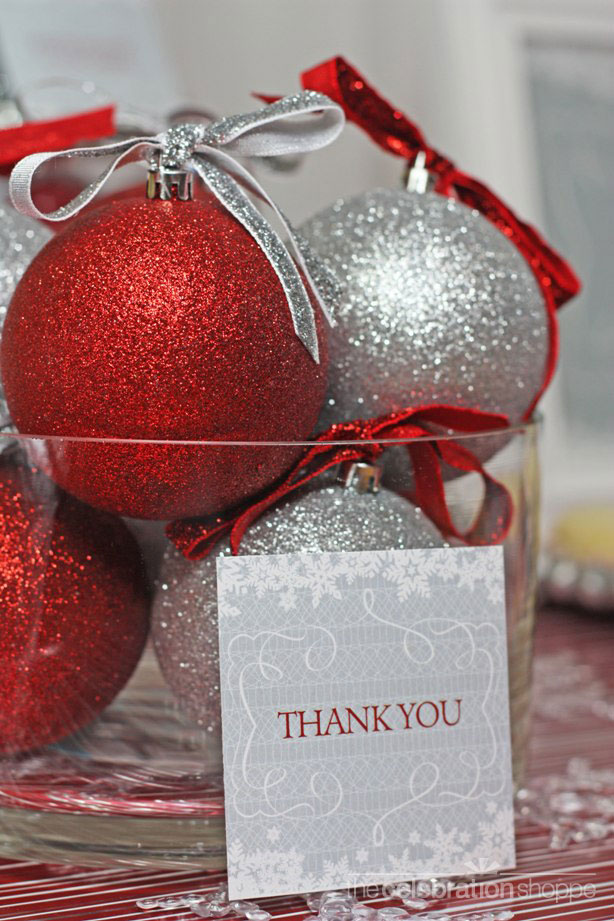 Who said favors had to be expensive to be dazzling?! I chose a simple ornament favor idea to showcase our square "Thank You" favor tags for this collection: silver and red glitter ornaments tied with beautiful shimmering ribbon.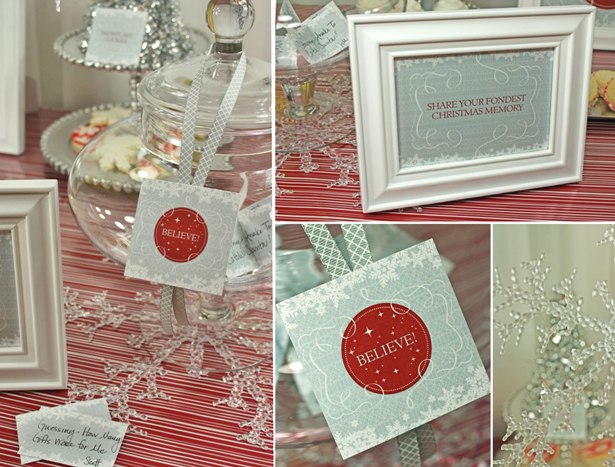 And if you're a hostess that likes to have an activity or two up her sleeve, my "Fondest Christmas Memory" printable kit (includes 5×7 mat, the square BELIEVE favor tags and blank snowflake cards) will help get all your guests in the spirit. The idea is that everyone writes down their fondest memory, places it in the jar and then later in the evening you can read them aloud and let everyone guess who wrote the memory. Mine is from the Christmas just before I turned nine. My brother and I sat at the kitchen table for hours coloring pictures from a coloring book. Then we cut them all out and hung them on the tree as ornaments. They clashed a little with all of my mom's lovely ornaments, but in true mom style she left them on the tree for the entire holiday season and still has a few of them in her holiday "happy boxes" as she calls them.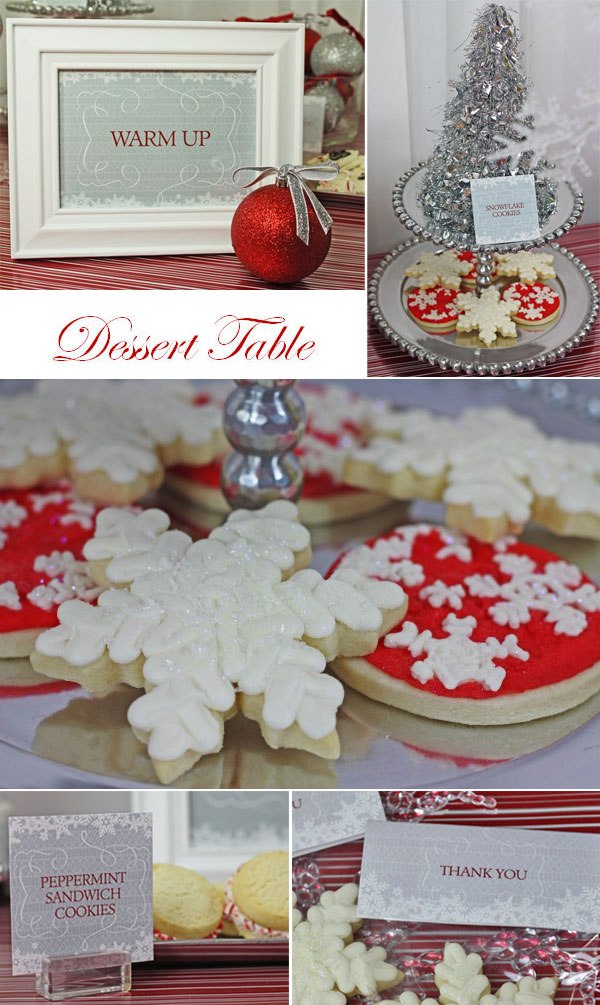 And what dinner party is complete without a dessert bar?! Our collection offers a "Warm Up" beverage mat perfect when you're serving hot cocoa or even a warm toddy, dessert labels (six pre-filled plus a blank sheet so that you can overprint your own desserts), and cello toppers embellished with "Thank You" so you can send your guests home with a few sweet treats, like the yummy hand-iced melt-in-your-mouth butter cookies from our partners at Sweet Tooth Cottage. You'll find these lovely cookies with the rest of the collection in our shoppe. (Read more about cookie sizes, ingredients, shipping and packaging on our About Us page.)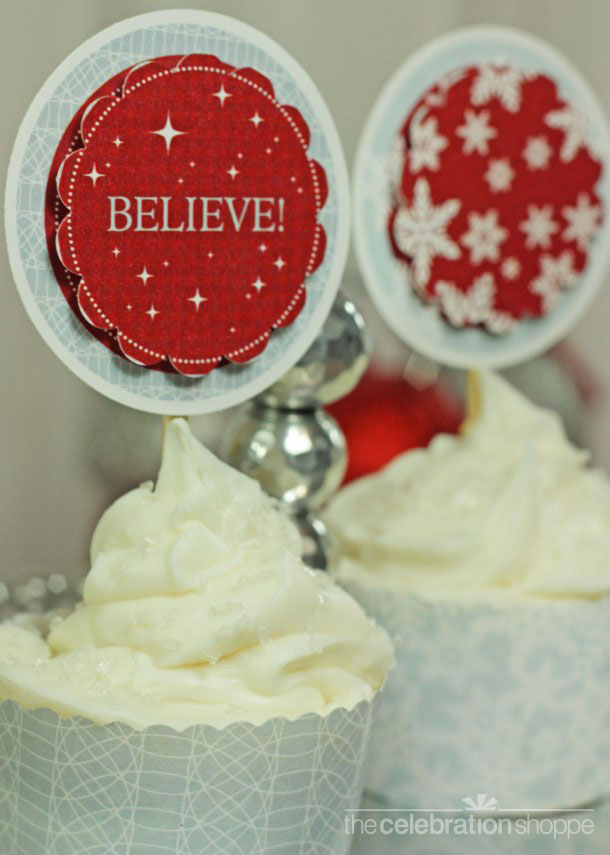 And it just wouldn't be complete without cupcake picks and wrappers! Look for the entire collection in the shoppe with 50% off the printable collection original price through Cyber Monday! As always, I hope you're inspired.