Who's celebrating Mardi Gras Fat Tuesday today? Even if you can't be in New Orleans, you can make a little King Cake in the form of Mardi Gras doughnuts. I don't know about your kids, but mine are always up to celebrate any occasion with doughnuts! And if one has a little plastic baby inside… all the better!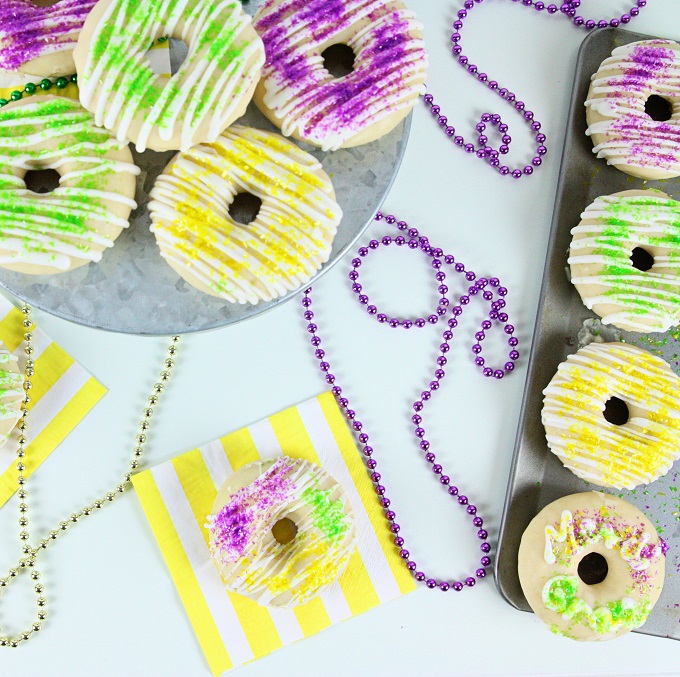 Let's get baking and I'll show you all the new Wilton Doughnut Stand supplies available at JoAnn Fabric and Craft Stores!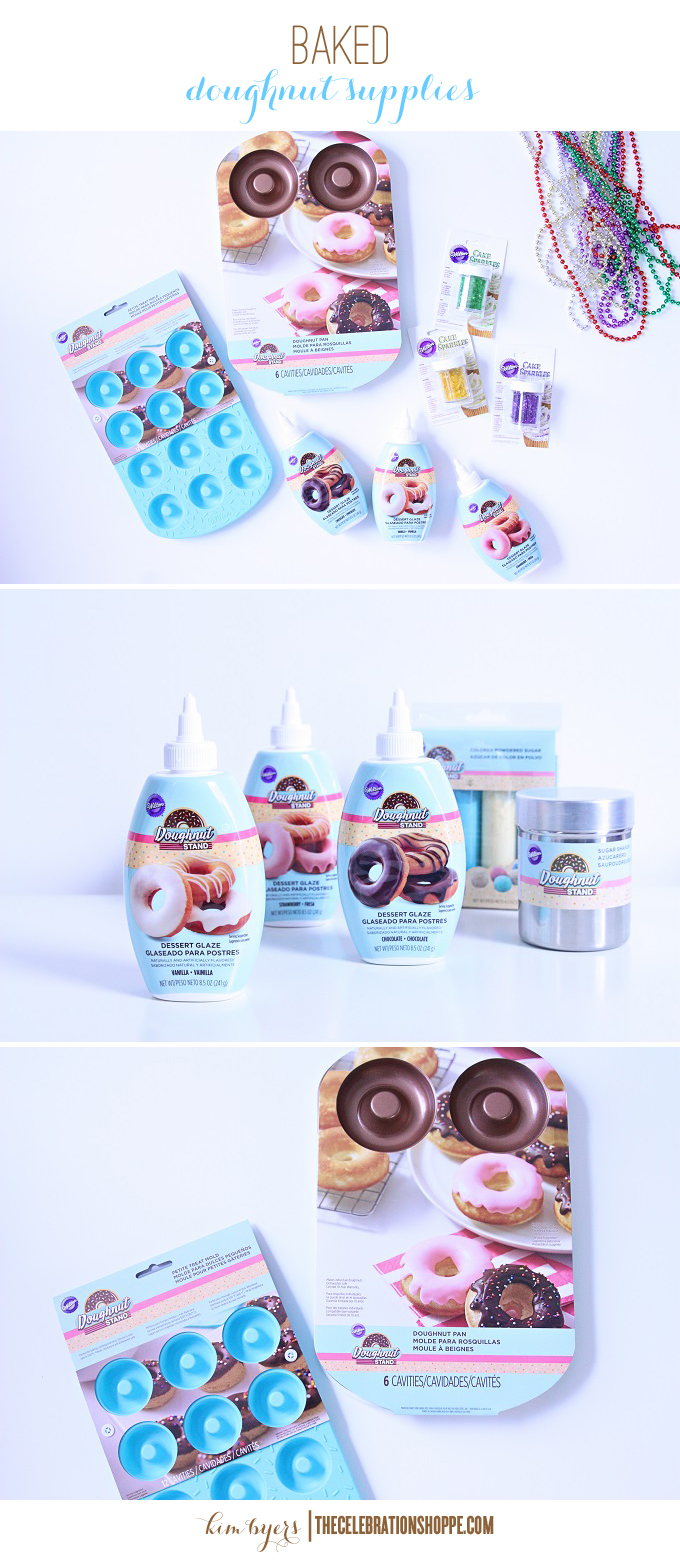 To make a perfect doughnut, you need the right supplies. I personally love the big doughnuts, and Wilton at JoAnn has the perfect ones. They not only work great, they are quite darling with the aqua blue bottom. (It's the little things, right girls!) They also have these cute little mini doughnut pans made from silicone. If you prep them correctly, (I use Crisco because my grandmother and my mom used Crisco… and it works) the doughnuts pop right out shaped perfectly.
You can find these supplies in-store:
6 Cavity Doughnut Pan from Wilton
12 Cavity Mini Doughnut Silicone Pan from Wilton
Wilton Doughnut Stand Dessert Glaze (Strawberry, Vanilla, Chocolate)
They also have a fun powdered sugar shaker, and tinted sugars in a variety of colors. (Watch for Easter doughnuts soon!) If you go to the food crafting section of your store, you'll likely find all the supplies on an end-cap.


Ingredients you'll need for these Mardi Gras doughnuts:
3 cups self-rising flour
1 cup granulated sugar
¾ cup milk (soy works great for those with food allergies)
3 large eggs
6 tablespoons unsalted butter, melted (Smart Balance for those with food allergies)
4 teaspoons vanilla extract
Crisco (for greasing pans)
Wilton piping bags
Wilton cooling racks
Ingredients you'll need for glaze:
½ cup milk (soy works great for those with food allergies)
4 cups confectioners' sugar
1 ½ teaspoons vanilla
Wilton Vanilla Doughnut Glaze for drizzle
Wilton cake flakes for decoration
 Makes 18 doughnuts, or 12 regular doughnuts and 12 mini doughnuts
 Easy baking instructions:
Prep – Preheat oven to 350 degrees. Apply Crisco in pans with paper towel. Pans do well not to stick, but this will make the doughnuts slide right out.
Dry Ingredients – Whisk flour and sugar in bowl. Set aside.
Wet Ingredients – Whisk milk, egg, melted butter, and vanilla until smooth.
Combine – Be careful not to overmix batter. It will be thick.
Pipe – Spoon batter into piping bag and fill each cavity 2/3 full. Be careful not to overfill or you'll have a muffin instead of a doughnut.
Bake – 9-10 minutes or until a light golden brown. Allow to cool before glazing.
Now for doughnut glaze:
Glaze – mix milk, powdered sugar and vanilla in medium sauce pan until smooth. Remove from heat and immediately begin dunking the doughnuts one by one. I like to place a cookie sheet under the cooling rack to catch the excess glaze for easy cleanup.
Decorate – heat Wilton glaze per the container instructions, drizzle and sprinkle with flakes while still warm.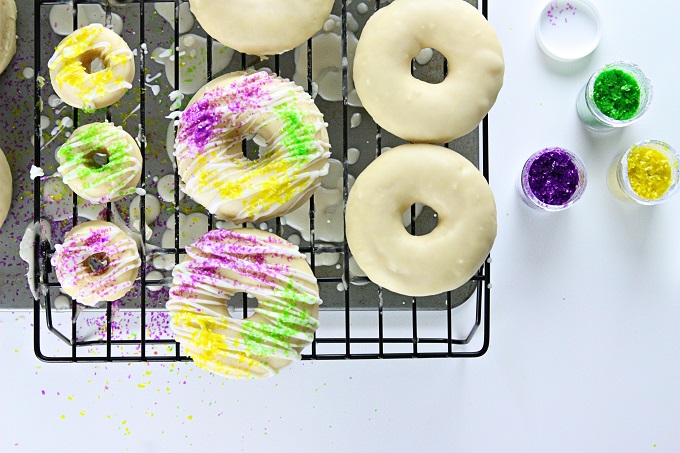 Make these fun cupcakes into King Cake Mardi Gras cupcakes with a few minor changes. After piping, hide the mini baby in one of the doughnuts for a friend to find! Not that you'll need any help eating these yummy doughnuts, but it does make it even more fun!
Want more fun food ideas?
As always, I hope you're inspired to craft, bake, create and celebrate with JoAnn!
This fun food doughnut project is sponsored by Jo-Ann Fabric and Craft Stores. Thank you for supporting my wonderful sponsors. They make it possible for me to keep the ideas coming! All content, ideas, photography and opinions are that of my own and I'd have it no other way!