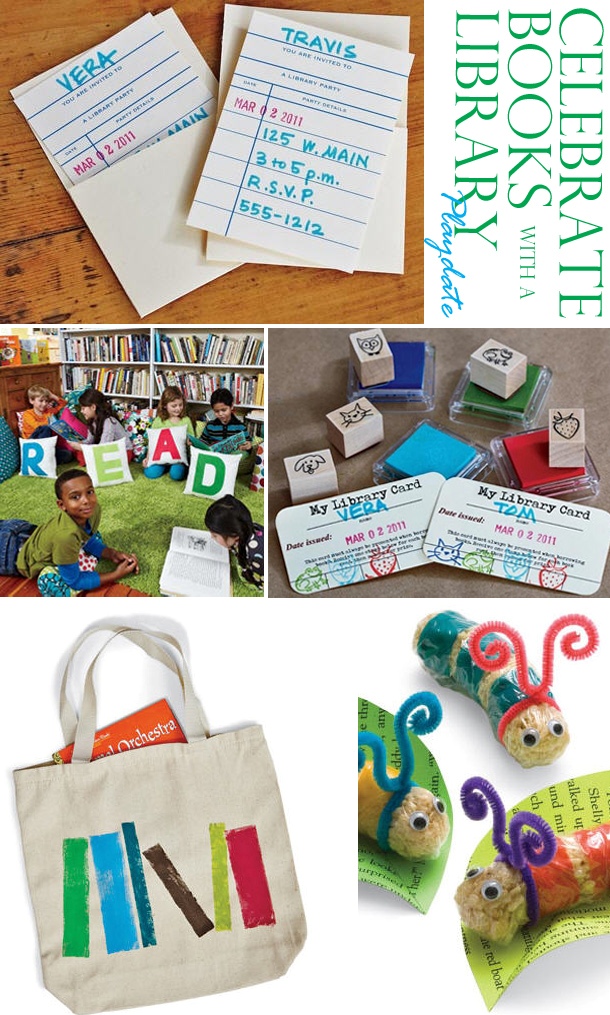 I fell in love with the idea of a book party, or better, a pretend library playdate while flipping through the most recent issue of Family Fun magazine this past weekend. I'm a book lover. If you could see my office, which I'm going to have to share sometime in the near future, you would see a massive cabinet filled with books, and those are just the ones I felt compelled to purchase.
And my love for books is something that I want to pass on to my boys. We go to the library at least once a week and we spend at least 30 minutes each night reading (I say "we" because my Kindergartener is now reading to me! And yes, my eyes do well up with pride some nights!) so when I saw these fabulous ideas in this month's issue I knew that this would be one of our summer activities.
Aren't the official-looking library invitations, filled out with name and date, adorable?! My boys love to see what the last date entry is when we get a book that still has one in the back. And the crafts are so fun: making a library card and paint stamping a book tote (with simple rectangles, how clever!).
Family Fun also had the great idea to appoint a librarian (an ideal job for an older sibling) to stamp the card each time a guest checks out a book to read at the party. And to award kids who collect five or more stamps with an inexpensive book or other goody as a favor. You can see all the details, including how to make those fun book worm rice crispy snacks by hopping over to Family Fun!
As always, I hope you're inspired!