This entire space birthday party collection is inspired by my oldest son's love for science (if you've not seen his science birthday party that was featured in Columbus Parent magazine, make sure you take a peek before you go). His most recent passion of the sciences is all things space: moon, stars, planets, rocket ships. In this space party supplies collection you'll find all the wares to host an out of this world party that your little astronaut will never forget, from dessert table details to bright polka dot placesettings to unique treat ideas.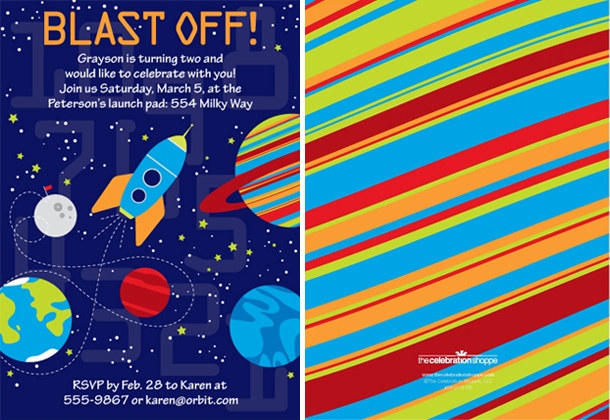 Every great party starts with the guest's excitement when they receive the invitation in the mail and for those that know my asthetic, I LOVE pops of color in unexpected places. We kept the invitation bright by incorporating fun patterns into our planets and then we carried Saturn's pattern to the back of the invitation.

I love getting creative in the kitchen. With the boys in tow and a huge mess when we were done, I came up with a few things for the dessert table:
mini space shuttle cakes – these fun no-bake mini space shuttle cakes are super easy to assemble (read all the how to details).
corn flake meteorites – a family favorite and super simple to whip up (read all the how to details).
iced Moon Pie treats – I thought it would be fun to not only display the moon pies (these are on multi-colored straws) but to ice them at various stages: crescent moon, half moon, full moon (read all the how to details).
Milky Way shakes – and what kid wouldn't love a Milky Way shake?! Especially one that has a mini Milky Way candy bar attached to the end of a colorful straw. I served the shakes in old fashioned milk bottles wrapped with my rocket beverage wrappers and an orange spoon tucked inside. And for the coaster, we cut out some spikey red suns. I loved that part!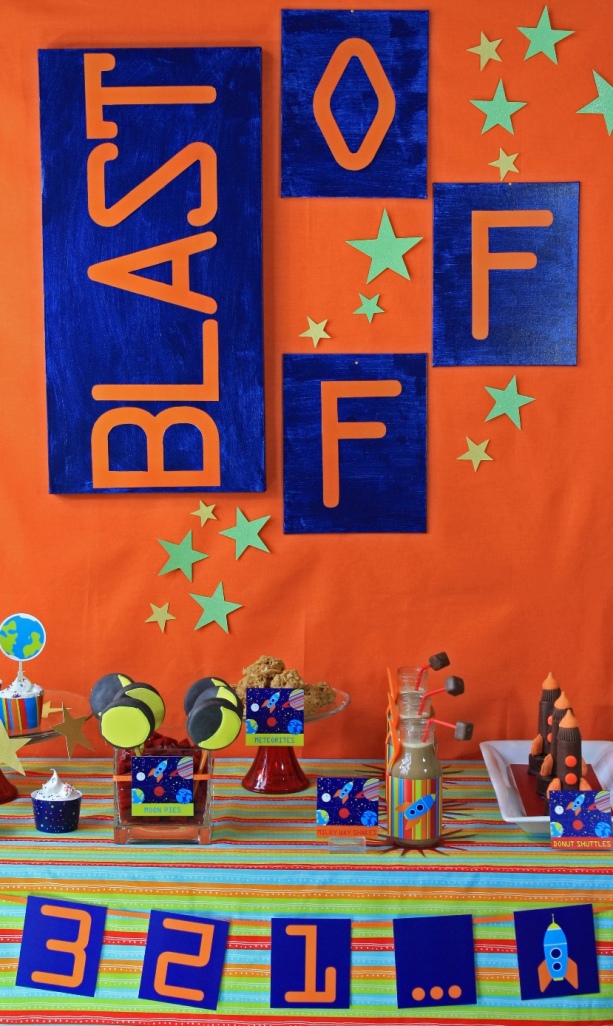 With all the treats ready to go I styled a quick dessert table using printable items from the collection. The art in the backdrop was created with a few canvas boards from Jo-Ann Fabric and Craft Store ($18), dark blue paint ($1.50) and letters that are available with the banner shown at the base of the table (both printable files $4.00 in the shoppe). To add a little more demension I punched out various size stars and made a pattern around the art. I also used the stars on the red glass cupcake plate with a touch of hot glue.
For the dessert labels, the set includes labels for Starburst, Moon Pies, planet pops, cupcakes, cookies, Mars bars, Milky Way shakes, meteorites and then I thought it might be fun to play on fruit and veggie colors with orbit oranges and comet carrots. Plus there is a blank sheet so you can make up your own.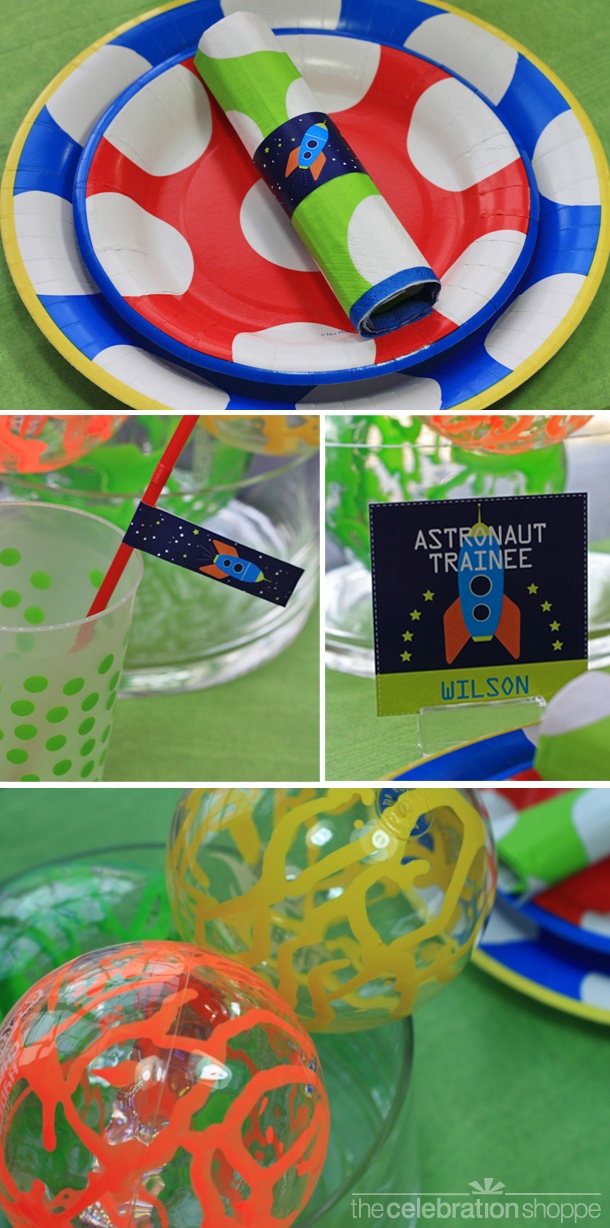 For the kid's table I used bright polka dot plates and napkins with a rocket ship napkin ring, lime green polka dot shatterproof cups with a fun straw slip (to help the kiddos keep their cups straight) and one of my favorite items, the astronaut patch placecard. For the centerpiece I used multi-colored and patterned Sky Balls. (It was almost impossible to keep the kids away from them during the shoot so I can attest that they would be a great favor idea.)

On the topic of favors, I had fun with this one. We designed a gable box label that reads "Astronaut Training Academy Kit" and a set of four labels to package little goodies up in: freeze dried snack (aka Moon Pie), anti-gravity cubes (aka Starburst), space goggles and mission accomplished (which could be cute as a badge for the kids to pin to their shirts). We also designed cello toppers and favor tags that say "Thanks for blasting by!"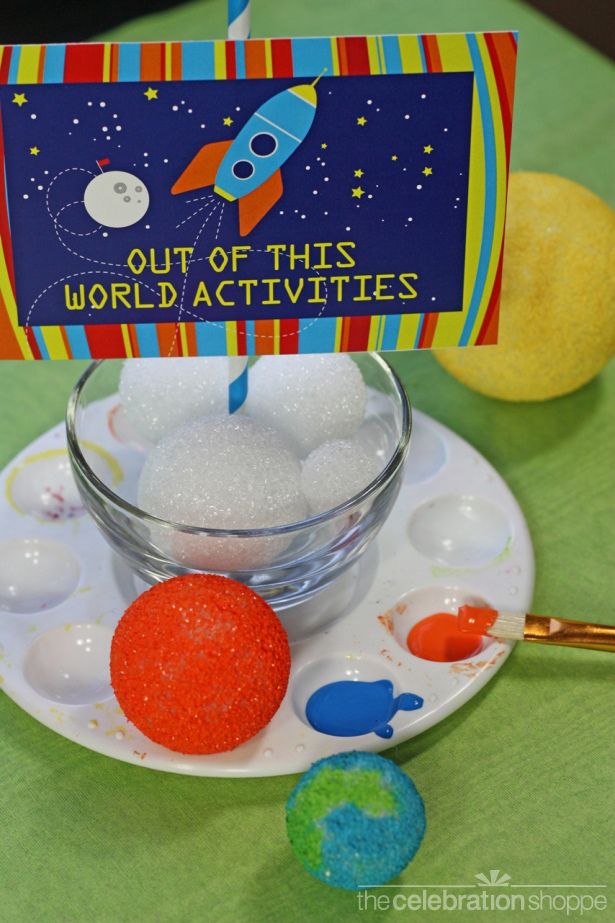 And what about a few "Out Of  This World Activities" to keep the kids busy. We painted mini planets (set of six Styrofoam balls for $1 at Dollar Tree) and my son had a multitude of other ideas. Don't be surprised if I post at least one in the next few weeks.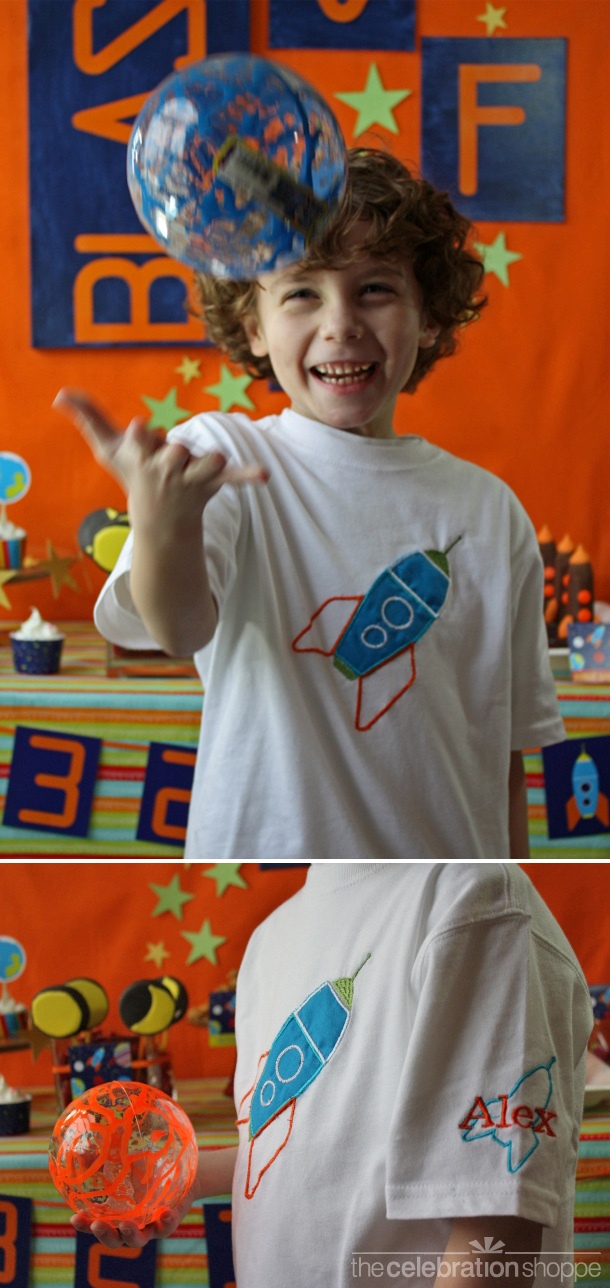 And last but not least, I'm so excited to share that we used the rocket from our design to monogram a t-shirt for the big day. The front has an applique of the rocket and the sleeve has a monogram outline of the rocket and a name. These are perfect for the birthday child or as a favor for all the guests and are available through our partners at Sew Jewell.
Items in the shoppe:
As always, I hope you're inspired to craft, bake, create and celebrate!
Join The Celebration Shoppe on facebook, sign-up for the daily ideas to come right to your inbox (never miss an idea, giveaway or free printable!), follow us on twitter, pinterest and on instagram at @thecelebrationshoppe.