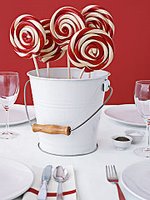 Centerpieces don't have to be elaborate to be beautiful and fun. Step outside of the norm and create something whimsical like this idea from Real Simple Magazine. I mean what kid wouldn't be excited about sitting down in front of bunch of brightly colored lollipops.
The buckets you can likely find at any craft store. As for the lollipops, go to a candy shop or even check out a Cracker Barrel restaurant. They have a great assortment of unusual candies and suckers.
This idea would be a great addition to our sweet treats and sweet treat too themes.