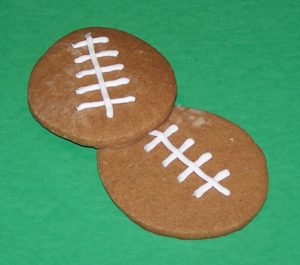 With the Super Bowl only a few days away, here's a little inspiration to help you bring your theme to the table.  All you need is a stick of refrigerated gingerbread cookie dough and a can of white icing.  
Bake your cookies (see a few tips on cookies keeping their shape in the oven), allow them to cool completely on a wire rack and then ice. Simply take a resealable bag and spoon in your white icing. Snip one corner and pipe your lines.
Simple, fun and your guests will love them. Happy baking!