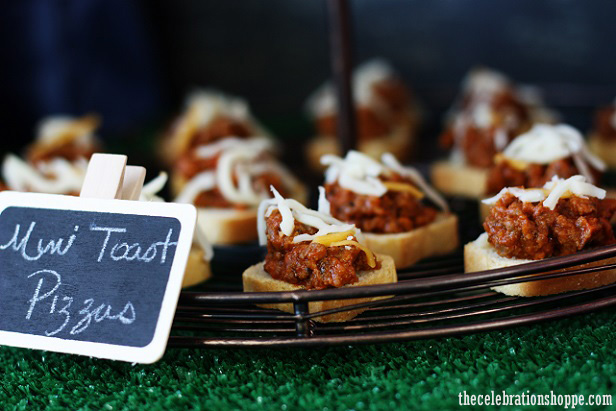 Mini toast pizzas are one of my all time favorite appetizers and party snack foods. My mom made them for a gathering she was hosting once when I was little and they've been around ever since! This year I'll be making them for my Game Day party!
To make Mini Toast Party Pizzas you'll need:
Ground beef, cooked and strained
Ground sausage, cooked and strained
Original pizza sauce
Cheddar, Sharp and Mozzarella and Provolone blended
Minigrill Mini Toasts from World Market (or mini Pumpernickel from your grocer bakery)
And the simple how to steps for Mini Toast Party Pizza:
Blend your cooked meats and pizza sauce in a pan and bring to a simmer
Add a small amount of your cheese mixture allowing it to melt
Top mini toasts with mixture
Drizzle remaining cheese on top
As always, I hope you're inspired to craft, bake, create and celebrate!
 Join The Celebration Shoppe on facebook, sign-up for the daily ideas to come right to your inbox (never miss an idea, giveaway or free printable!), follow us on twitter, pinterest and on instagram at @thecelebrationshoppe.