I found these adorable graduation cupcakes decorated with a mortarboard and diploma on the Hello! Cupcake website and simply had to share!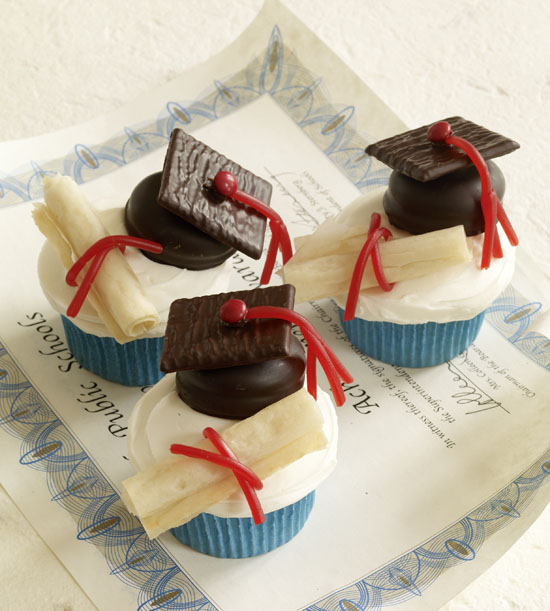 Here's what they had to say about these fun graduation day cupcakes: "Our mortar board caps are made from a chocolate coated marshmallow cookie such as Mallomars. But any round shaped chocolate could work. We added an Andies mint for the flat top but you could also use graham crackers cut to size and dipped in melted chocolate. The tassel is made from red licorice pull and peel, but could be just as easily cut from fruit roll ups. We added a red mini M&M for the button. The diploma is phyllo dough we rolled into little diploma shapes and baked for just a few minutes to make them lightly golden. A pirouette cookie cut in half would also make a cute little diploma. We used the peel and pull again to make the string holding the diploma shut."
This is only one of their fabulous creations so make sure you pick up a copy of this "must have" cupcake book! I personally have one and I can tell you that the instructions are detailed, easy and I've yet to make a design that didn't come out just like the pictures.
Want more graduation dessert ideas?   Try Done-ut Donut Cupcakes, Free Printable Graduation Cupcake Toppers, and 10 Yummy Graduation Party Ideas.
As always, I hope you're inspired to craft, bake, create and celebrate!
INSTAGRAM | FACEBOOK | PINTEREST | GOOGLE+ | TWITTER | YOUTUBE | BLOGLOVIN