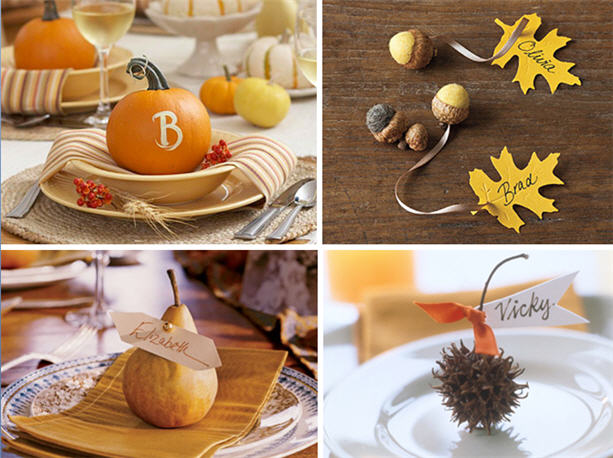 Since I live in Ohio I get to truly experience all four seasons and admittedly I love them all (okay… winter could be a touch shorter). While summer offers mild temperatures and beautiful play days, fall offers an abundance of natural and colorful elements that are perfect for entertaining.
This first idea from Better Homes and Gardens has been on my "must do" board since early August. I love using the left over gourds and small pumpkins after Halloween for indoor decor so when I saw this elegant stencil idea I fell in love. Plus, it gives the pumpkin yet another use and doesn't require cutting or cooking! 
I found these felted acorn placecards at Southern Living Magazine.com. Not only are they adorable, but the felted acorns are from Fairyfolk  and can be purchased directly from their Etsy shop. (Photo: Jennifer Davick)
And since pears are all the rage this season it goes without saying that I had to share this simple, yet lovely, idea from Country Living.
Last, but never least, is an idea from Martha Stewart that takes me back to my childhood. My grandparents had a sweet-gum tree in their yard in Alabama and in the fall you couldn't cross the yard without these little spurs being underfoot. That said, they were great for throwing at my big brother while he was chasing me!
As always, I hope you're inspired!
Like us on facebook and follow us on twitter for more creative ideas!