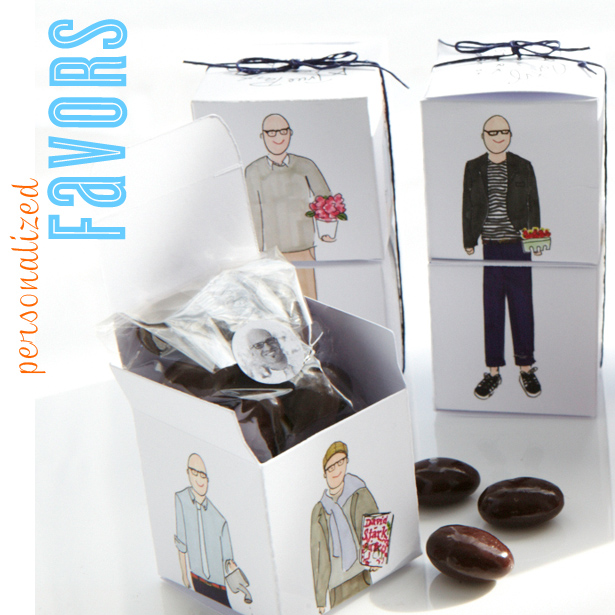 Love giving personalized favors when you host a gathering? Check out these adorable and hand drawn favor boxes from Darcy Miller, Editorial Director of Martha Stewart Weddings. Darcy designed these when Bergdorf Goodman hosted a party for David Stark's beautiful new book, David Stark: The Art of the Party.
Want to know how she created these adorable favor boxes? In her words:
"I sketched David in four different outfits, and in each he's holding something different in his hands that's relevant to content in the book: a basket of berries, a bouquet of flowers, a watering can, and of course the book itself.  Smitten on Paper printed my sketches onto the sides of their two white boxes, with the upper half of his outfits printed onto one box, and the lower half onto the other. Then I stacked them, which created a twisting block that lets you turn them to pair a different top with a different bottom. One box is filled with dark chocolate covered almonds from Nuts.com, while the other holds berry-flavored gummies by Sockerbit; the candies are in cellophane bags sealed with a sticker featuring David's photo. On the bottom of the lower box, I wrote 'Congrats' and 'Bergdorf Goodman, May 14th, 2013.' Then I tied everything together using black waxed twine and, voilà!"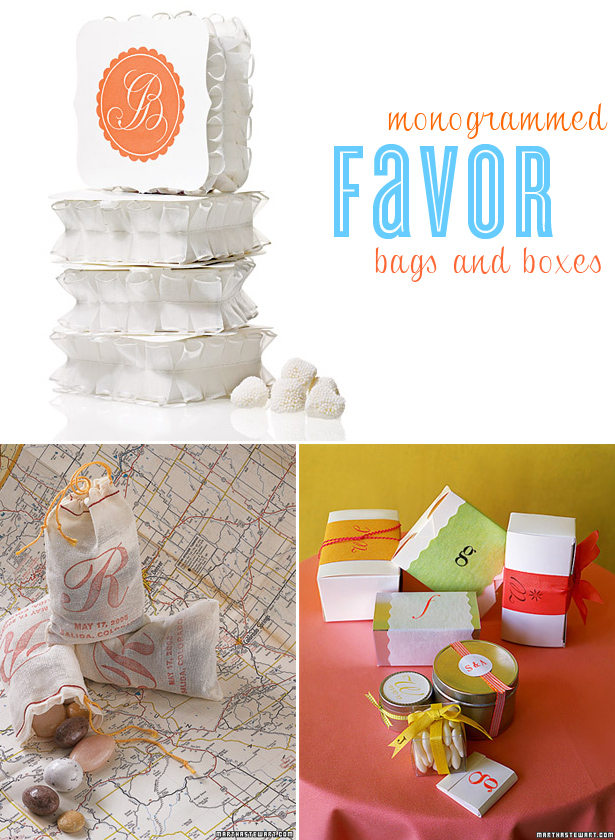 Don't have Darcy's talent with a pencil? Me either. How about monograms?! When asked by the Martha team, these were my favorite choices to share for weddings, baby showers and birthdays:
As always, I hope you're inspired to craft, bake, create and celebrate!
Courtesy of Martha Stewart Weddings. Copyright ©2013. For more wedding favor ideas, check out www.marthastewartweddings.com. Photography credits: picture this, Marcus Nilsson and personalized favors, Stephen Lewis




Join The Celebration Shoppe on facebook, sign-up for the daily ideas to come right to your inbox (never miss an idea, giveaway or free printable!), connect with Kim on twitter, pinterest and on instagram. And don't forget to shop the party store for birthday, baby shower and holiday party supplies. Oh, and now you can follow the blog with Bloglovin too! Hope to see you around!