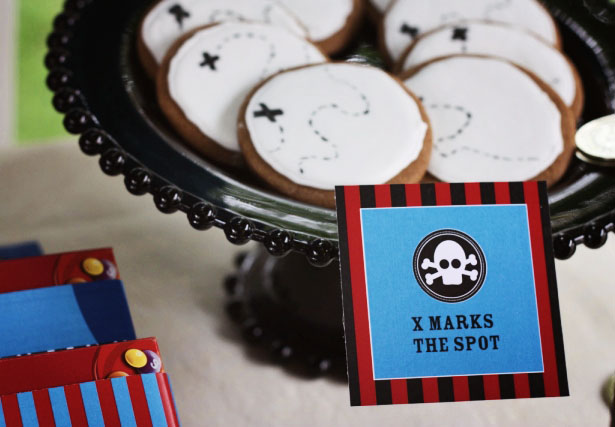 I recently hosted a pirate party for my youngest son's fifth birthday. It was so much fun and I have tons of DIY, along with a new pirate party printables collection (available in the shoppe soon), that I can't wait to share with you over the next few weeks. To start off I thought I would share a super simple cookie idea.
I baked round gingerbread cookies (if you're in a hurry pick up a bag of Kellogg's Shortbread Cookies or sugar cookies from the bakery), and flooded them with white icing. It's actually much easier than it sounds. Here are some tips on flooding from my contributor at Sweet Sugar Belle.
I just let the icing dry overnight and then took a black food coloring pen (I picked mine up in a pack of five colors at JoAnn Fabric and Craft Stores) and drew on an X and dash marks. Just make sure you don't press down too hard on the icing and remember to make each one a bit different. Oh, and if you want them to be dairy free, and I did of course, use Pillsbury white icing and Pillsbury gingerbread cookie dough.
I have to tell you, these were the first things to disappear off my dessert table! As always, I hope you're inspired!