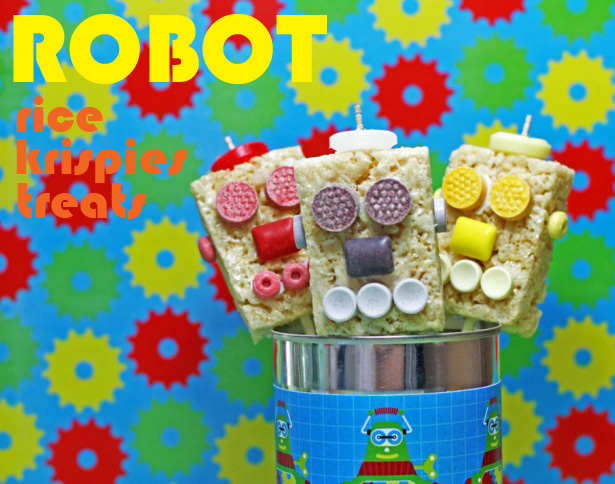 For my son's seventh birthday robot party we wanted the kids to make actual robots. We thought of tons of ways to make them, but at the end of many days of testing ideas (tin can robots, juice box robots), we ended up going with the Rice Krispies Treat. The primary reason was that every other idea required hot glue (for instant attachment) and I just wasn't comfortable that a bunch of seven year olds, even when being helped by their moms, wouldn't get burned.
But it turned out to be great fun anyway because this robot is edible!
Grab a box of Kellogg's Rice Krispies Treats (already the perfect rectangle shape) and gather up some coordinating candies. I chose Life Savers (radar), Razzles (eyes), Chicklets (nose), a candy necklace and Smarties (ears and mouths).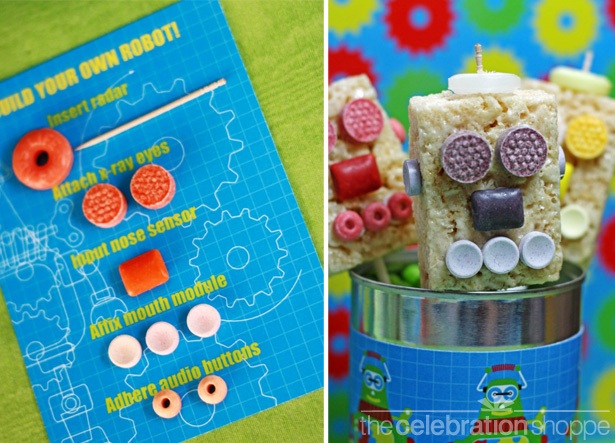 Give each child an activity card (part of our robot birthday party collection) with candies under fun step-by-step instructions, like "insert radar," "attach x-ray eyes," "input nose sensor," "affix mouth module," and "adhere audio buttons." Set tubes of icing in the center of table along with Rice Krispies Treats already inserted with lollipop sticks and watch each guest create their very own robot.
As always, I hope you're inspired! And stop over at Kellogg's Snackpicks.com for more of my Rice Krispies Treats ideas.
Join us on facebook and follow us on twitter and pinterest. Participating in Skip To My Lou's Made By You Mondays and Tip Junkie's Tip Me Tueday.