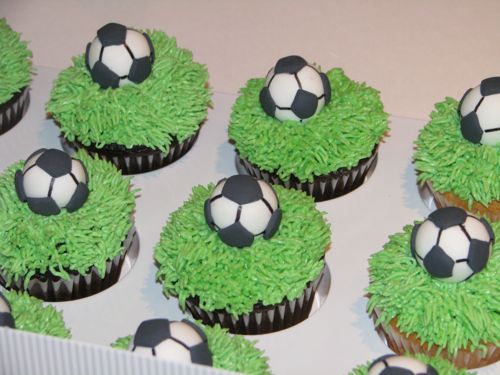 I found these on about.com submitted from baker, Johanna Widrig, and wanted to share. The cupcake itself is not difficult, it's making the fondant soccer ball that might take a little time and okay… some patience. But you have to agree that the outcome is awesome. Plus, your guests can just lift off the ball and eat the yummy cupcake!
A tip on the ball, you can buy boxes of pre-made fondant at your craft store. Roll your balls by hand. Then, tint some black with gel food coloring (the other is water-based and won't do as well). Roll out the black and cut out your shapes with an exactor knife. If you have to use a kitchen knife make sure it isn't serrated. Now apply your black shapes with a touch of icing and connect them with a black cake writing pen.  
Here's what the baker, Johanna, had to say. "These are just a few of the soccer ball cupcakes I created for an 11 year old soccer fan's birthday. I did both vanilla and chocolate, with butter cream icing using a Wilton grass tip. I made the soccer balls by hand using fondant. They were a labor of love, but the end result was exactly what I was hoping to create!"
Happy baking!