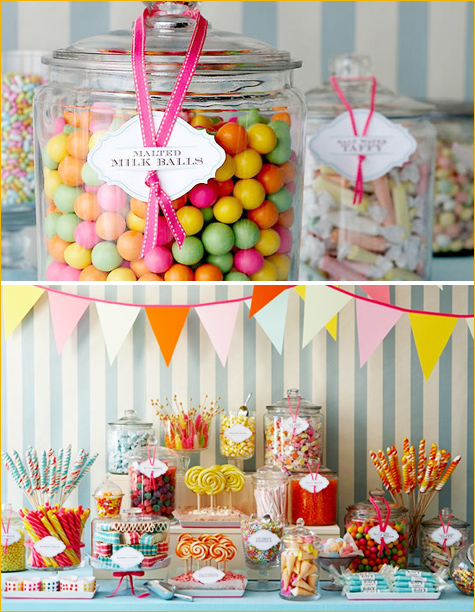 Sometimes we just need a little inspiration to pull our parties together and this beautiful candy table from Amy Atlas is a wonderful idea for our sweet treats birthday party theme. With a little bit of prep and a visit to a candy shop anyone can pull off this beautiful table.
Our sweet treats décor is multi-color so my plan of attack would be to go first to a craft store in search of some fun ribbon (grosgrain shown) and craft paper that could be used for labels on the candy jars, as well as maybe to make some fun party hats.
My next visit would be to a candy shop… where I could spend hours! For the jars, you likely have exactly what you need in your own home… glass vases, bowls, containers… once embellished you won't remember what you were using them for.
And as for the banner, this could be easily created using ribbon, craft paper and a glue stick. Or, you could get fancy with ribbon, stiff fabic and a sewing machine, either way it's an easy craft.
Have a wonderful celebration. Oh, and don't forget to have a beautifully embellished box of wipes nearby  if your guests are under the age of 6! {wink}