I have to admit I'm really getting in the mood for the spookiest holiday of the year!  This weekend my boys and I started practicing our Halloween decorating skills with a few ghastly treats, namely these witch-on-a-stick pretzels and frankentreats from Parenting Magazine's October 2008 issue.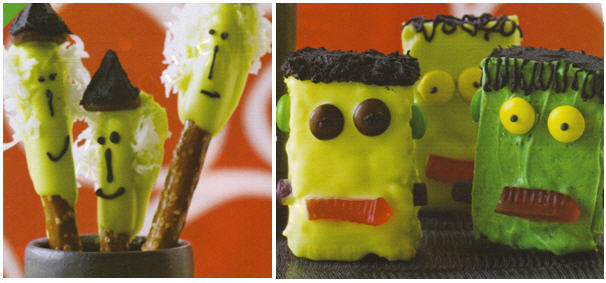 Witch-on-a-stick how to:
Cut off the tops of pretzel rods and set aside.
Melt one cup of white chocolate chips, 1 Tbs shortening and a few drops of green gel food coloring and stir until smooth.
Dip the cut end of the pretzels into the chocolate, covering the top 2 inches. Place the sticks on wax paper and sprinkles the sides of each with coconut  flakes to form hair.
Top each with a Hershey's Kiss and refrigerate until the chocolate has hardened. Draw on eyes, nose and mouth with black decorating icing (available in tubes) and fisih by covering the Kiss too with black or purple. Yum!
Frankentreats:
Start wtih a packaged (or homemade) Rice Krispies Treat, and push each one into a wooken skewer; set aside.
Melt one cup of white-chocolate chips and one Tbs shortening; stir in green or neon-green gel food coloring (colored melting chocolate is available at most craft stores).
Spoon melted chocolate over all sides of the treats or brush them with a silicone brush then place them on wax paper, upright, to dry.
Embellish them with M&M eyes and ears, gummy worm mouths, Jujubes neck bolts and then refrigerate them until the chocolate hardens.
Top them off by drawing on hair with black icing and doting the eyes.
Finally remove the skewers and serve!
Get ready for your Halloween bash with a few ghastly details of your own from our shoppe!
For more Halloween recipes and party ideas check out my other posts:  Free Witch Sisters Party Printables, Easy Crashing Witch Cake Recipe, All Things Witchy!
As always, I hope you're inspired to craft, bake, create and celebrate!
INSTAGRAM | FACEBOOK | PINTEREST | GOOGLE+ | TWITTER | YOUTUBE | BLOGLOVIN