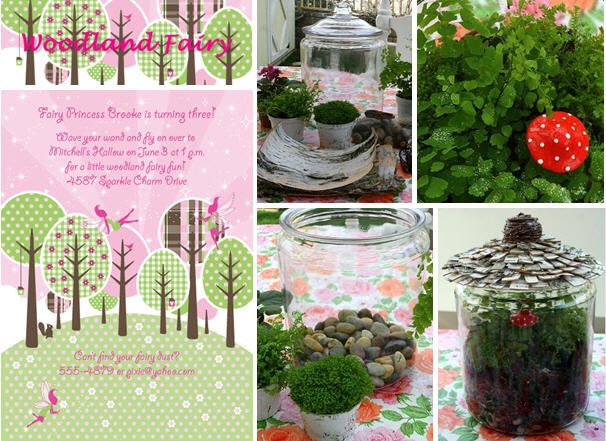 I mentioned several weeks ago in my post about fairy finds that we were in the process of developing a woodland fairy birthday collection. Well we're still not all the way there, but we're close enough to give you a peek at the custom invitation for the collection (available in the shoppe by the end of next week… I promise… with a complete set of pink and lime green table decor, plus printables). 
As for this very cool craft idea to the right, I was bouncing around the web this morning and landed on the Party Wishes blog hosted by a very talented party planner by the name of Donna. She created a step-by-step pictorial for this fairy terrarium (original idea from Martha Stewart) and I just thought what a perfect craft project for our party theme! These are just a few views of the project so make sure you visit her blog for all the details including several cost cutting ideas.  
Happy crafting and make sure you swing back by for more on our new fairy birthday party collection coming next week!