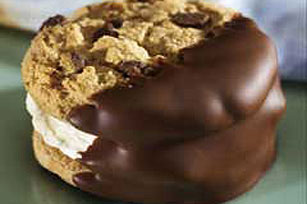 Those of you who read me often know that I love to bake and share my creations with others. (My challenge is trying not to eat them!) That said, I don't always have time to be creative before we have guests over or before a snack is needed at preschool. So when I'm in a hurry I usually turn to kraftfoods.com. Their ideas are delicious and so simple. So this is my latest find that I'll be impressing friends with this weekend. Enjoy!
4 oz. (1/2 of 8-oz. pkg.) PHILADELPHIA Cream Cheese, softened
2 Tbsp. sugar
1 cup thawed COOL WHIP Whipped Topping
20 CHIPS AHOY! Cookies
1 tub (7 oz.) BAKER'S Milk Chocolate Dipping Chocolate, melted
And here are the easy steps:
Beat cream cheese and sugar with mixer until well blended. Stir in COOL WHIP.
Cover bottom (flat) side of each of 10 cookies with about 2 Tbsp. cream cheese mixture; top each with second cookie to form sandwich. Dip half of each sandwich in chocolate; gently shake off excess chocolate. Place in single layer in airtight container.
Freeze 3 hours or until firm.