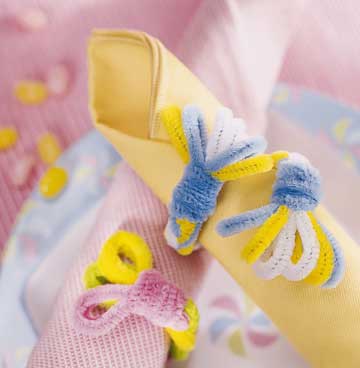 Browsing for fun ideas that kids can help with, I ran across these fun chenille napkin rings from Better Homes & Gardens that would be perfect for a Mother's Day brunch or girly birthday party.  Here's what you'll need:
3 colors of chenille stems
Paper towel tube
Ruler
And here's what you do:
Choose six chenille stems, two of each color. Even up the ends of chenille stems, grouping colors. Leaving 3 inches at one end, begin to braid the chenille stems. Stop braiding 3 inches from the opposite end.
For looped ends, bend over the chenille stems to form loops. Secure by wrapping a separate chenille stem around the ends. Tuck end of chenille stem into wraps.
For wrapped ends, braid entire length of six chenille stems. Wrap ends tightly with a separate chenille stem.
To shape, wrap braided chenille stems around a paper tube.
For more DIY kids crafts visit Simple Flower Pot Craft, Earth Day Crafts and Monogram Flower Pot.
As always, I hope you're inspired to craft, bake, create and celebrate!
INSTAGRAM | FACEBOOK | PINTEREST | GOOGLE+ | TWITTER | YOUTUBE | BLOGLOVIN