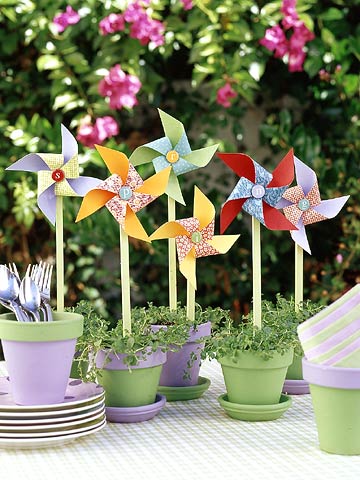 These oh so fun pinwheel planters are perfect decoration or favors for a spring garden party or birthday bash. This idea from Better Homes & Gardens Magazine touts a letter at the center of each pinwheel, which might be fun to spell out your guest of honor's name.
Here's what you'll need:
Craft paper (preferably a thick stock that has different design on each side)
Scissors
Pencil
Straightedge or ruler
Aluminum screw posts (like those used in scrapbooks and photo albums)
¼" dowel cut to 12″ in length
Drill
Potted ground cover plants (e.g., ivy)
And here are the simple instructions:
Cut a square of craft paper to the desired size.
With pencil, draw two light lines between the opposite corners of the square, using a ruler or straightedge.
Make four cuts along lines, starting at each corner and stopping three-fourths of the way to the center of the square, as shown in the pinwheel diagram.
Poke a hole through every other corner and through the center of the pinwheel. Be careful not to poke too close to the edge, or the hole may rip when the pinwheel is assembled.
Fold the pricked corners into the center. If using a pin, push the pin through the pricked points, then through the center hole. If using a screw post, push the screw post through the underside of the square and then through the pricked points. Secure with screw.
Drill a small hole in the dowel and insert the screw so that the pinwheel spins.
Insert your new pinwheel in a fun planted pot and display.