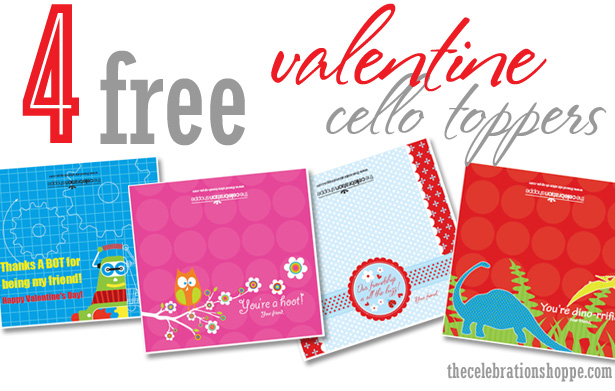 Hi everyone! I'm Cris of Crissy's Crafts and I am so excited to share some adorable kid Valentine ideas using Kim's FREE Valentine Favor Cello Toppers.
We have Rawr-iffic dinosaur Valentines, tweet owl Valentines and buzzingly beautiful ladybug Valentines… something to please both boys and girls! It just makes me happy to give someone a cute little package that is handmade! Oh, and the best part, you can personalize your child's name in the file before printing!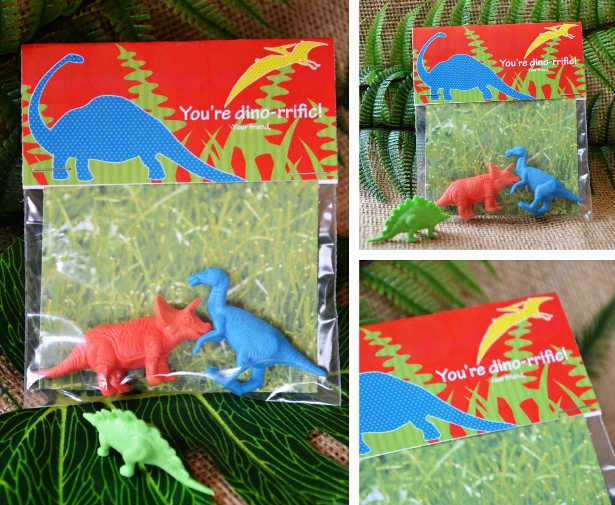 Let's start with the Rawr-iffic dinosaur Valentine. To package this treat you will need scrapbook paper (optional), FREE Dinosaur Valentine treat topper, dinosaur favors (I found these little guys at Wal-Mart), clear 4″ cello bags, scissors and a stapler. Or, you can use hot glue to seal.
If you use the scrapbook paper inside the clear bags, make sure you cut the scrapbook paper slightly smaller than the bag. Place the dinosaurs inside and staple to attach together on each side of the treat bag topper.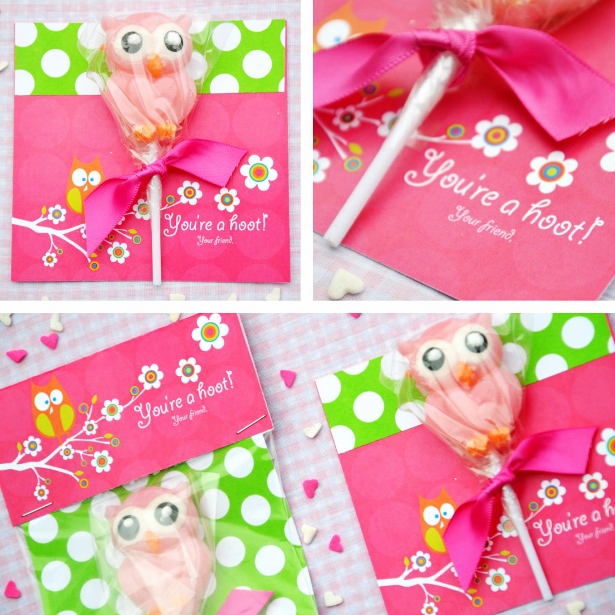 These Valentines are a HOOT! For the owl Valentine, you can pack the treat just like I did for the dinosaur Valentines, OR just tape the treat on the FREE Owl Valentine Cello Topper using double sided tape. I found the cute Owl lollipops at the Dollar Tree!! So cute, right?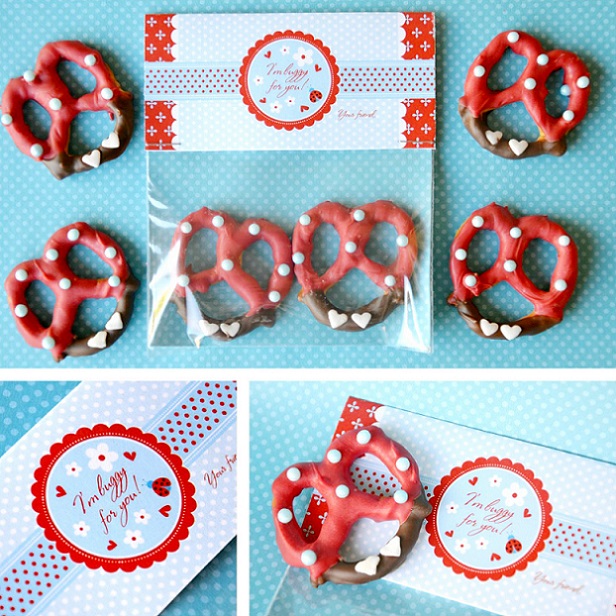 And for the little ladybug Valentines I decided to get creative in the kitchen. I love making thing for friends and family! This sweet ladybug pretzel is super easy to make and your kids can help! I found the tutorial on My Crunchy Life. Once the chocolate is completely hardened you can pack these cuties the same way as the dinosaur Valentines.
There you have it! Three free printable kid Valentine ideas and three different ways to give that special someone a little handmade love! Oh, but there are four in the set… yep there are robot valentines too! Download your free Valentines now and enjoy!
For more Valentine ideas, come visit me on my blog at Crissy's Crafts. And for more personalized Valentines, including photo cards, visit The Celebration Shoppe store.
As always, we hope you're inspired to craft, bake, create and celebrate! Happy Valentine's Day!
XO, Cris
Join The Celebration Shoppe on facebook, sign-up for the daily ideas to come right to your inbox (never miss an idea, giveaway or free printable!), follow us on twitter, pinterest and on instagram at @thecelebrationshoppe. And don't forget to shop our birthday, baby shower and holiday party supplies!