I whipped up a few fun Rice Krispies Treats cake ideas for Kellogg's and I'm sharing my harvest pumpkin pull-apart cake first.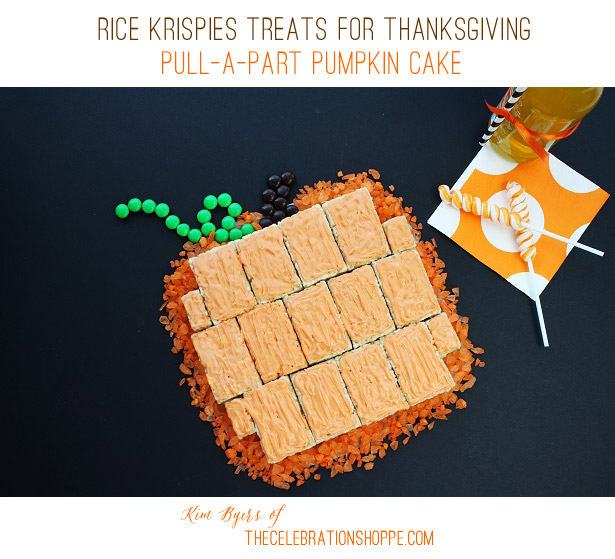 It's it fun?! And it's oh so easy!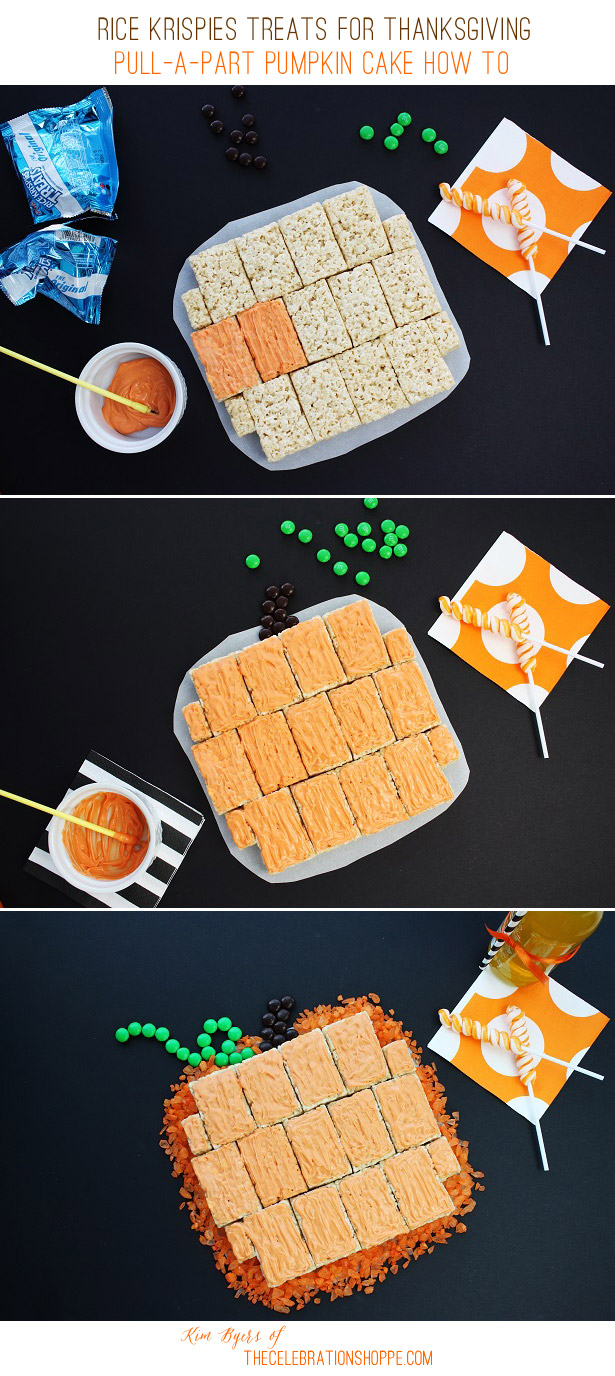 You'll need:
14 Rice Krispies Treats snack packs
M&Ms sorted (my favorite are the dark chocolate!), brown and green
Melting chocolate, orange*
Rock candy, orange
Food safe paint brush*
Wax paper
*found in the cake/candy section of grocery and craft stores
Easy assembly:
First, arrange the Rice Krispies Treats on a sheet of wax paper as shown (4 treats, 5 treats, 4 treats) and then cut the last treat into four pieces (across the middle in both directions).
Next, microwave 8-10 orange melting chocolates in a microwave safe bowl in 10 second increments until melted. Using a food safe paint brush, paint the top of the Rice Krispies Treats orange and allow three to five minutes for the chocolate to set.
Finally let's decorate. Arrange 9 brown M&Ms for the stem, 16 green M&Ms for the vine, and decorate the edges with orange rock candy. (Tip: If you can't find loose rock candy, purchase the lollipop sticks and break the suckers up in a resealable bag to contain the mess.)
 You'll find tons of amazing recipes and fun food ideas on the Kellogg's site. Make sure you hop over. You won't want to miss my Rice Krispies Treats and M&M Pie. Another amazing recipe for the holidays!
As always, I hope you're inspired to craft, bake, create and celebrate!
The Celebration Shoppe receives a form of compensation for ideas, styling and photography from time to time. All opinions expressed are genuine and not that of the sponsor. We would have it no other way!