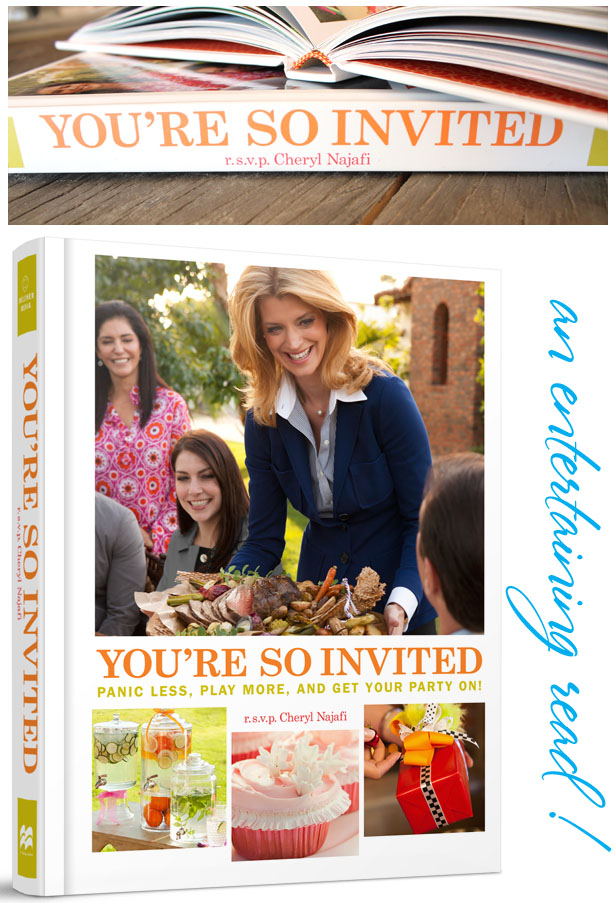 I had the pleasure recently of chatting with Cheryl Najafi, author of a very entertaining new read, You're So Invited.  We instantly clicked. Her down-to-earth personality and love of simple entertaining and DIY is right up my alley!
Cheryl grew up in rural Missouri surrounded by family, where her mom often hosted family and friends, but focused mostly on the food. So Cheryl, being Cheryl, took to planning the table. And since she was just a kid she used what was available: tree branches for centerpieces, embroidered linens made by her Aunts, flowers from the garden.
Fast forward to marriage and a husband that often brought business associates home for dinner and Cheryl found herself in a world of china and silver. Although those things are lovely, Cheryl quickly felt stifled and took to planning themed dinner parties full of character that got her guests talking and kept them entertained.
Once, her hubby asked her to tone down her style a bit for an upcoming party, she went back to the china and silver as he asked, but refusing to go back in the "box" she served all "kid" foods (e.g., chicken nuggets and mac and cheese) and her guests loved it! It was definitely a business dinner that would not be quickly forgotten. 
Cheryl's new book is full of creativity and with 10 completely planned parties full of inspiration, I know you'll love it as much as I did! You can find You're So Invited on bookshelves now and on Amazon.
And hop over to CherylStyle.com for all her book tour dates. She'll be at Pottery Barns all around the U.S. starting today!
As always, I hope you're inspired to craft, bake and create!
Join The Celebration Shoppe on facebook, sign-up for the daily ideas to come right to your inbox (a box in the right-side navigation bar), follow us on twitter, pinterest and on instagram at @thecelebrationshoppe