This concession stand shop has been compensated by Collective Bias, Inc. and PEPSI. All opinions are mine alone. #StockUpSnackOn #CollectiveBias
Let's talk Big Game concession stand setup! Who's ready to watch the Big Game at home?! Us too! My family loves some football and we entertain a lot, so let me share a bit of Big Game concession stand wisdom with you!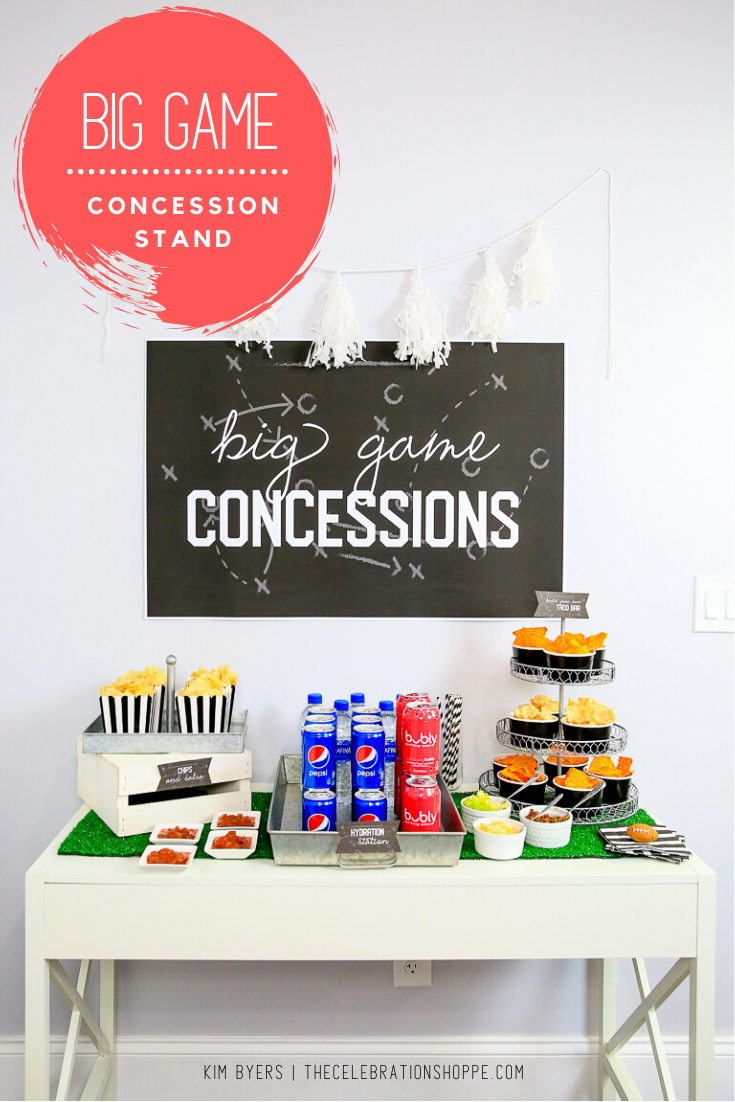 First of all, it's always about the food. The game is great fun, but most of us spend more time around the food than the TV! (You know I'm telling the truth!) This is especially true when you have my setup – a Pepsi Hydration Station and a Frito Lay Taco Bar!
Start With The Menu
To plan the perfect Big Game concession stand, you have to start with the menu. Know your guests' appetites. Is is burgers, conies, Tex-Mex? I chose to go with Tex-Mex this year and make a Taco Bar, but no matter what you choose, there are some core menu items you'll want to pick up at Publix!
DORITOS® Nacho Cheese Flavored Tortilla Chips (Like eating more tacos!)
LAY'S® Kettle Cooked Original Potato Chips – With only the best ingredients, they're ready for your enjoyment.
Pepsi® 12-pack cans OR Pepsi® 6-pack mini cans (I like the minis!)
TOSTITOS® SCOOPS!® & TOSTITOS® Medium Chunky Salsa – pair perfectly & make every gathering better because they are crowd-pleasers.
bubly™ sparkling water – naturally flavored unsweetened sparkling water.
Aquafina® – for pure water and a perfect taste.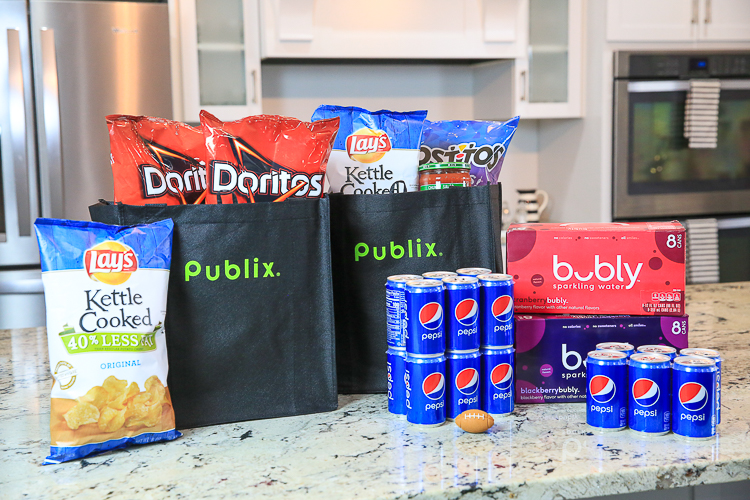 TIP – Having a theme is great fun, but try to also give variety. You'll notice that I have three drink choices, three chip choices, a taco bar, as well as chips and salsa.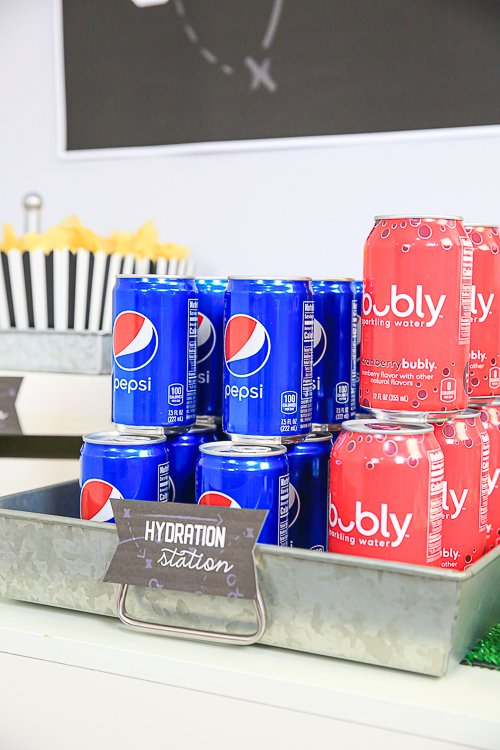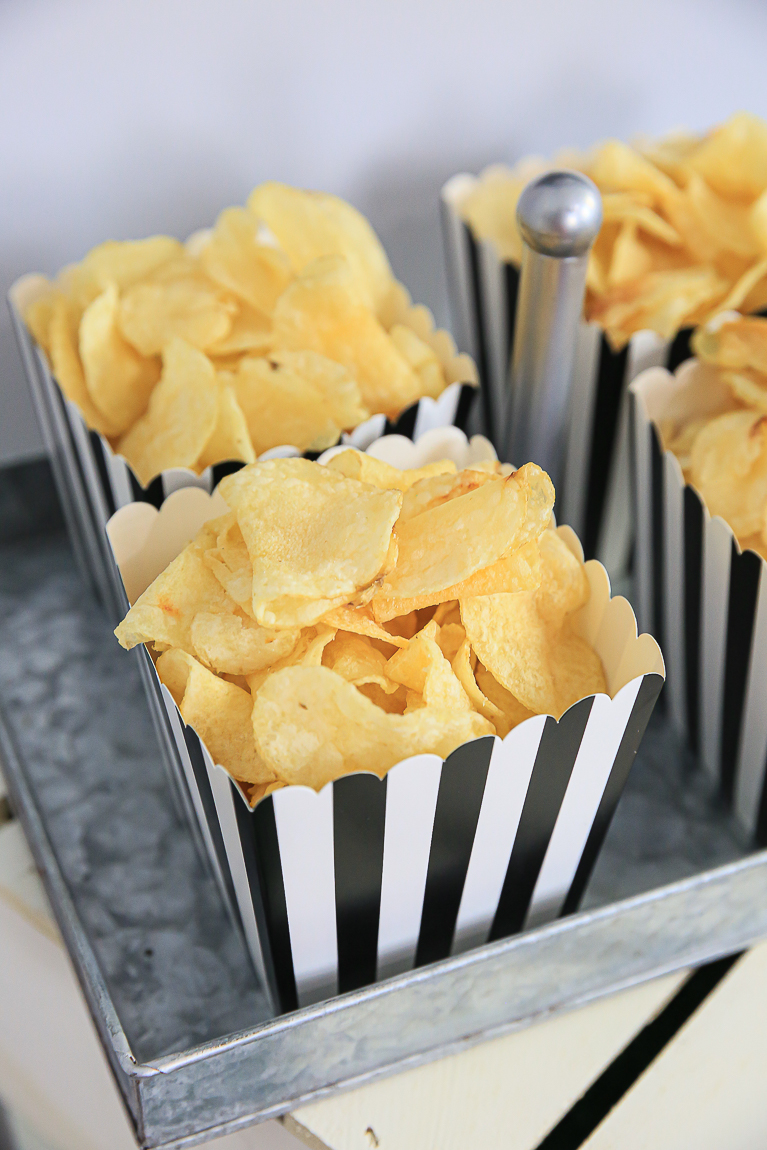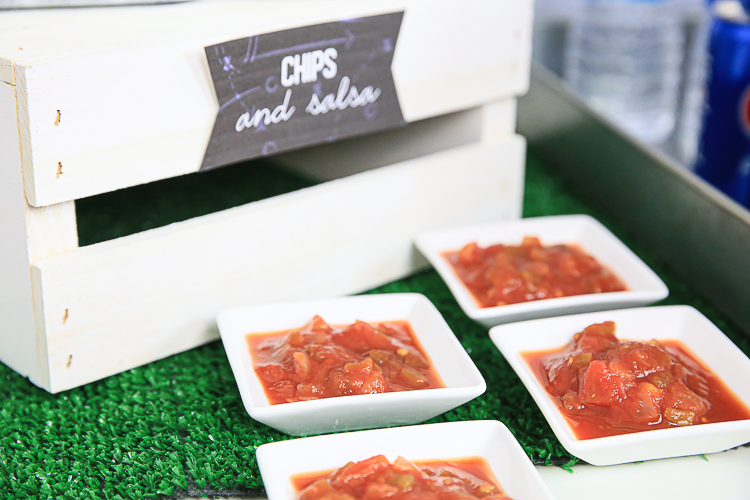 Taco Bar Necessities
In addition to all the snacking goodness of Pepsi and Frito Lay, you'll need some taco bar necessities!
I recommend small bowls with the DORITOS® Nacho Cheese Flavored Tortilla Chips already in, allowing guests to choose their toppings. Go with bowls of taco meat, cheese, lettuce, sour cream, guac, TOSTITOS® Medium Chunky Salsa, and maybe jalapeños or other peppers for an added pop of flavor.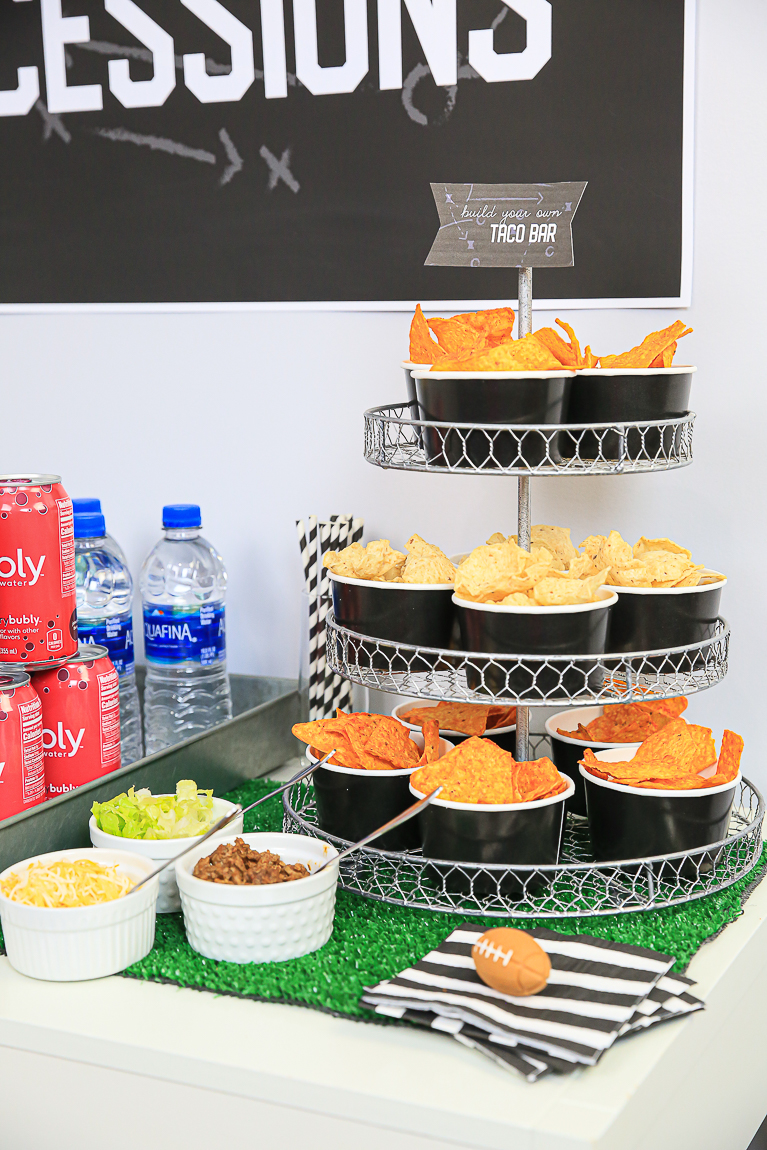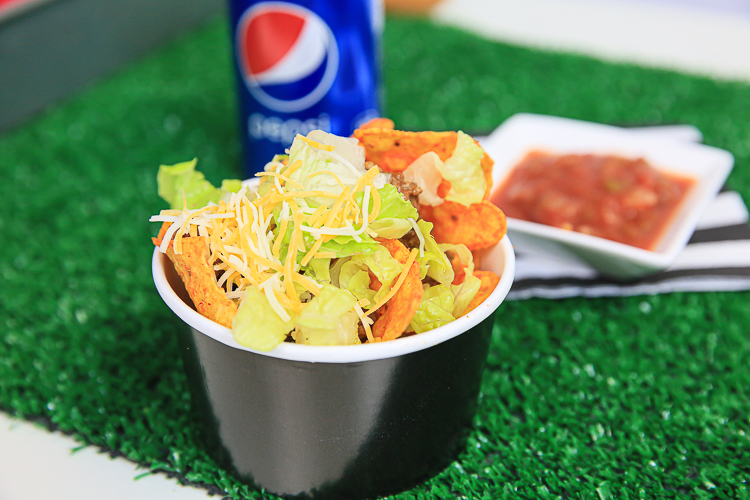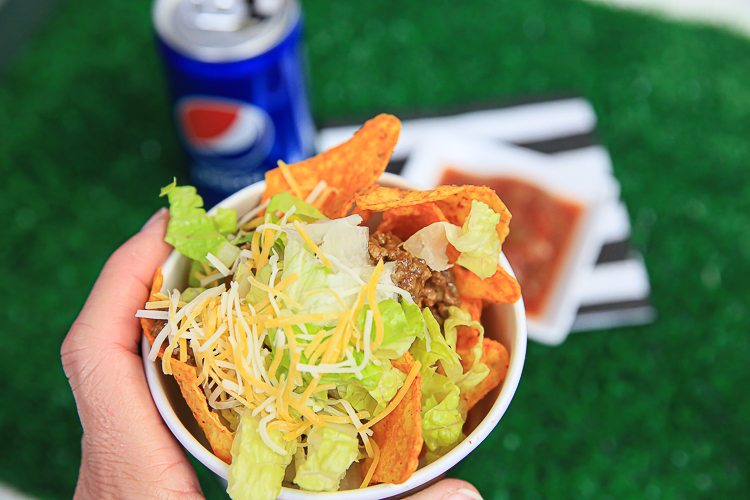 Concession Stand Set Up
Now that you know what you want to serve, you need to make decisions about how to serve it and how many you're serving to.
I'm hosting six people, so my table and portions are a bit smaller than for someone that is hosting 20 guests. Plan to have a table, bowls, plates, etc. to accommodate the number of guests you're expecting.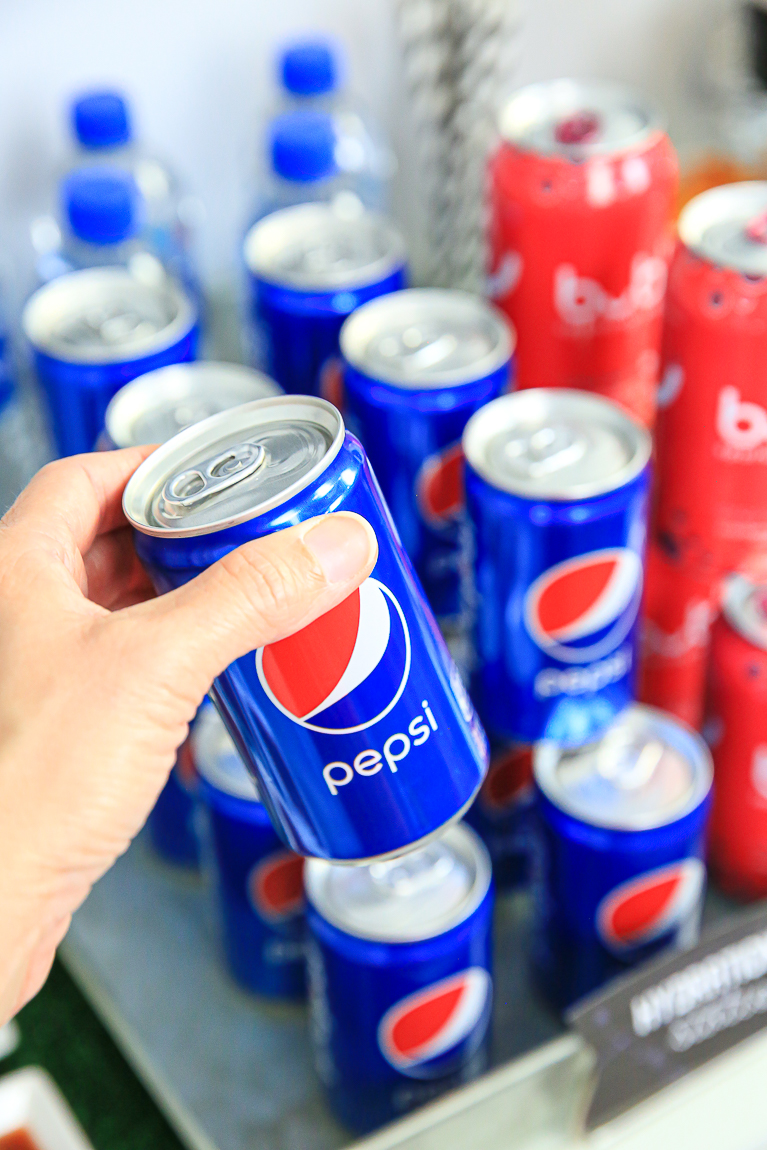 If you set up for six guests and have 20, you'll constantly be refilling your concession stand and you won't have time to join in on the fun! (Trust me, I made that mistake once!)
Here are a few set-up tips:
Height – choose serving dishes or trays that can give the table some height. Or stack things when you can. Height draws attention and allows you to serve more in a smaller space.
Colors – pick a color palette, either your team's colors or general black and white like the referee shirts, and stick to it for all the paper supplies like napkins, plates, bowls, etc.
Decorations – use items like my free printable Big Game Concession Stand sign and labels to dress up the area and make it fun and engaging. Other ideas are pennants, mini pom poms, balloons, etc.
Concession Stand Decorations
I personally prefer a bright, simple and clean aesthetic so I chose to decorate my concession stand in black and white, with a touch of green (like the turf). Just remember, the key is height, color coordinating paper supplies, and lots of great food options.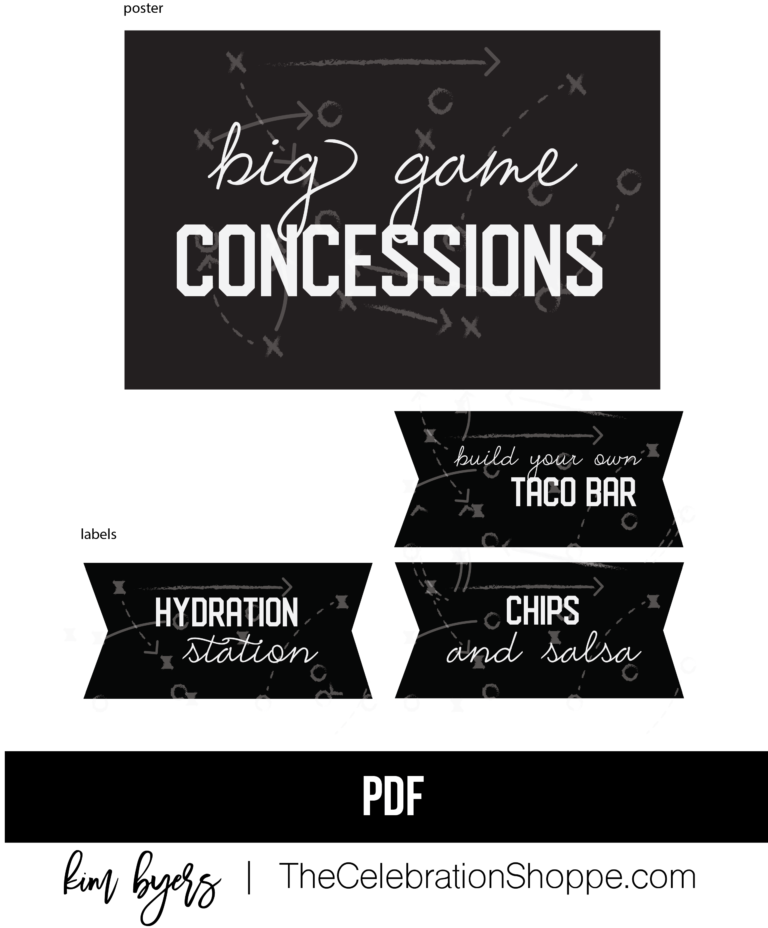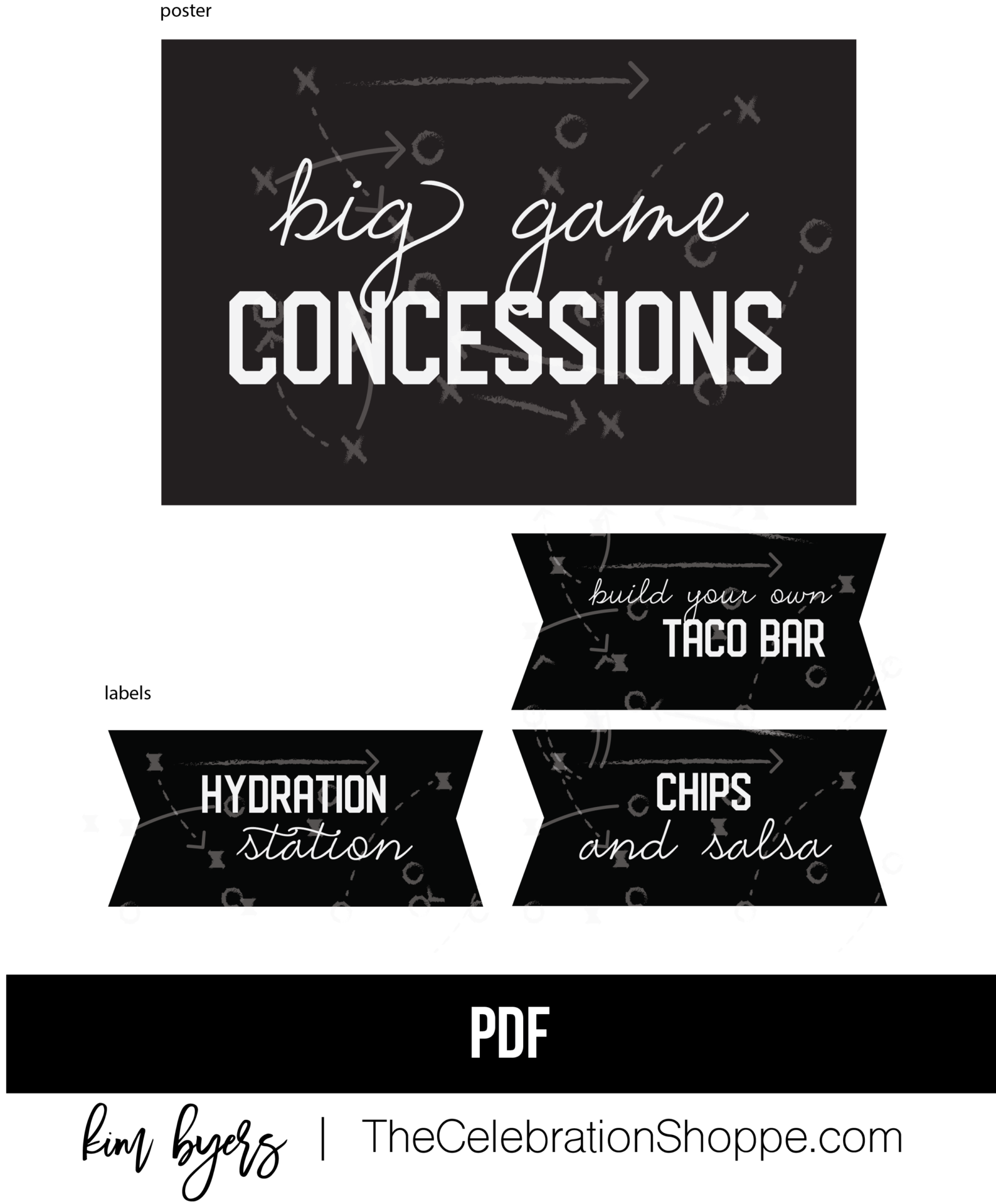 Where To Find These Snacks At Publix
One of the things I love about shopping at Publix is the variety, and the beautifully clean stores (not to mention that they still have baggers! No other store has them and I miss those days!)
You'll be able to easily find all your Frito Lay and Pepsi favorites in your Publix store.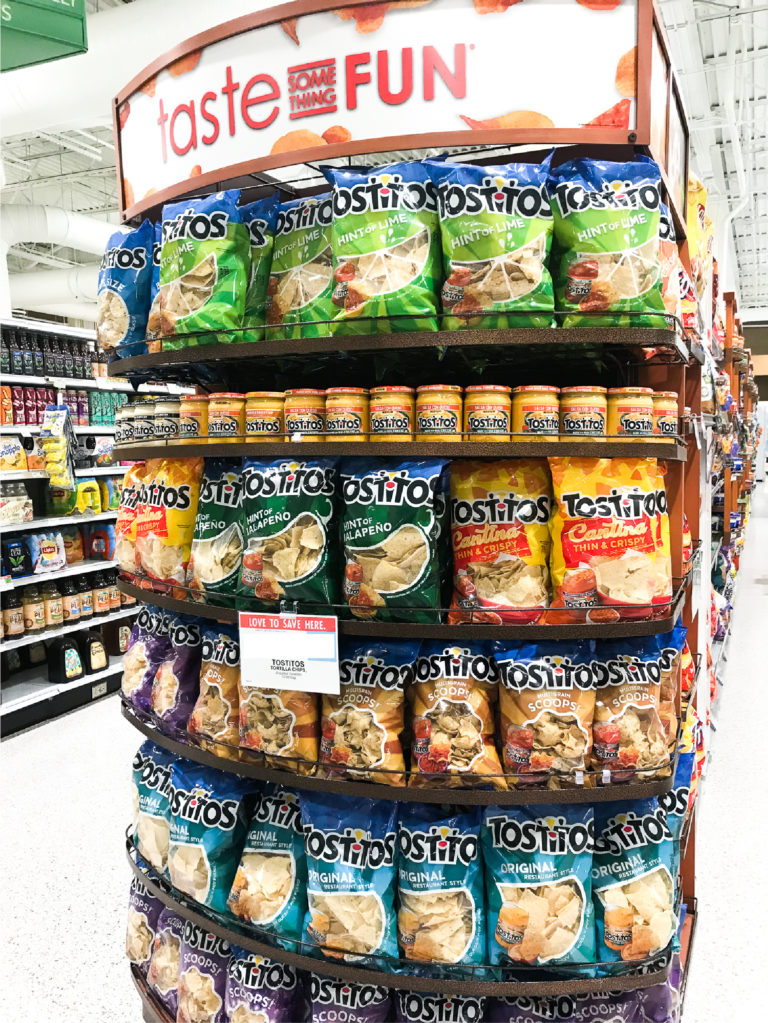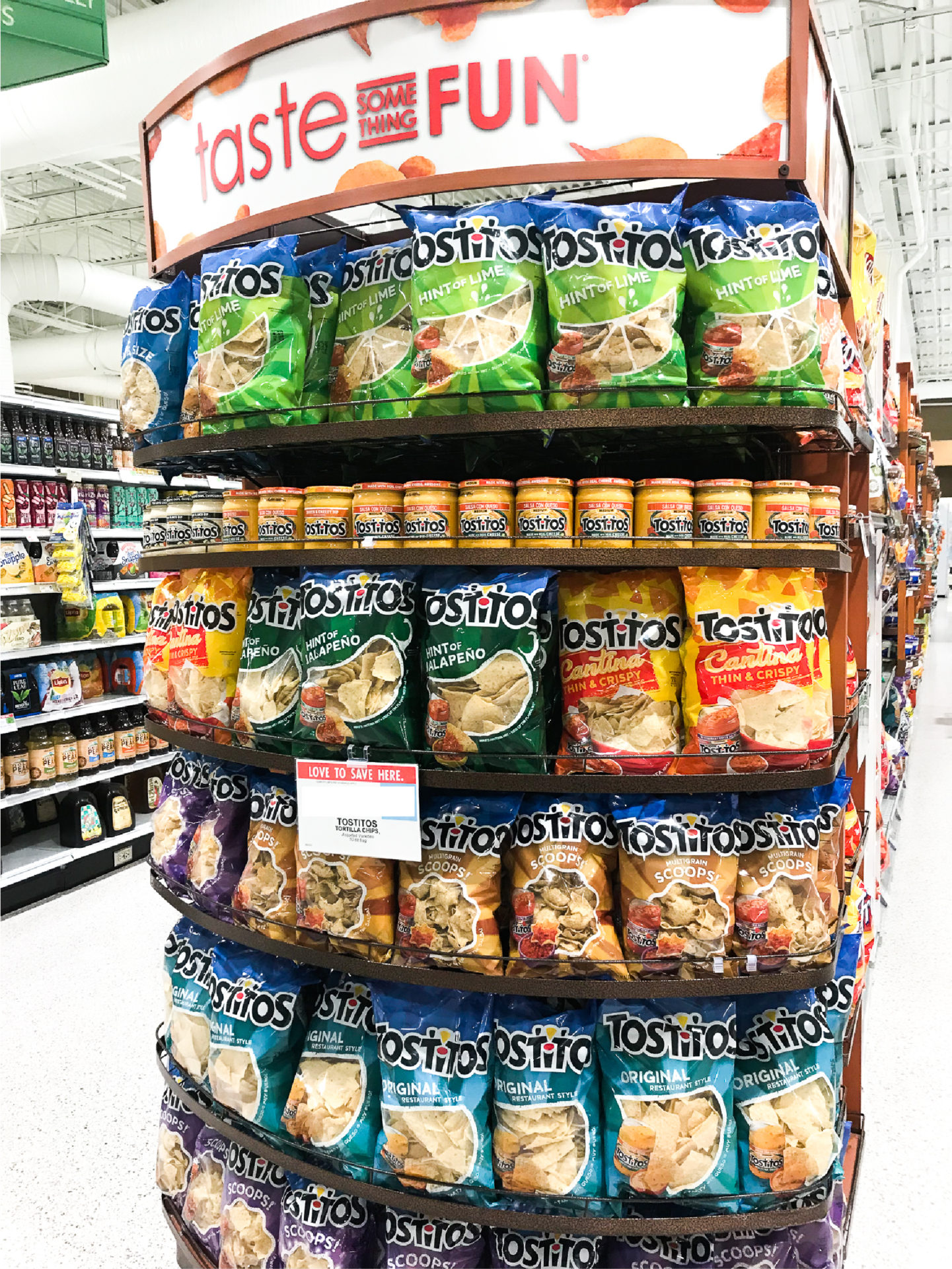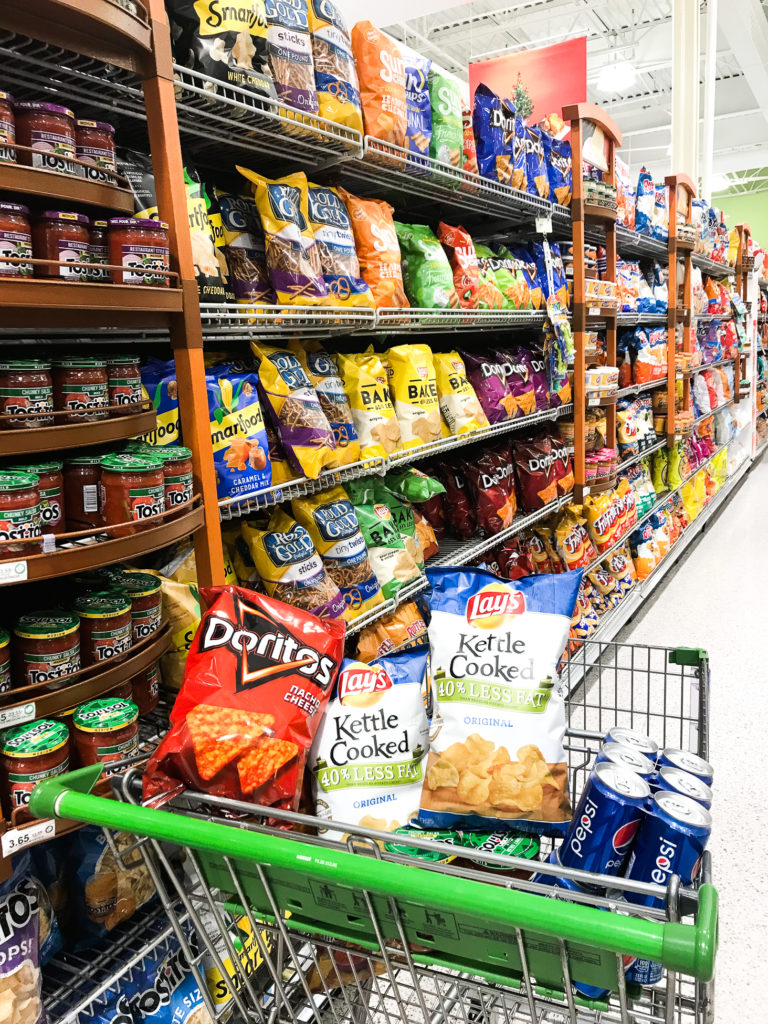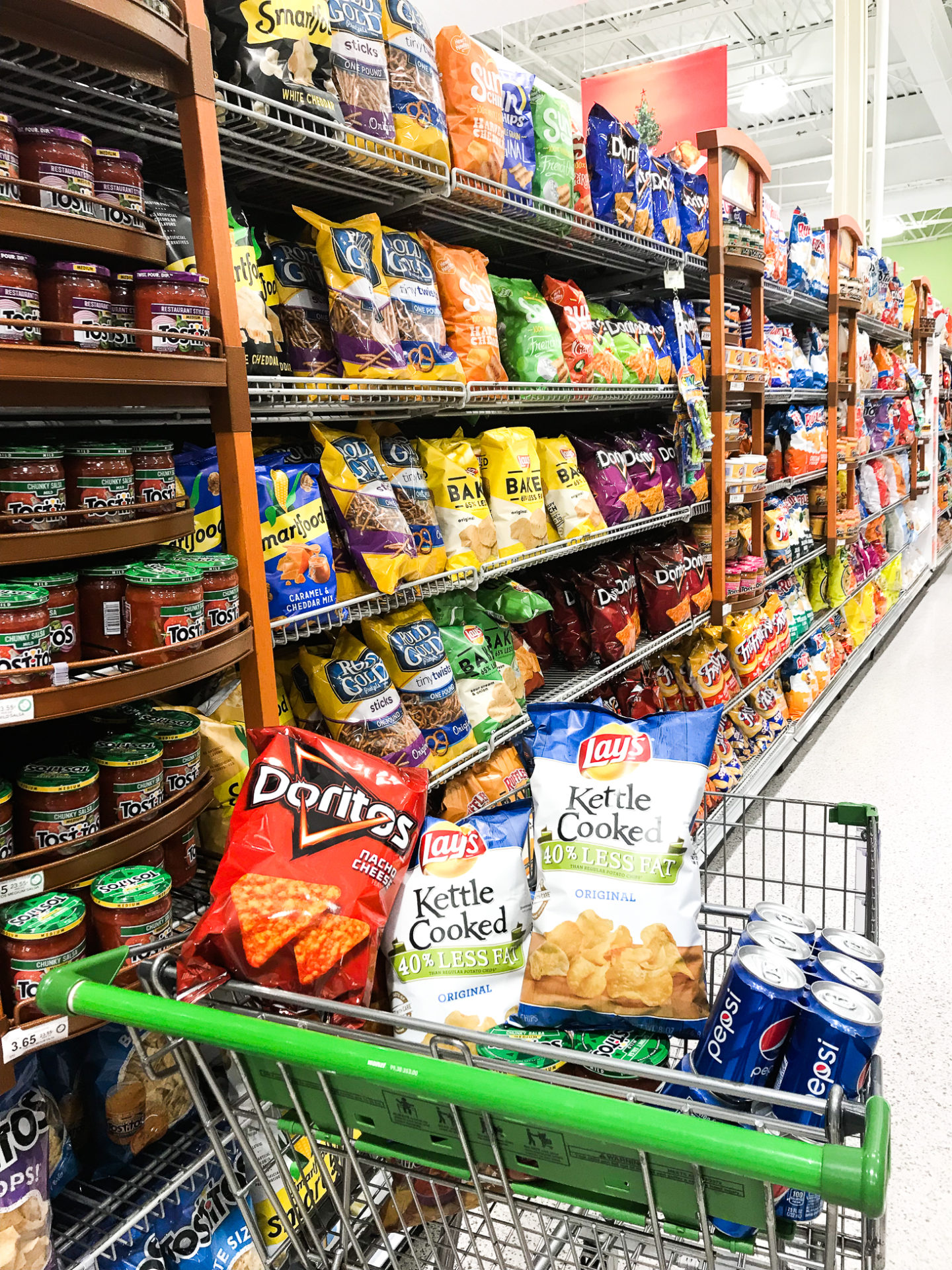 Offers At Publix
Save $3.00 on any 2 Pepsi 12 packs and 1 Doritos 9.25 – 11.25 oz.
Buy 2 Lay's Kettle Chips, get 1 FREE 6 pack of Pepsi Mini cans (assorted varieties).
More Big Game Inspiration
Want more great Big Game ideas, make sure you visit Pepsi online and on social. You'll find lots of Big Game day ideas to help you host the ultimate watch party, and will be able to learn more about the offers above!
As always, I hope you're inspired to craft, create and celebrate!
INSTAGRAM | FACEBOOK | PINTEREST | TWITTER | YOUTUBE
INSTAGRAM | FACEBOOK | PINTEREST | TWITTER | YOUTUBE
This post contains affiliate links, which means if you purchase something through this post I will earn a small fee from the retailer at absolutely no cost to you. They pay me for bringing you to them and I use it to keep the craft room stocked and the coffee pot working! Don't worry. All content, ideas, photography and opinions are that of my own and I'd have it no other way!