Father's Day Gone Fishing Cupcakes anyone?! My hubby and my boys love nothing better than going fishing together. Worms and stinky fish… boys! So for this Father's Day, I whipped up some Gone Fishing Cupcakes to help us celebrate!
These cute fishing themed cupcakes are super easy to make and dad will love them. Let me show you how!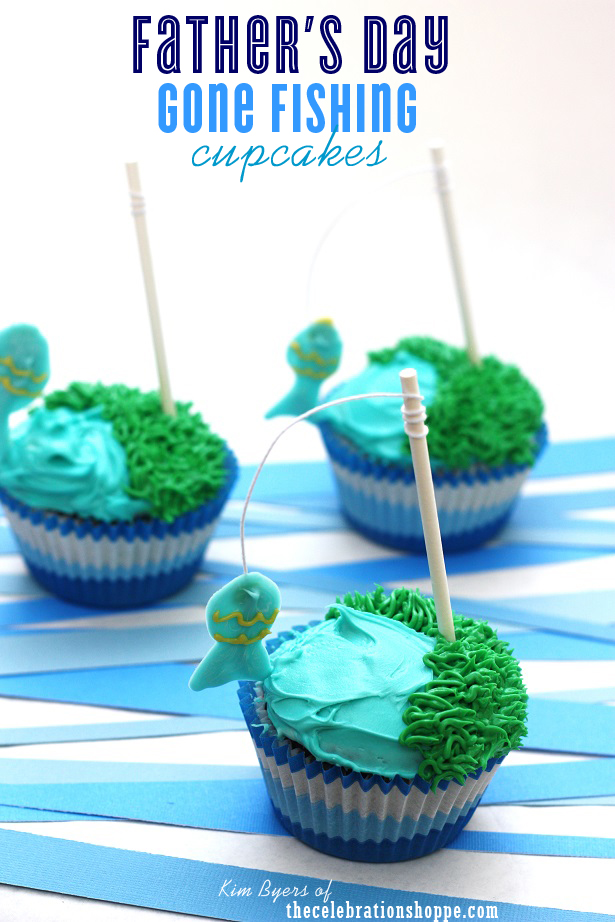 By the way, a few days ago I shared my Father's Day Lawnmower Cupcakes. They are super cute if I do say so myself. They're also really easy to make, so if your husband or dad aren't into fishing, try out my Lawnmower Cupcakes! Unfortunately we all have to mow!
Ingredients & Supplies For Father's Day Gone Fishing Cupcakes
I made these cupcakes the easy way, from a box and with can frosting. That said, if you want to make everything homemade, I'm sure dad will give you a big hug! ;) Here are all the ingredients and supplies I used.
Tip: If you have darling wrappers that you want to stay darling, bake your cupcakes in a white liner (to absorb all the grease and discoloration), and then once cooled, place the pretty liner over the white. Look closely at my Father's Day Gone Fishing Cupcake. See the white liner underneath?!
Easy Tutorial For Father's Day Gone Fishing Cupcakes
Blue (water/waves) icing – tint icing blue. Using a spatula or butter knife, ice the entire cupcake blue pulling the icing on one side upwards with a swiping motion to look like waves.
Green (grass) icing – tint icing green. Pipe grass with a #233 Wilton icing tip. Just snip a corner of a resealable plastic bag, add an icing connector and icing tip. Fill with green icing and pipe tall grass on half of the cupcake as shown
Make chocolate transfer fish – place 8-10 blue candy melt wafers in a resealable bag and microwave in 8 second intervals until melted (likely three times). Snip corner of bag and pipe simple fish shape on wax paper. Allow to set for 10 minutes or until solid. Place 4-6 green candy melts in a resealable bag and melt. Snip small hole in one corner and pipe scallops on each fish. Allow to set 10 minutes or until solid.
Make fishing poles – Cut four inch pieces of stem wire, wrap one end around a lollipop stick and slightly curve the "line" with your finger so that the fish will set on edge of the water/cupcake.
Attach fish to pole – place a small dollop of blue chocolate on the back of the fish and attach the line. Allow to dry.
Insert pole into cupcake – insert the lollipop stick in the grass, at the edge of the water. Place the fish at the edge of the water to give it extra stability.
Styling tip:
Cupcake liners – bake in white cupcake liners and then top with your pretty/colorful liners so that they look fresh and crisp.
Serving tray – cut strips of various hues of blue and criss-cross to line tray for the appearance of water.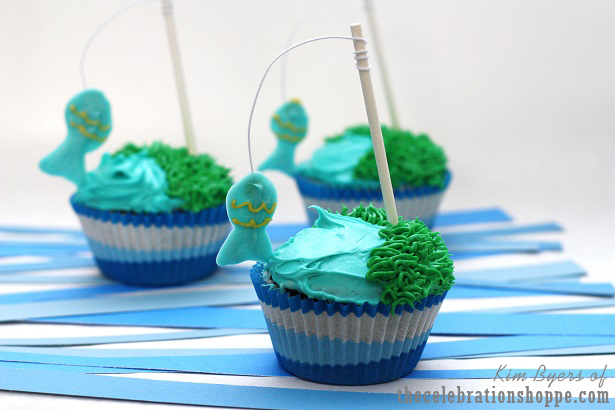 More Father's Day Gift and Craft Ideas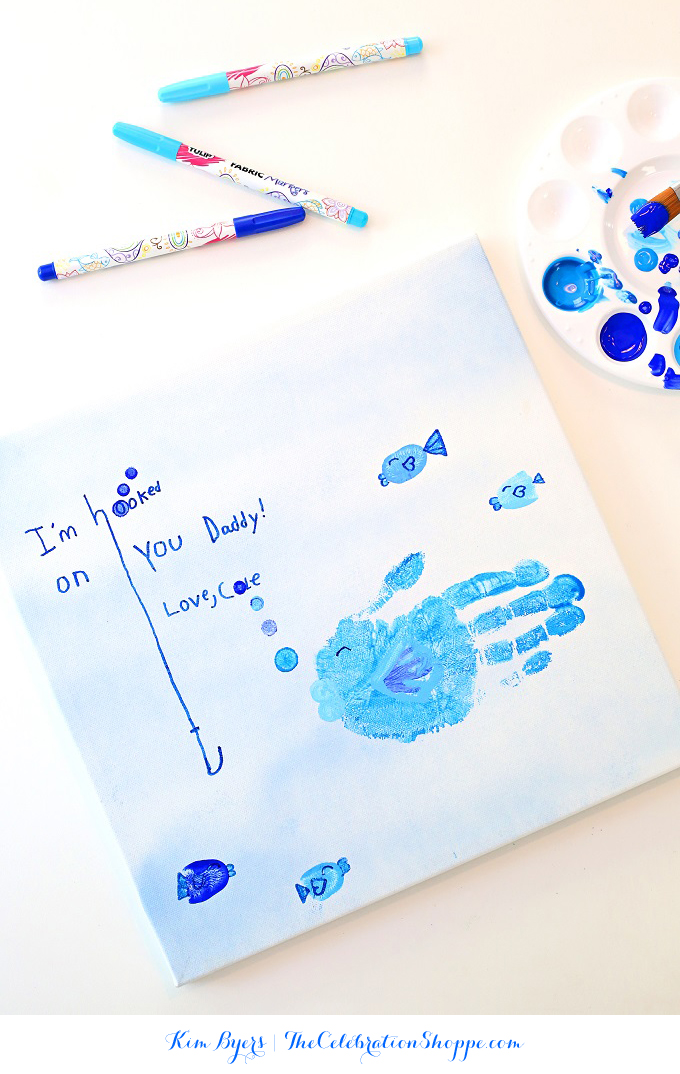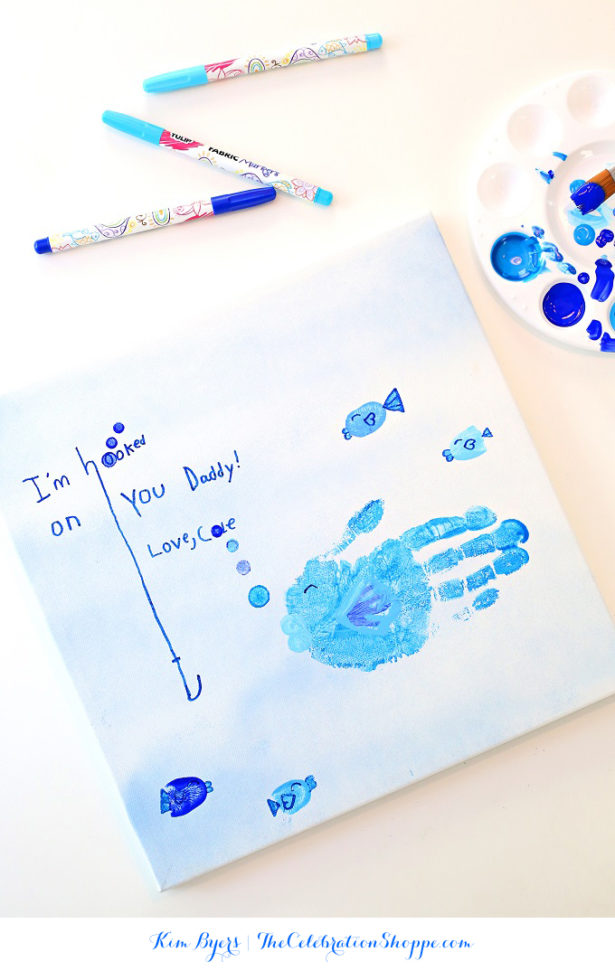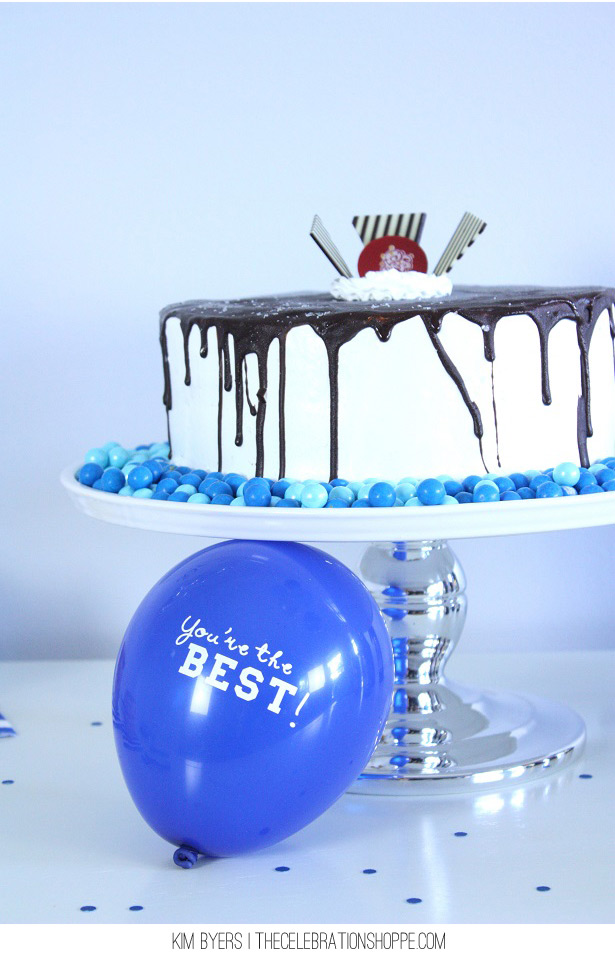 Give these Father's Day Gone Fishing Cupcakes a try and involve the kiddos. The cupcakes might not look perfect, but you'll have a ton of fun and make some great memories! We did! By the way, you're only seeing my versions. The boys were darling in my eyes, but you might not have recognized the fish! :)
As always, I hope you're inspired to craft, bake, create and celebrate! Happy Father's Day everyone!
INSTAGRAM | FACEBOOK | PINTEREST | GOOGLE+ | TWITTER | YOUTUBE | BLOGLOVIN
Father's Day Gone Fishing Cupcakes seen first on The Celebration Shoppe.