I have a new Thanksgiving SVG for you so let's make a Thanksgiving T-shirt, Gobble Gobble Til You Wobble, and I'll teach you how to layer iron-on!
I whipped this cut file up with my sweet little three-year old niece in mind, but honestly, I'd where this shirt! Or, maybe I'll make one for me that says, "I'm here for the pie!" Which would be totally true! Those that hang out with me know, I love a great graphic tee for all the holidays.
And, I LOVE iron-on craft projects. For this Thanksgiving t-shirt I used four different kinds of iron-on, everyday iron-on, flocked iron-on, glitter iron-on, and foil iron, and five colors. It's easier than it sounds!
Supplies for Thanksgiving T-Shirt
Red Flocked Iron-On
Scissors
Ruler
Tshirt
Design Space (upload my design below)
Optional: BrightPad for weeding
Watch Video – How To Make A Thanksgiving T-Shirt & Layer Iron-On
Do you love watching a video over reading a tutorial? If so, join me on YouTube! I'd love for you to subscribe and get new videos every Tuesday.
Download Thanksgiving SVG, JPEG & PNG
This cut file is FREE for the next week, then it hits the shop, so grab it while you can and happy Thanksgiving crafting!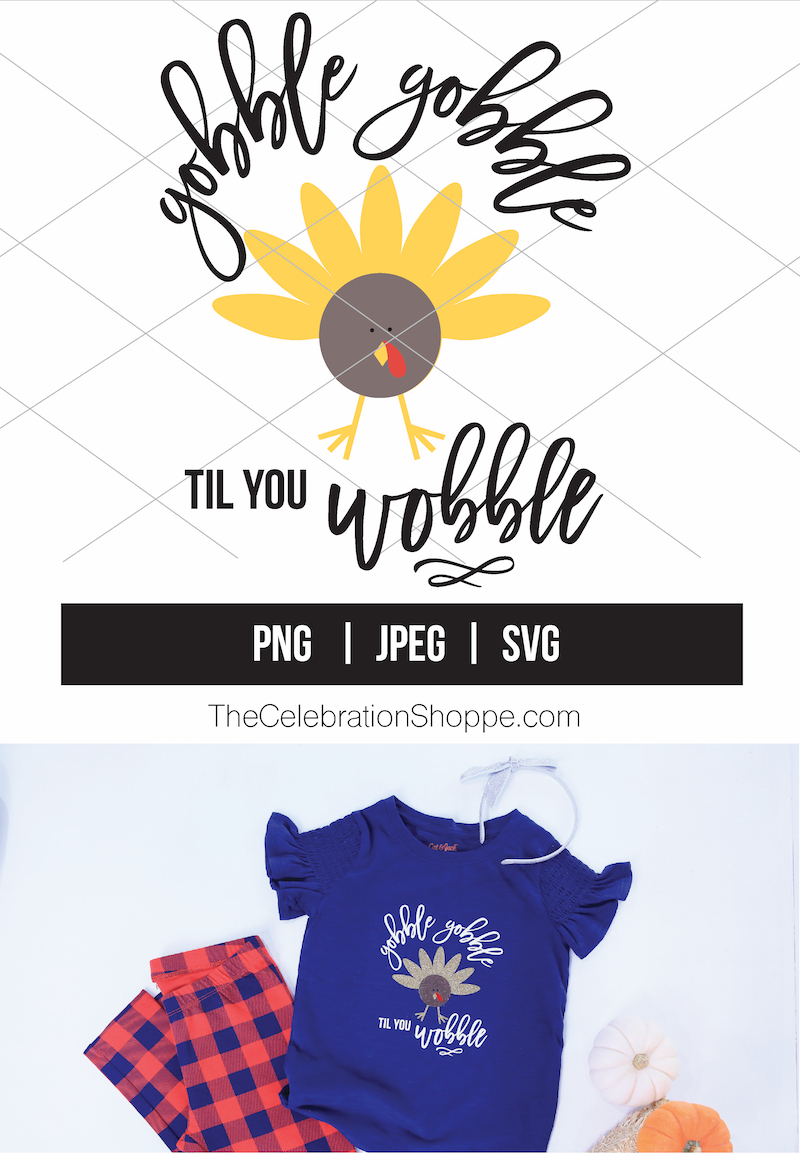 Iron-On Tips & Tricks For A Perfect Project Every Time
Iron-on crafts are my favorite right now, but there are some really important things to remember if you want to have beautiful projects each and every time.
Iron or EasyPress – I use the EasyPress, as you saw in my video. If it's still on your wish list, you can totally use an iron. Two things. Never use steam, and the heat from your iron will vary so be careful. I talked about the Cricut EasyPress in this Facebook live last week. Give it a watch if you're thinking of getting one. I highly recommend it for consistent perfect results!
Know your fabric and your iron-on material – Not all fabrics are created equal. Use the Cricut EasyPress Heat Setting Guide for absolutely every project. It will allow you to input your fabric, and what type of iron-on you're using, and it will tell you what temperature to use and for how many seconds. I talked with some of the team that developed the EasyPress and I can tell you that they spend hours upon days testing fabrics and heat setting so that you would get the perfect project every single time. Not only that, it tells in what instances you peel iron-on off warm or cool. If you've ever pulled foil off warm, then you know what I'm talking about. Ugh!
How to layer iron-on – You can layer iron-on, but not all can go on top. For instance, you can put Everyday iron-on on top of Glitter, but you can't put Glitter on top of Everyday! Also, protect the iron-on that you already have in place with a soft cloth. Because different iron-on products require different heats to adhere, you don't want to burn the iron-on already in place!
More Thanksgiving Craft Ideas
As always, I hope you're inspired to craft, bake, create and celebrate!
INSTAGRAM | FACEBOOK | PINTEREST | GOOGLE+ | TWITTER | YOUTUBE | BLOGLOVIN
This post contains affiliate links, which means if you purchase something through this post I will earn a small fee from the retailer at absolutely no cost to you. They pay me for bringing you to them and I use it to keep the craft room stocked and the coffee pot working! Don't worry. All content, ideas, photography and opinions are that of my own and I'd have it no other way!