Let's talk Cricut tools and materials I love, and what I crafted with them!
It's no secret that I'm a Cricut crafter. I use my Cricut for most every craft project I make in some way, whether it be the entire craft like an iron-on graphic t-shirt, or just cutting a few paper shapes for a kid's craft. Cricut is hands down my go to craft tool.
Cricut offers a entire family of craft supplies and tools, and honestly I've used almost each and every one of them. This list is my personal top 10 Cricut tools and materials that I keep in my craft room.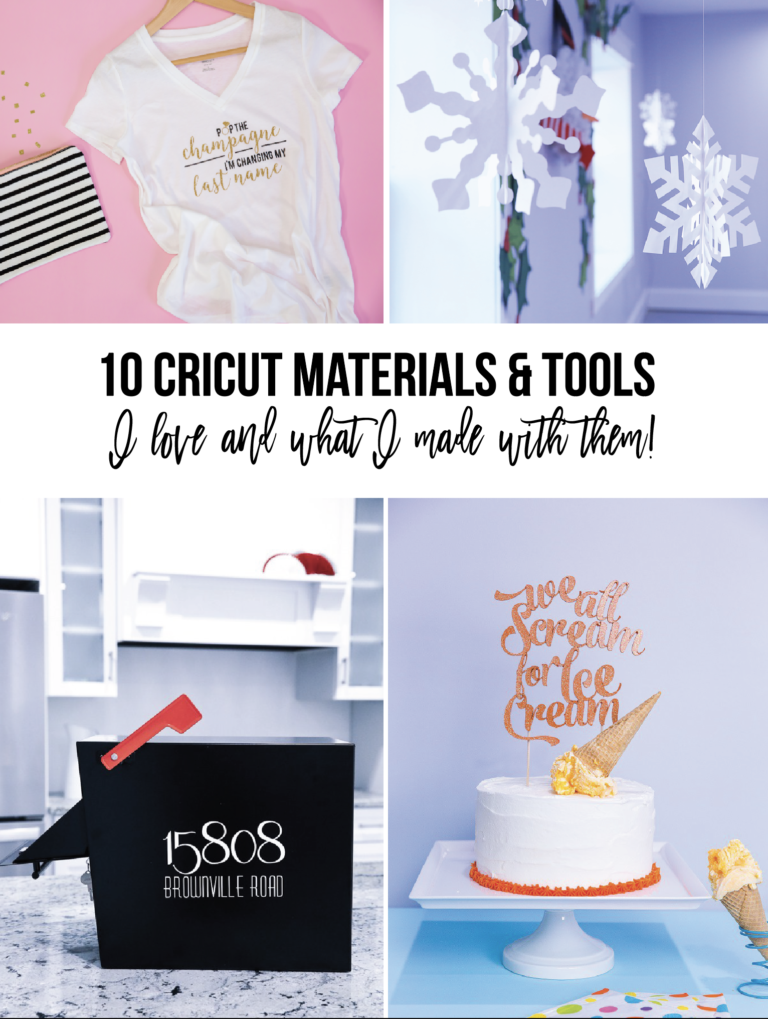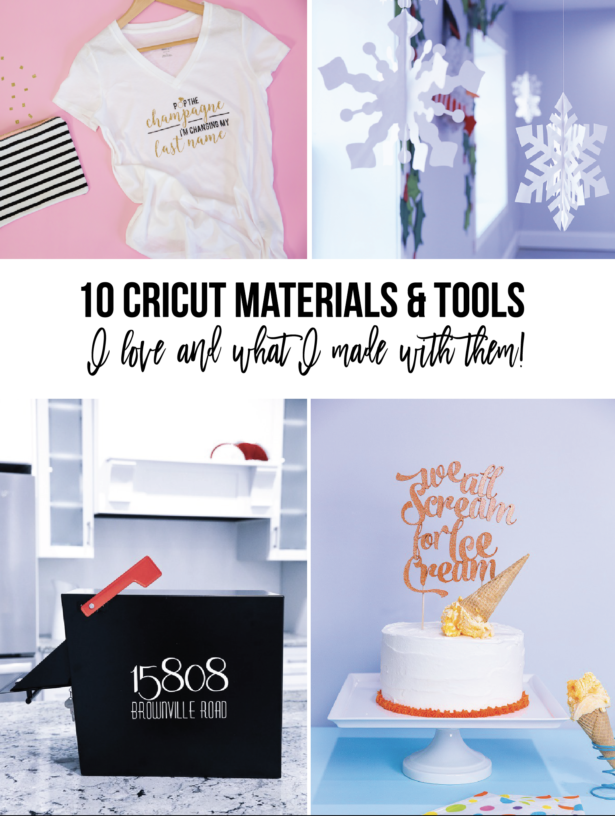 #1 – Cricut Maker
Let's start with the machine. I've owned a Cricut machine for more than 10 years, and had almost every, if not every, version since the Cricut came on the market. Each Cricut machine, at it's time, was revolutionary and the best product, in my opinion, available. If you know Cricut machines then you remember the cartridges and the dials. Wow have we come a long way!
I still own the Cricut Explore Air, and a Cricut Explore Air 2; they're both still great machines (and I pull them out when I have family and friends over to craft).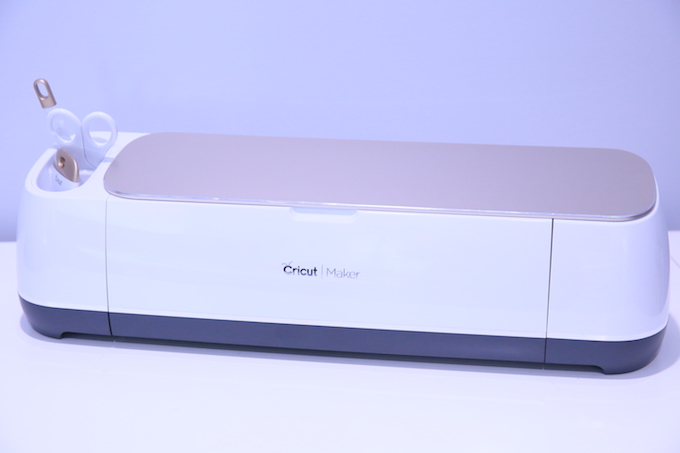 But I still can't get over the amazing technology in the Cricut Maker. People ask me all the time if the upgrade from the Cricut Explore Air 2 to the Maker is worth it. My answer is always yes, hands down. Cricut offers upgrade opportunities regularly so if you're considering an upgrade, watch out for those.
There is one core reason I think Cricut Maker is worth the upgrade. It's all about the Adaptive Tool System™. Unlike all the other machines, the Maker can be upgraded. For once, all the new products that come on the market from Cricut will be able to work with one machine. So until your machine wears out, you won't be buying a new one! The Maker's adaptive tool system allows it to maneuver and run new blades, tools and accessories as they come on the market.
Just since the Maker came on the market last year, Cricut has rolled out the Knife Blade, two Scoring Wheels, Fabric Markers and I hear this is just the beginning!
When I first got my Maker I wrote an article comparing my Cricut Maker to my Cricut Explore. See which machine works best for your crafting needs!
#2 Cricut Glitter Iron-On
You think most girls have a thing for glitter, well with me it was sort of a love hate relationship. I love paper crafts that have glitter on them, but I have never loved the process of getting the glitter in place. The mess can be too much.
With Cricut glitter iron-on, and for that matter Cricut glitter vinyl, there is no mess. You can craft with the beautiful sparkle of glitter without all the sweeping. It is my favorite!
I just launched a new Wedding Cricut cartridge in Design Space, adding to the 10+ Cricut cartridges I already have in the system, and I must have used my weight in glitter iron-on. It's perfect for the big day!
This darling wedding day graphic tee is just one of the things I made with the wedding cartridge and glitter iron-on. It wouldn't be the same without a little bling! I'll post a full tutorial on this tee next week and it's coming to MAKE IT NOW projects in Design Space shortly too! It's super simple. Until then, watch this video of how I make graphic tees.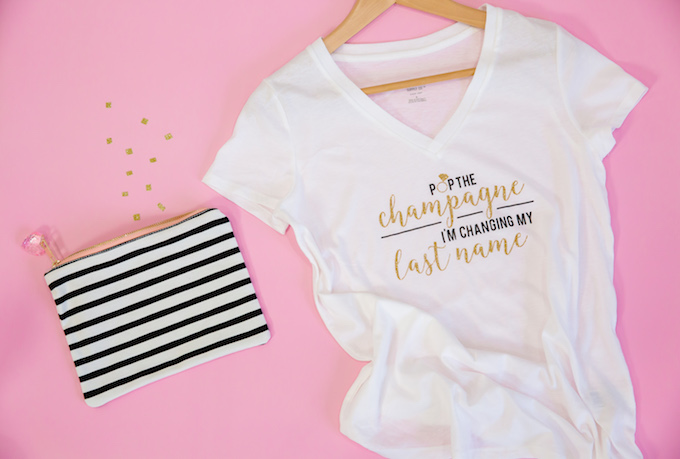 #3 – Cricut Premium Outdoor Vinyl
Vinyl, especially premium outdoor vinyl, has so many uses. We have a large back porch and I love to decorate it. With premium vinyl I don't have to worry about the design I work so hard on coming off. I think my favorite outdoor vinyl project is one I made for a mailbox.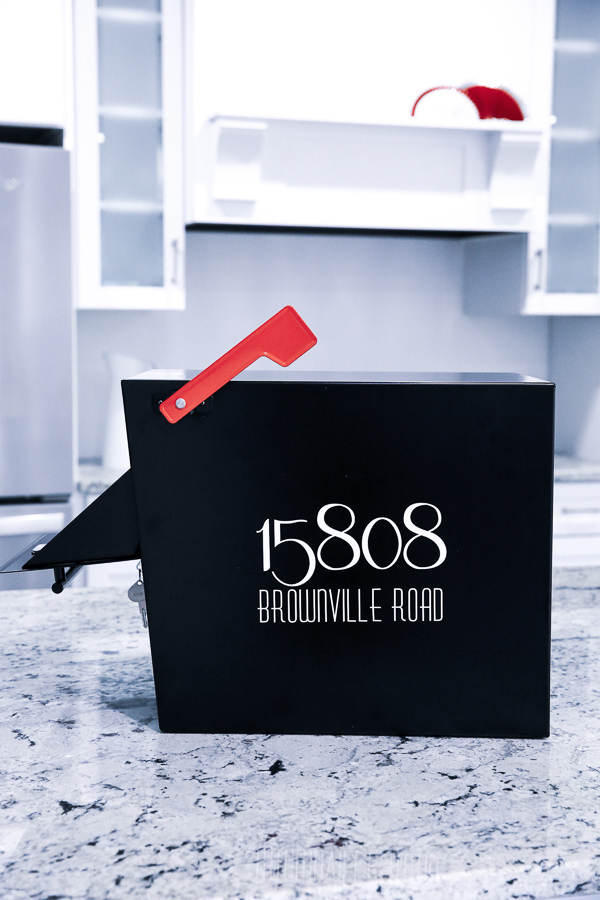 It's just simple fonts that are available in Cricut Access. Here's a link to my project in Design Space if you'd like to make one for yourself.
On the flip of that, I love Everyday Vinyl for temporary indoor projects. I host a lot of parties, mostly holiday themed, and I want to create fun and special spots around the kitchen and dining room for treats and drinks. Everyday vinyl is perfect for signage on the wall, mini pallets, picture frames, etc. It's also perfect for organization projects like these laundry baskets!
#4 – Cricut Knife Blade
I've been waiting on the Cricut Knife Blade, or a tool like it, my entire crafting life. When I spend so much time on home decor, or holiday decor that I'd like to use from year to year, I want it to be thick enough to survive storage. The knife blade now makes that possible with cuts as deep as 2.4 mm!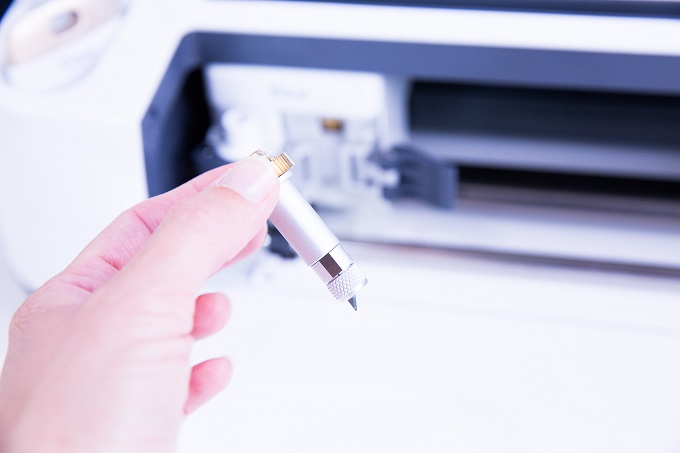 I've made several cake topper so far with the knife blade. This We All Scream For Ice Cream cake topper was the perfect detail to our summer ice cream get together. The letters are a bit flimsy because of how they're stacked if you use anything less than cardboard.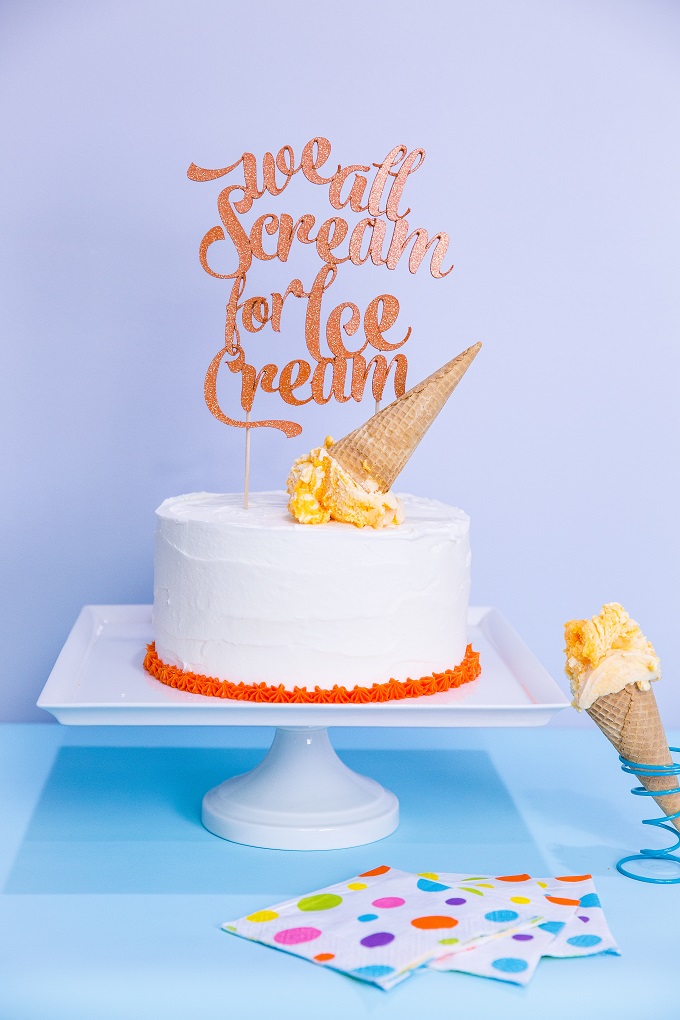 #5 – Cricut EasyPress & Pad
This tool is a must have for those that love making anything iron-on. I used an iron for years until the Cricut Easy Press came on the market. I was semi-successful. I got the knack of it, but sometimes the projects would come apart because the heat settings weren't right. The EasyPress changes all of that.
Each machine comes with a guide that tells you exactly how hot to heat the press, and how many minutes to apply it for each type of fabric you might try.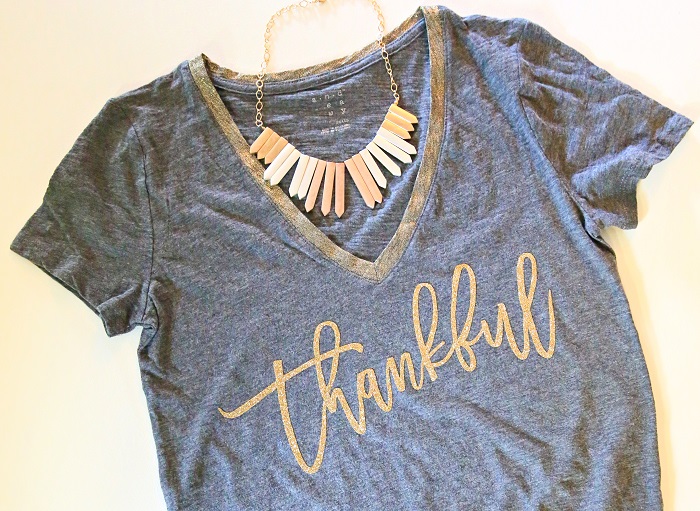 I made a little video of the EasyPress when I was making this pretty little Thankful graphic t-shirt.
The EasyPress pad is one of those items that people often ask me if they really need. The simple answer is, if you want to protect your crafting surfaces, yes! I didn't invest in one at first and I ruined my craft table top. The EasyPress gets so very hot, which of course is what makes it perfect for bonding, that you can't just use a regular iron pad to separate it from your surface.
Thank goodness I could replace the top layer for $20, but if I had just spent $24 on the mat, I wouldn't have had to worry. Not only does it protect surfaces, but it also give you a consistent and even 12″x 12″ surface.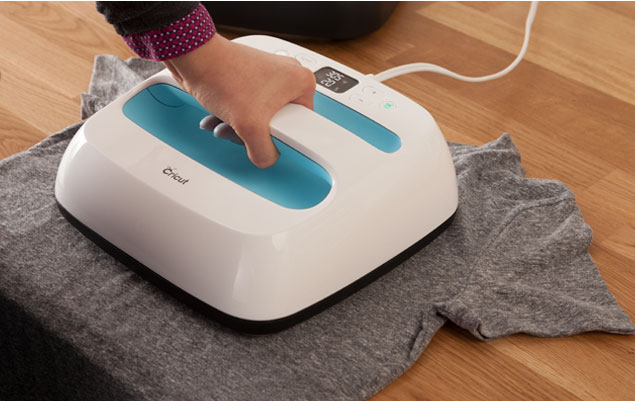 #6 – Cricut Sports Flex Iron-On
We're an active family. My kids play lots of sports, we hike regularly, we bike, we swim, and I love graphic tees. I like to personalize shirts for them, but I also like to personalize t-shirts with their sports team for me.
Right now both boys are playing basketball and running cross country. I used to run, and with them now running cross I was determined to get back in the groove. I mean, how am I going to keep up with them. Okay, so I'm not. They're crazy fast.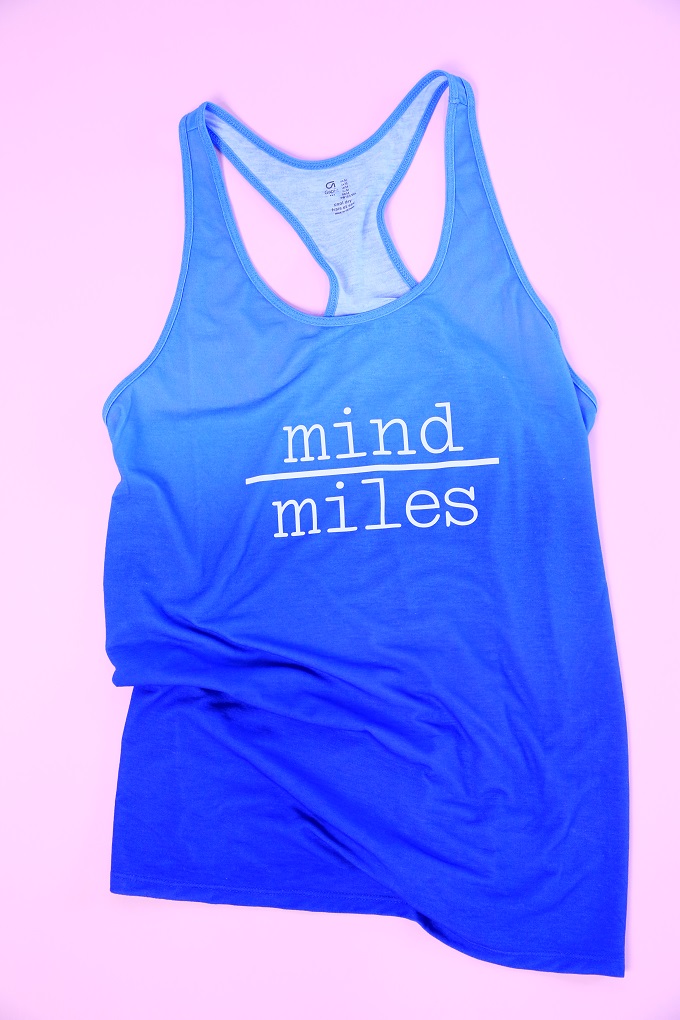 At the beginning of the season I pulled out my sports flex iron-on and made myself a tank, Mind Over Miles. That is exactly how it feels. I honestly struggle a bit the first two miles, just trying to get a good rhythm and to shake off whatever is occupying my mind, and then I fall into a groove and feel like I can just go and go. I've never loved running as much as I do right now.
#7 – Cricut BrightPad
Okay, so now we're going to get a little personal. I'm not 20 anymore. I know. It's a shocker. My hubby told me that when I hit 40 my eyesight would suffer and I told him no way. Well, I don't need reading glasses just yet, but I do have a hard time seeing some thing. Crafting projects is one of those things.
With the BrightPad, I never mess up a weeding project. There were times before I had the BrightPad that I pulled the wrong edge or hooked the wrong piece and had to recut. That was the worst.
Most of the time though I just took way too long weeding big projects or small details. The BrightPad allows me to see the cut easily and the weeding process is much, much faster. Plus, I can use it for tracing and other crafts that I love to do.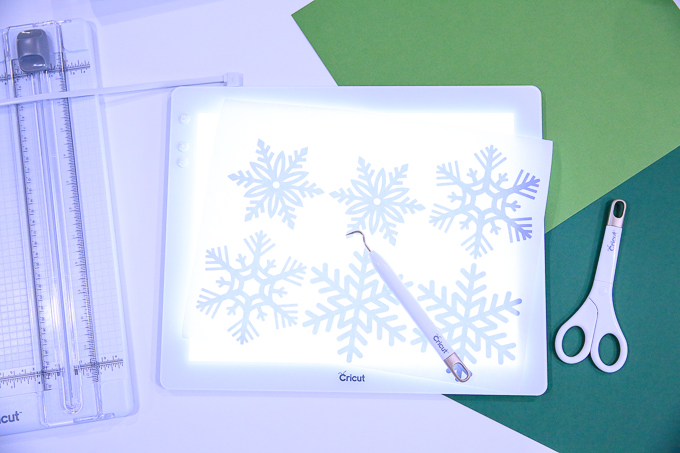 #8 – Cricut Window Cling
I especially love window cling projects for the holidays. At Halloween it's bats and pumpkins, at Thanksgiving it's turkeys and gobble til you wobble signs, and at Christmas it's snowflakes! For the white snowflakes, you can use the regular window cling, but I LOVE the white frosted window cling. It's beautiful!
We used to live in Ohio and snow was just the normal in the winter. Now I live in Alabama, and I have to make my own snowflakes. That's okay with me! Six month winters were really starting to wear on me. I love being outside too much to live in the north too long!
With these paper snowflakes, and window cling snowflakes, I get all the beautify without all the fluffy coats!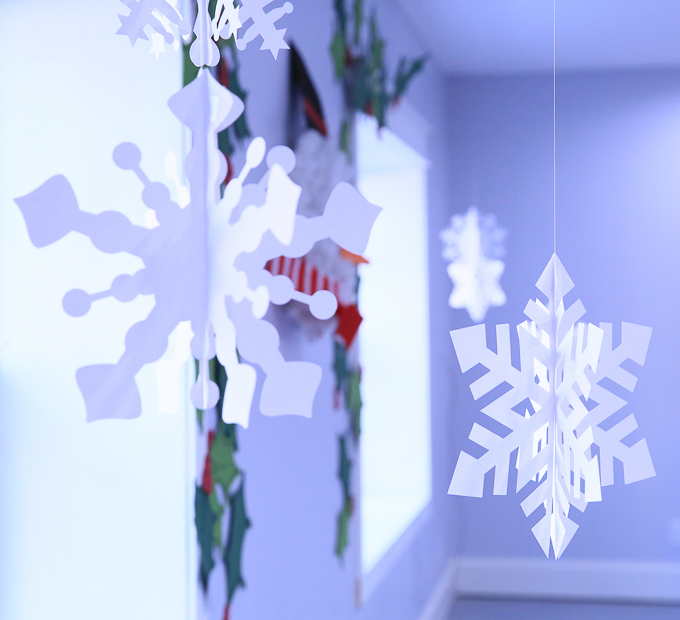 #9 – Cricut Scoring Wheel
The scoring wheel is quickly become a go to for me. I love making cards and favor boxes. Before I never felt like the fold or score was deep enough for a clean bend. It worked great on some papers and less so on others.
Now there are two scoring wheels. There is the single wheel for 90′ bends and a double wheel for 180′ bends. The double wheel basically makes a gusset so that the paper doesn't tear, but truly folds beautifully and professionally.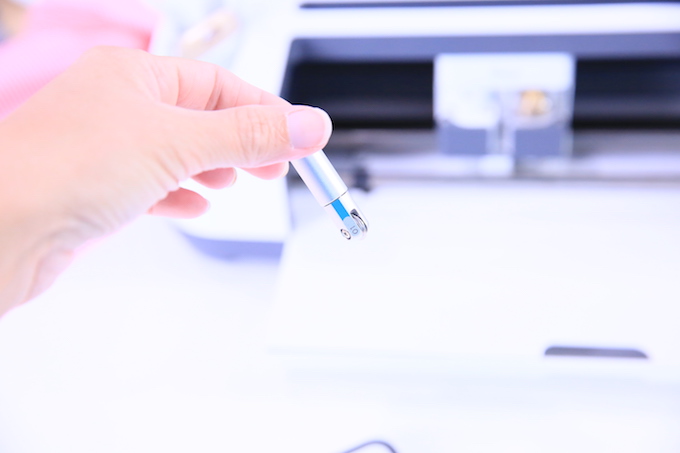 I love handmade, it let's people know you spent the time, but I also love the professional elegance. This scoring wheel set allows you to have both.
I made these fun little s'more treat boxes for the 4th of July.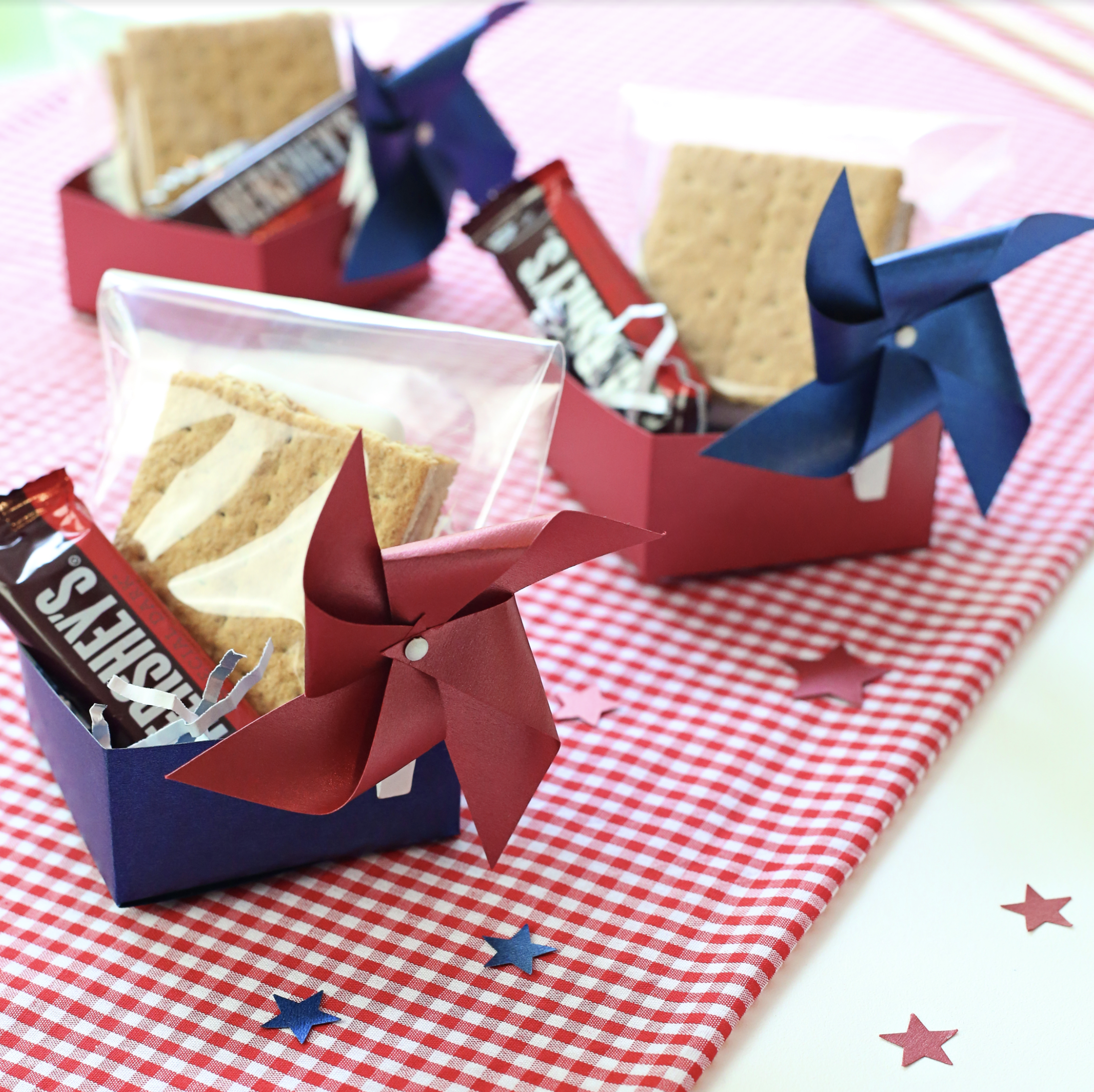 #10 – Cricut Iron-On Designs
These iron-on designs, I personally think are genius. You don't always have time to start from scratch, or have all the colors to make a project, or you may not even have a Cricut machine. These iron-on designs are all you need to craft. Pick a fun one, grab a EasyPress or an iron, and a tee shirt, tote or or pillow topper and you're ready to craft.
Within 10 minutes you'll have something you made!
Take it one step further and say you do have a machine. Well now you can personalize the project. Add your child's name, add a funny pun, add a monogram (for my friends in the south).
These are a few of my favorites! I think I Love You To The Moon And Back might be at the top of my list!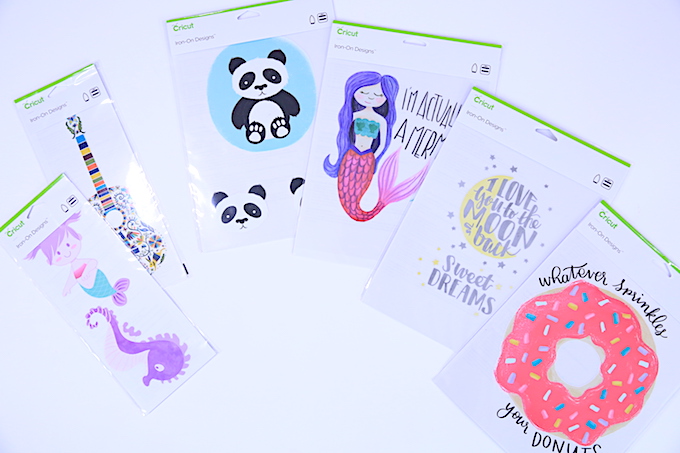 That's my list of 10 Cricut Tools And Materials I Love And What I Craft With Them! As Cricut continues to develop new products and innovations, taking crafting to the next level, I'm sure this list will change. Actually I'm super excited to see what they come out with next.
More Cricut Craft Ideas
As always, I hope you're inspired to craft, bake, create and celebrate!
INSTAGRAM | FACEBOOK | PINTEREST | GOOGLE+ | TWITTER | YOUTUBE | BLOGLOVIN
Thank you for supporting my wonderful sponsors. They make it possible for me to keep the ideas coming! All content, ideas, photography and opinions are that of my own and I'd have it no other way!
10 Cricut Tools And Materials I Love And What I Craft With Them seen on The Celebration Shoppe first.
This is a sponsored conversation written by me on behalf of Cricut. The opinions and text are all mine.