Matchbox wedding favors are a fun and inexpensive personalized wedding favor idea! And I have just the FREE ones for you!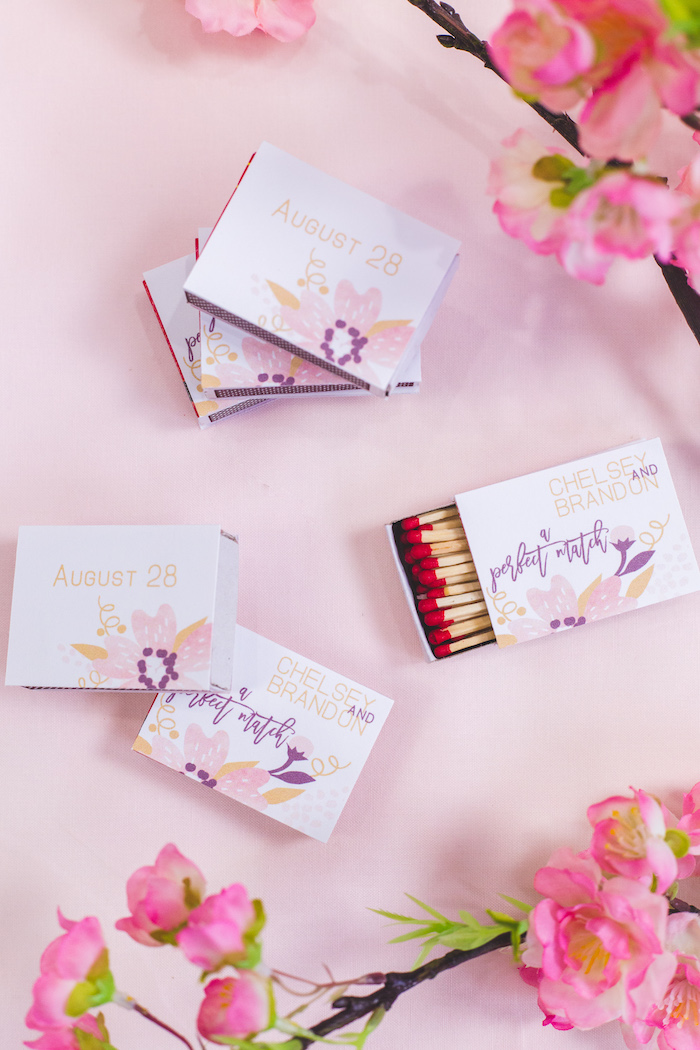 Place your personalized matchbox wedding favors next to the centerpiece candles on each table. Or, better, have sparklers at your sendoff and offer a large bowl of each, matchboxes and sparklers, at the venue exit! Sparklers are so perfect for night send offs!
With this matchbox wedding favor file, you can simply cut them out with a paper trimmer (Cricut's is less than $15) or if you have a Cricut, you can upload my JPEG to Cricut Design Space and personalize them before you print!
What You'll Need For Matchbox Wedding Favors
Matchbox Wedding Favor Download (below)
Optional: Cricut Explore Air 2 or Cricut Maker
NOTE: If you don't have a great printer at home, take the file to your local Office Supply Store.
How To Make A Matchbox Wedding Favor
Download – Hop down below and grab my file.
Cut – Using a paper trimmer, and the guides provided, cut the design front and back out of the sheet.
Glue – Using glue dots, attach each side to the box. Done!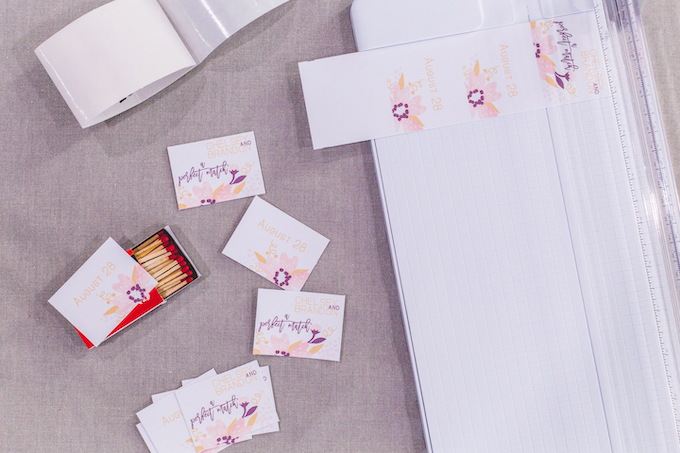 How To Personalize Your Wedding Favor
If you want a professional looking personalized wedding favor, let's use your Cricut! It's actually easier than you think. Once you've used the Cricut Print Then Cut feature, you'll use it all the time!
Download and Upload – Hop down below for my file. Upload the jpeg to Cricut Design Space. It's super easy and I show you how in this How To Upload Designs To Cricut Design Space video.
Font & Color – Once you have the design in Cricut, add the couple's name on one side and wedding date on the other. I used the gold color in the design. It's D0AE73 for those that want to be technical, or you could just play around with the colors until it's a close gold. :)
Fill A Sheet – Change your mat size in Cricut Design Space to 8.5×11 because you'll be printing the design to your printer. I used cardstock in the photography, but you could also use printable vinyl and it would stick right to the matchbox instead of having to glue them!
Cut – Using a paper trimmer, like you see in the photo, and the score lines (small black marks along the edges) cut out all the covers.
Glue – Using glue dots, attach the fronts and backs to the matchboxes.
TIP – You'll be using Cricut's Print Then Cut feature. If you've not used it before, I create an entire project start to finish in this How To Print Then Cut Video
More Wedding Favor Ideas
Looking for more wedding favor ideas, maybe some you can buy instead of make? I hear you! Sometimes you just run out of time. I would suggest ordering as soon as possible. Some personalized wedding favors can take weeks!
[show_boutique_widget id="838125″]
Download FREE Matchbox Wedding Favors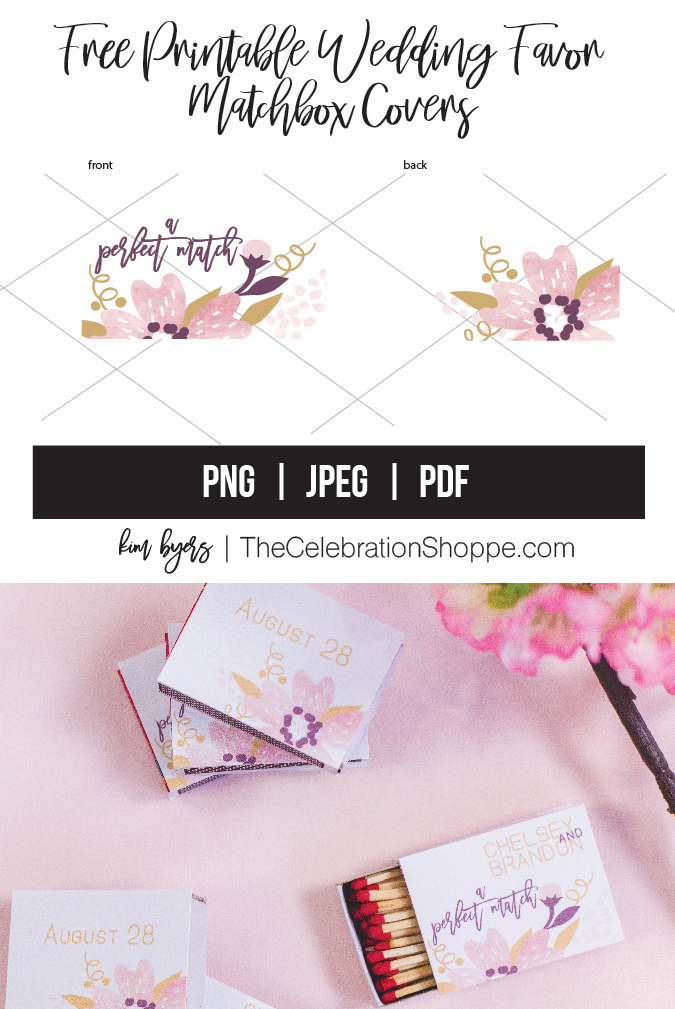 I love sharing my designs with you! I only ask that you join my weekly newsletter where I share tons of ideas, deals and yes freebies! Or, if you prefer not to, you can grab this Matchbox Wedding Favor File in my Etsy shop!
My Handmade Wedding Book
I wrote a book, Handmade Wedding, with Leisure Arts! It's currently in JOANN and Michaels Craft Stores. It's full of more than 20 easy to make crafts from bridal party t-shirts to table settings to the big day and reception. I'd love to help you with fun and creative ideas to help you personalize your wedding and make it uniquely you!
Learn more about my book in my Handmade Wedding book launch post, including lots of pics! :)
More Wedding Craft Ideas
As always, I hope you're inspired to craft, create and celebrate!
INSTAGRAM | FACEBOOK | PINTEREST | TWITTER | YOUTUBE
INSTAGRAM | FACEBOOK | PINTEREST | TWITTER | YOUTUBE
This post contains affiliate links, which means if you purchase something through this post I will earn a small fee from the retailer at absolutely no cost to you. They pay me for bringing you to them and I use it to keep the craft room stocked and the coffee pot working! Don't worry. All content, ideas, photography and opinions are that of my own and I'd have it no other way!
Matchbox Wedding Favors – An Inexpensive and Useful Bridal Gift seen first on The Celebration Shoppe