Let's make a beautiful layered religious Christmas card with the Cricut Maker! This card, We Three Kings, is so lovely and much easier than you might think.
What I think I like most about it, beyond keeping the reason for the season, this handmade holiday card can double as a Christmas ornament for the tree! Something this beautiful doesn't get thrown away, so make sure you inscribe the back with a personal note for your loved one!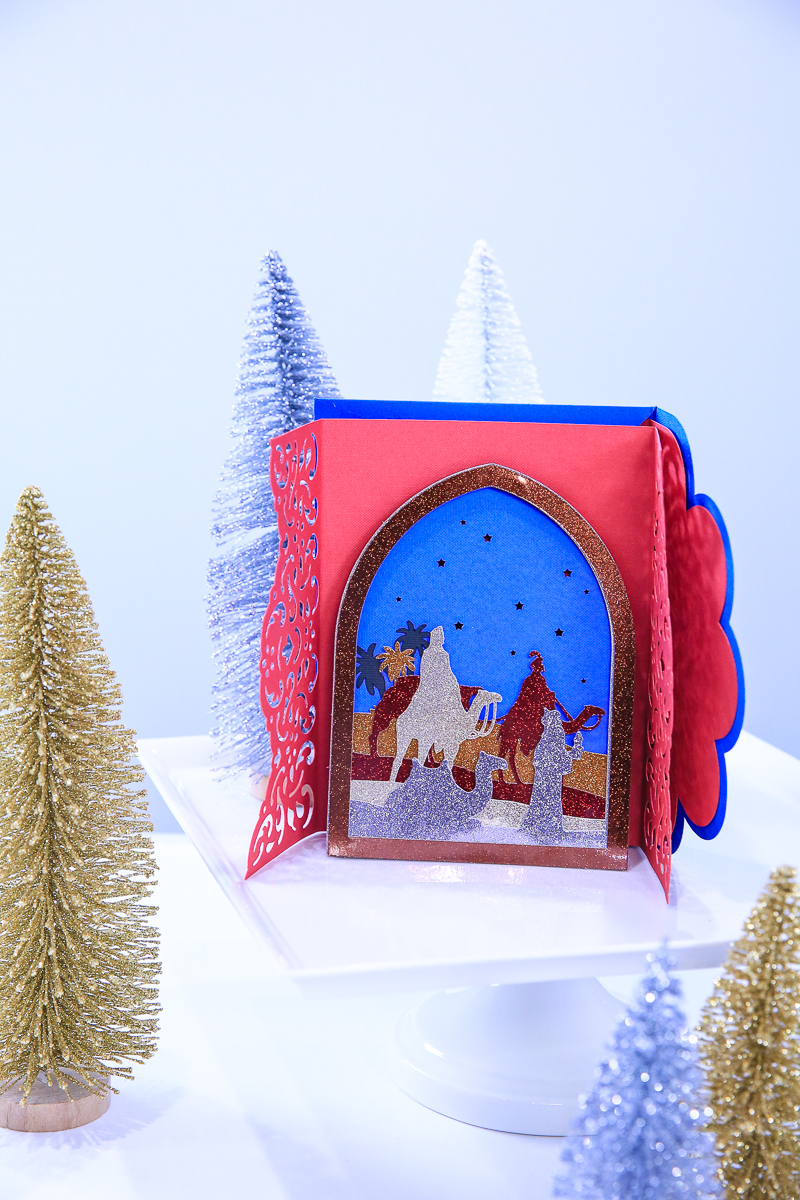 Have you ever tried the Cricut Sparkle Paper? Admittedly when I first picked up a pack I didn't think it was much different from glitter paper, and I LOVE glitter paper. I was so wrong!
Sparkle paper has a lovely shimmer to it, and it's on a heavy cardstock, making it the perfect material for this craft and most Christmas cards.
This card is We Three Kings, but Cricut has a number of these layered religious Christmas card designs and I plan on making one of all of them to send to my closest family members. One is of the manger scene and it's amazingly pretty!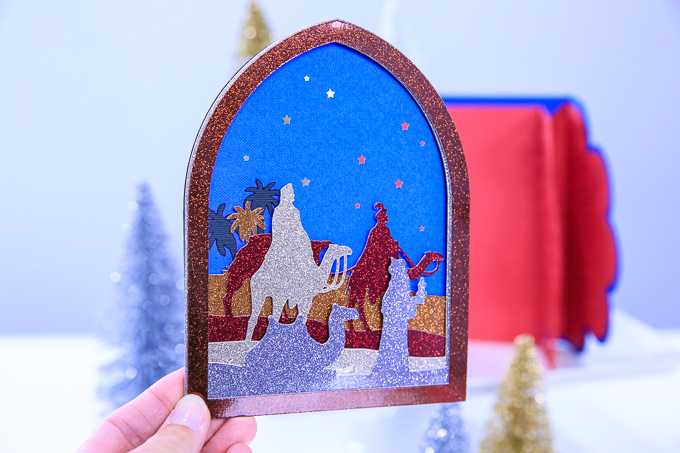 Supplies For Religious Christmas Card
Cricut Sparkle Paper, Classic Sampler (all five colors)
Cricut 12×24 Candy Shop Paper Pack (red and blue colors)
Scoring Wheel (for envelope)
12×24 Standard Grip Mat
Scissors
Cricut Cutting Ruler
Hot Glue Gun
Glue Stick
How To Make Religious Christmas Card
Making handmade Christmas cards is so very subjective when it comes to colors, papers, adhesives (glue or foam risers), size, embellishments and that is what makes them amazing. For this card, I chose to layer without a large number of embellishments for two reasons. First, I'm a bit of a purist when it comes to religious Christmas cards, and second, I want to be able to mail this card so it can't be too bulky.
Here's how I made it:
Size Design – I chose to go with a standard 5×7″ card and envelope, although because of weight I'm still going to have to spend a bit more on postage. Open my Design Space file and resize as you see appropriate.
Paper Selection – I chose to use the classic sampler of Sparkle Paper, a sheet of black cardstock and 12×24 red and blue cardstock. Glitter paper or foil paper would also be lovely for this project.
Cut – Open Design Space. If using my project, I chose to make my back layer (largest dessert sand height) black and not to cut the very back layer that goes behind the stars. I wanted that to be see-through. The other five colors work well with the Classic Sampler. Just follow the prompts, choosing Sparkle Paper for most, and cut or score.
Assemble Three Wise Men – It's very simple with the tallest sand height being in the back of the card. Use a hot glue gun (quickly and with little glue) to assemble the layers. Regular glue can work, but it will take a bit of time for the glue to fully dry. Or, another alternative is the glue dot. Both the glue dot and the thicker hot glue will make the card bulkier and more difficult to mail.
Assemble Envelope – The Scoring Wheel made perfect scores for you. Fold and crease each. Using a glue stick, fold and glue the envelop and liner.
Personal Message – Don't forget to write a personal message on the back of the Three Wise Men card, as well as inside the card, so that family can use the beautiful paper creation as an ornament too.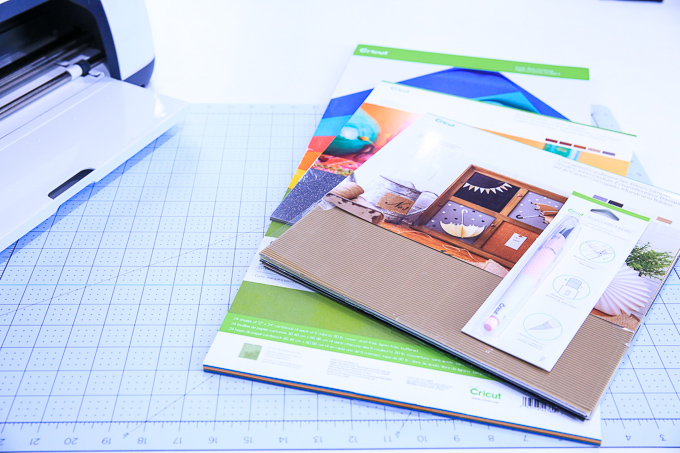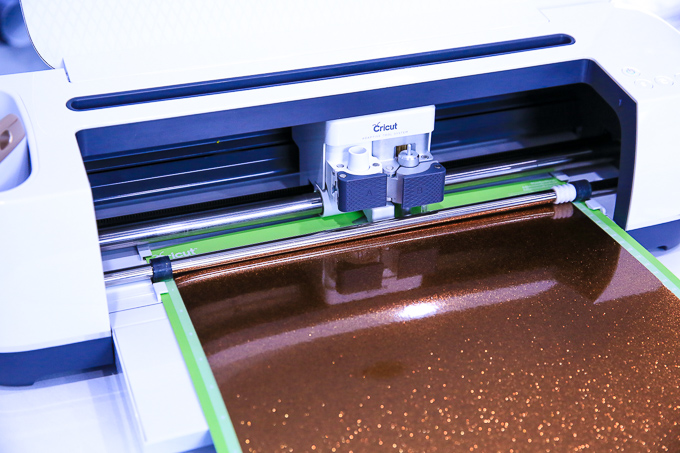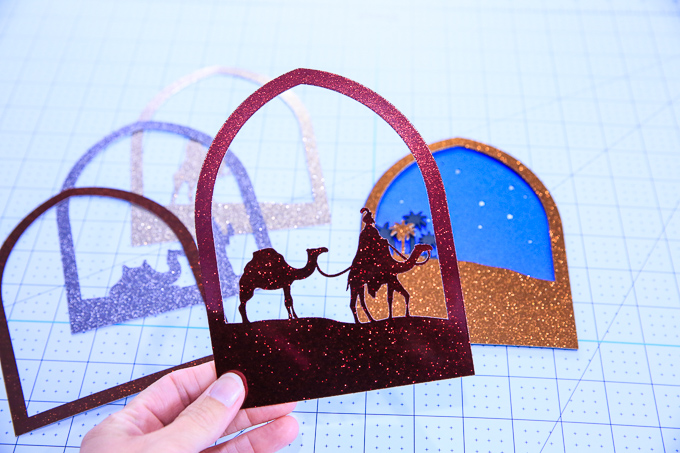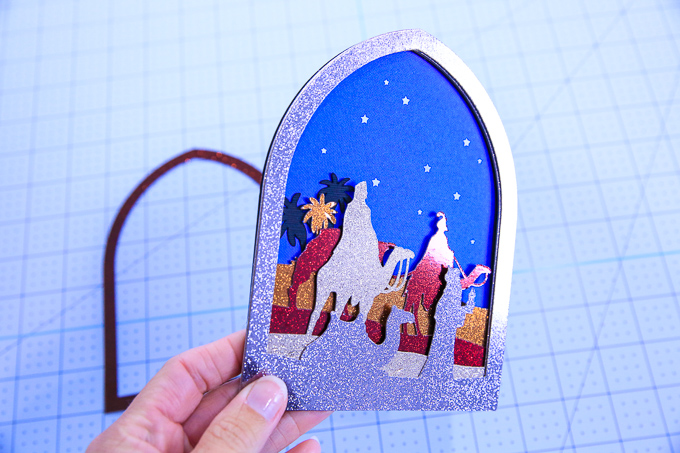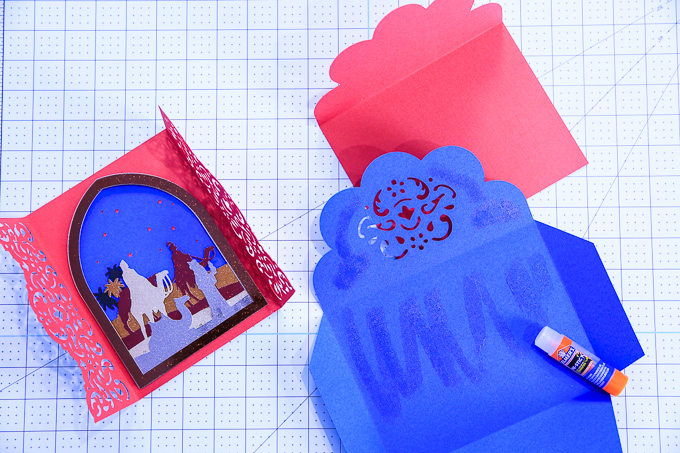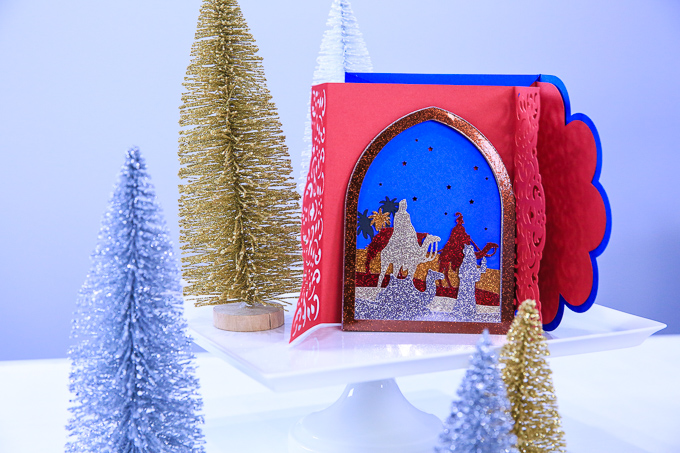 Handmade Christmas Card Turns Ornament
Handmade Christmas cards are the hallmark of gifts this time of year, at least in my opinion. In a world where everyone is busy, so very busy, those that take the time to love me so much that they give me a handmade gift, well that is something I will cherish.
This lovely religious Christmas card is the perfect example. It takes time to make, is amazingly pretty, and represents the reason for the season, Christ.
A handmade Christmas card like this will stay with my decorations year after year and make it's way to my tree or card stand. It's just too beautiful to throw away.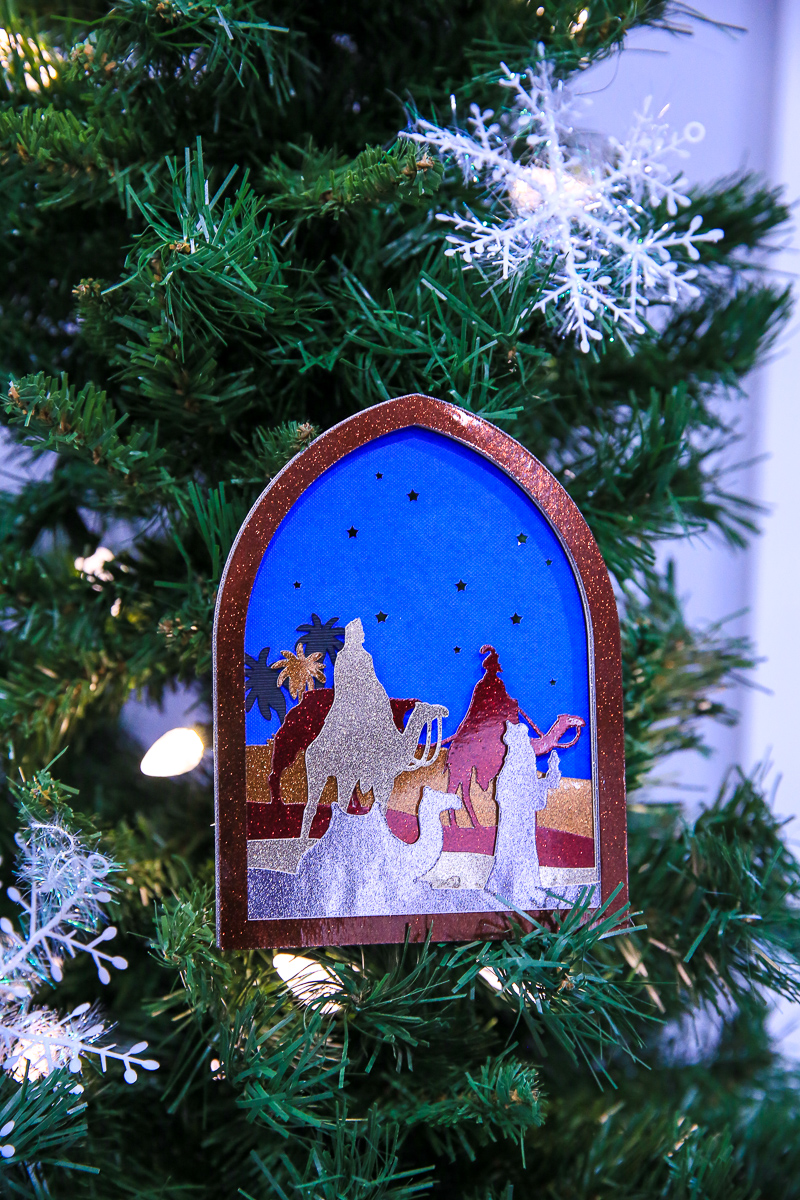 More Cricut Craft Ideas
As always, I hope you're inspired to craft, bake, create and celebrate!
INSTAGRAM | FACEBOOK | PINTEREST | GOOGLE+ | TWITTER | YOUTUBE | BLOGLOVIN
This post contains affiliate links, which means if you purchase something through this post I will earn a small fee from the retailer at absolutely no cost to you. They pay me for bringing you to them and I use it to keep the craft room stocked and the coffee pot working! Don't worry. All content, ideas, photography and opinions are that of my own and I'd have it no other way!
This is a sponsored conversation written by me on behalf of Cricut. The opinions and text are all mine.