Let's decorate a Farmhouse Hot Cocoa Bar with our Cricut Maker!
I think I told you that I built a modern-ish farmhouse last year? Well, I'm still decorating it. I'm actually not sure it will ever end. So now that Christmas time is here, I'm looking for farmhouse style decor to pull all my precious holiday decorations of old together with the new.
My Cricut Maker is taking all the pressure off because I can make just about anything I can dream up!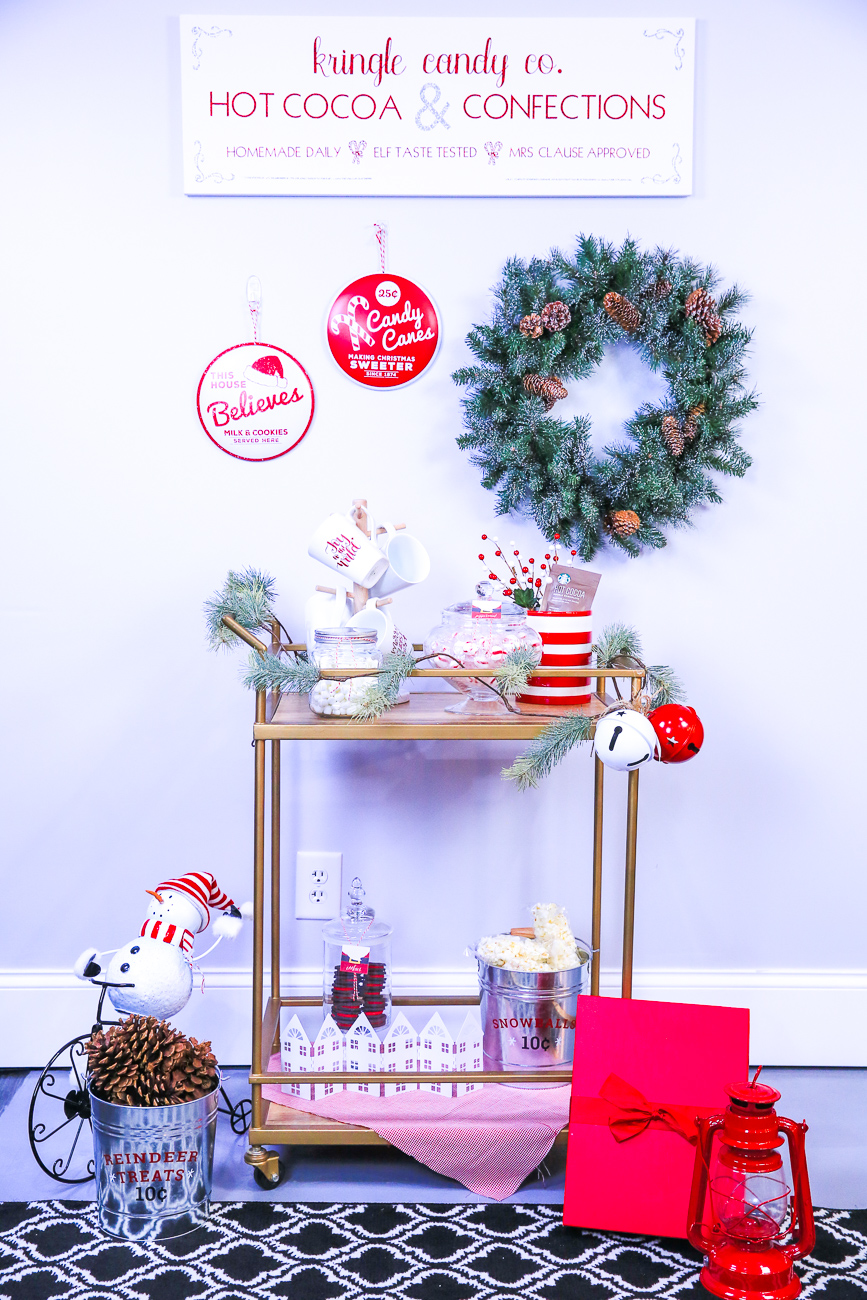 I made several things in this picture with my Cricut Maker, but my hands-down favorite is the Farmhouse Hot Cocoa Bar sign! Let me show you how to make it and you can use my free template!
Supplies For A Farmhouse Hot Cocoa Bar Sign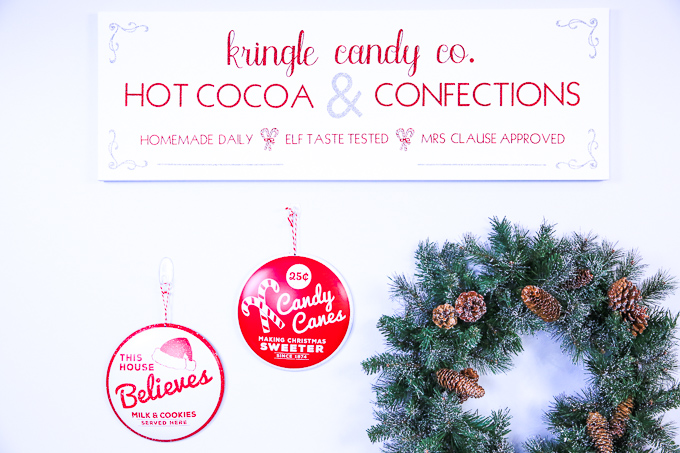 How To Make A Farmhouse Hot Cocoa Bar Sign
Design – Open my Cricut Design Space file and resize to your canvas. You'll notice I have a hidden rectangle. That is the size of my canvas. I don't cut it, but it helps me with space planning when I'm creating my designs in Design Space.
Mats – The lettering, at this size, will need to be cut on a 12×24 mat. If your red items come up on multiple mats, move them all to one mat to save your red glitter material!
Cut & Weed – Cut both the red and silver glitter. Weed the materials (using your Bright Pad if you have trouble seeing like I did!).
Place & Measure – Place all the elements on the canvas to get your space plan. I would start with the words "HOT COCOA" and "CONFECTIONS." Make sure they are the same distance from the ends and the top.
HeatPress – Heat press those two words in place, using a towel under the canvas so that it doesn't stretch under the weight of the EasyPress. Normally the pad is enough, but canvas has a wooden lip.
Repeat – Now that those words are in place, measure, center and heat press the remaining items!
Tip – I hung this canvas with two medium Command Strips.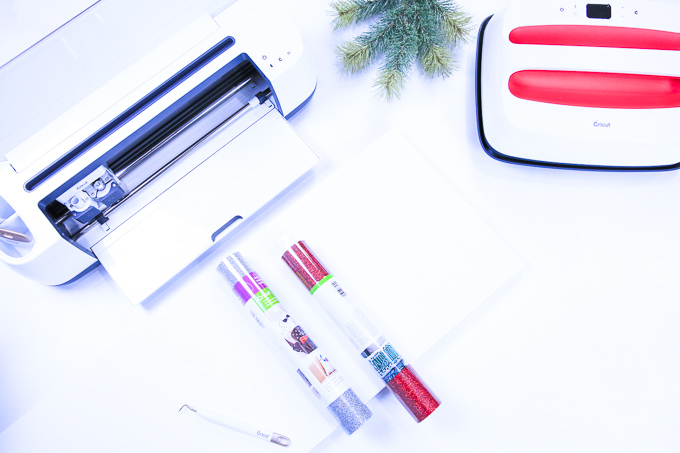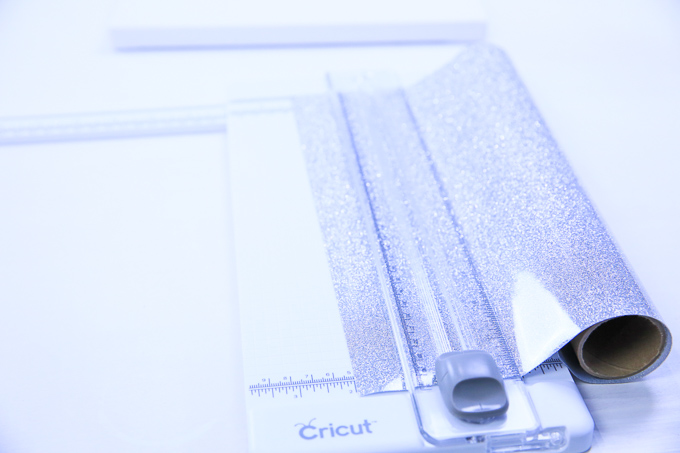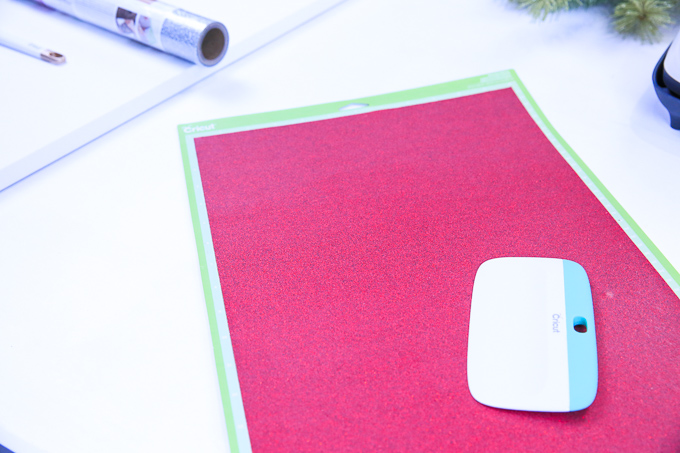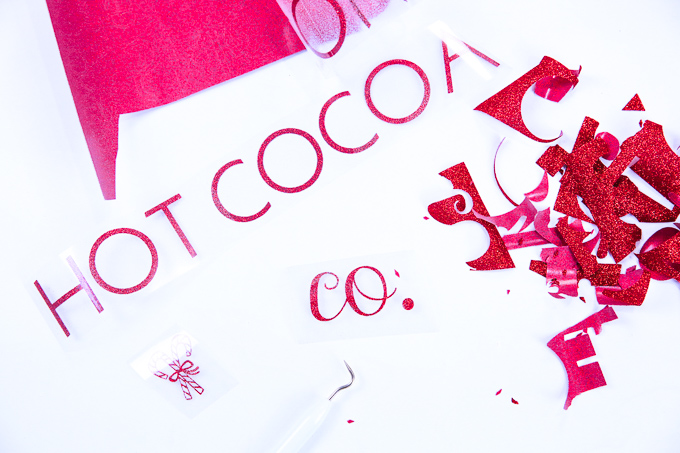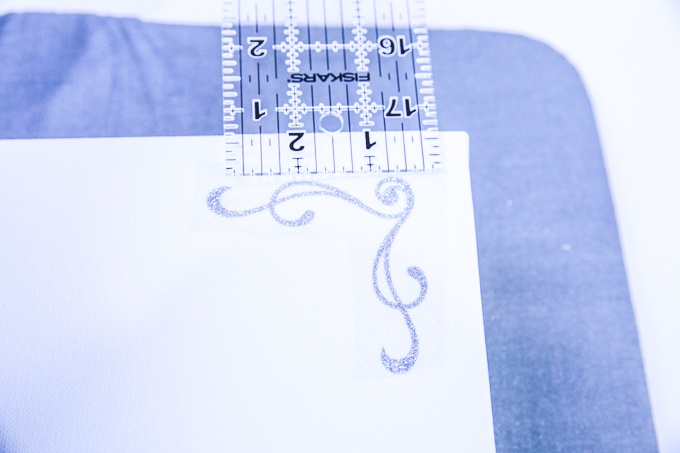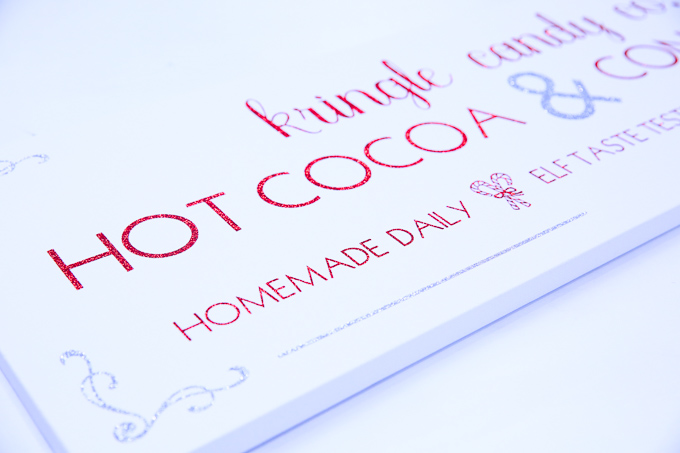 How To Set Up A Hot Cocoa Bar
Our Hot Cocoa Bar is filled from mid-November until New Years with all the ingredients to make yummy hot chocolate while we watch family movies, craft in the studio, celebrate and relax with friends or just sit alone and read a book. This little nook makes me oh so happy!
Hot Cocoa Bar Basics
I like to put all the traditional things like cute mugs, hot cocoa packets, marshmallows, and peppermint. On movie nights I add popcorn balls, cookies, and other treats to the second layer of the cart. I'm a huge sucker for family movie night!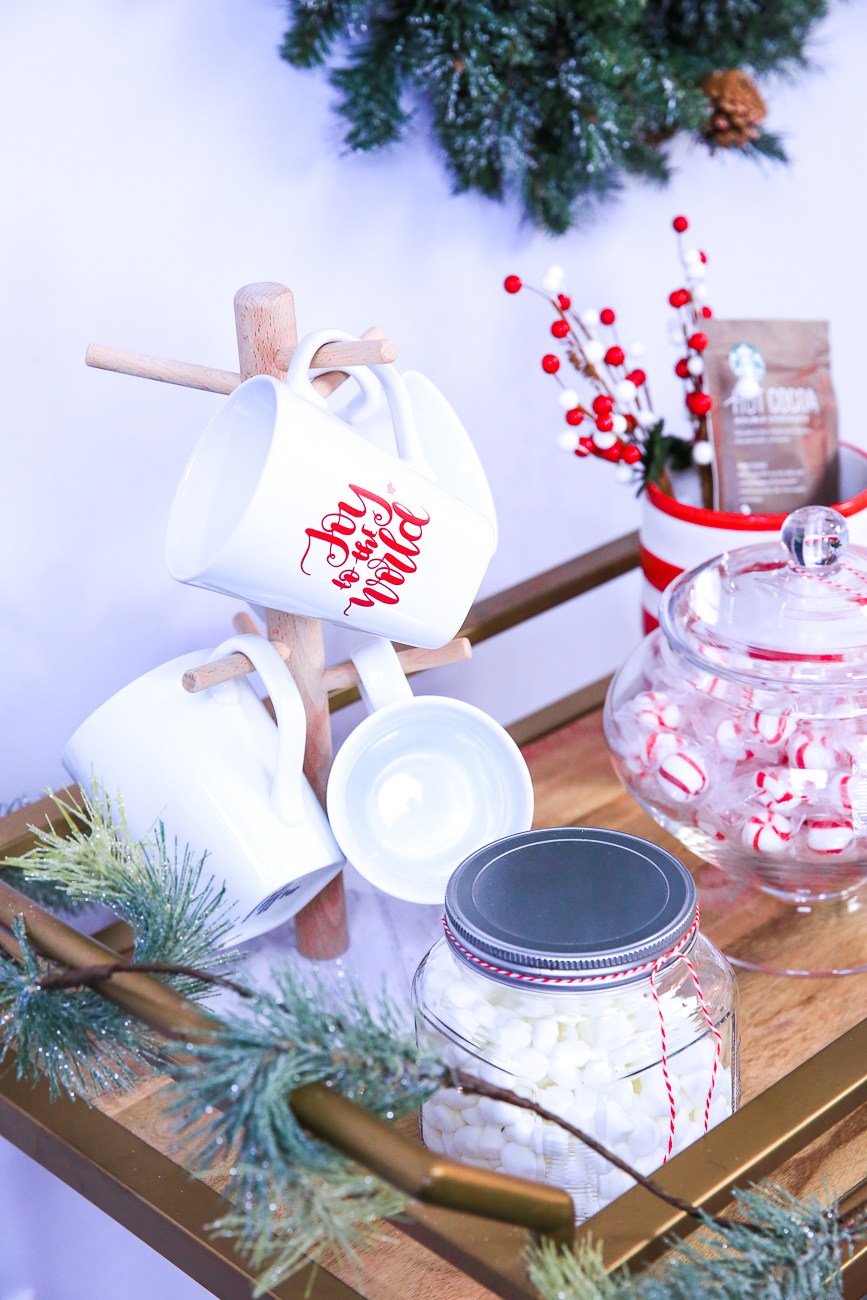 Beyond Treats – Make Print Then Cut Labels
I like to pretty up the space with little food tags, holiday specific mugs, pretty decor items. My goal is for it to look all whimsical and magical!
These darling little labels are also available in Design Space. You can print then cut these, or choose the blank label and write in your own! Now you can print them right from your phone and even save them to cut later when you have time!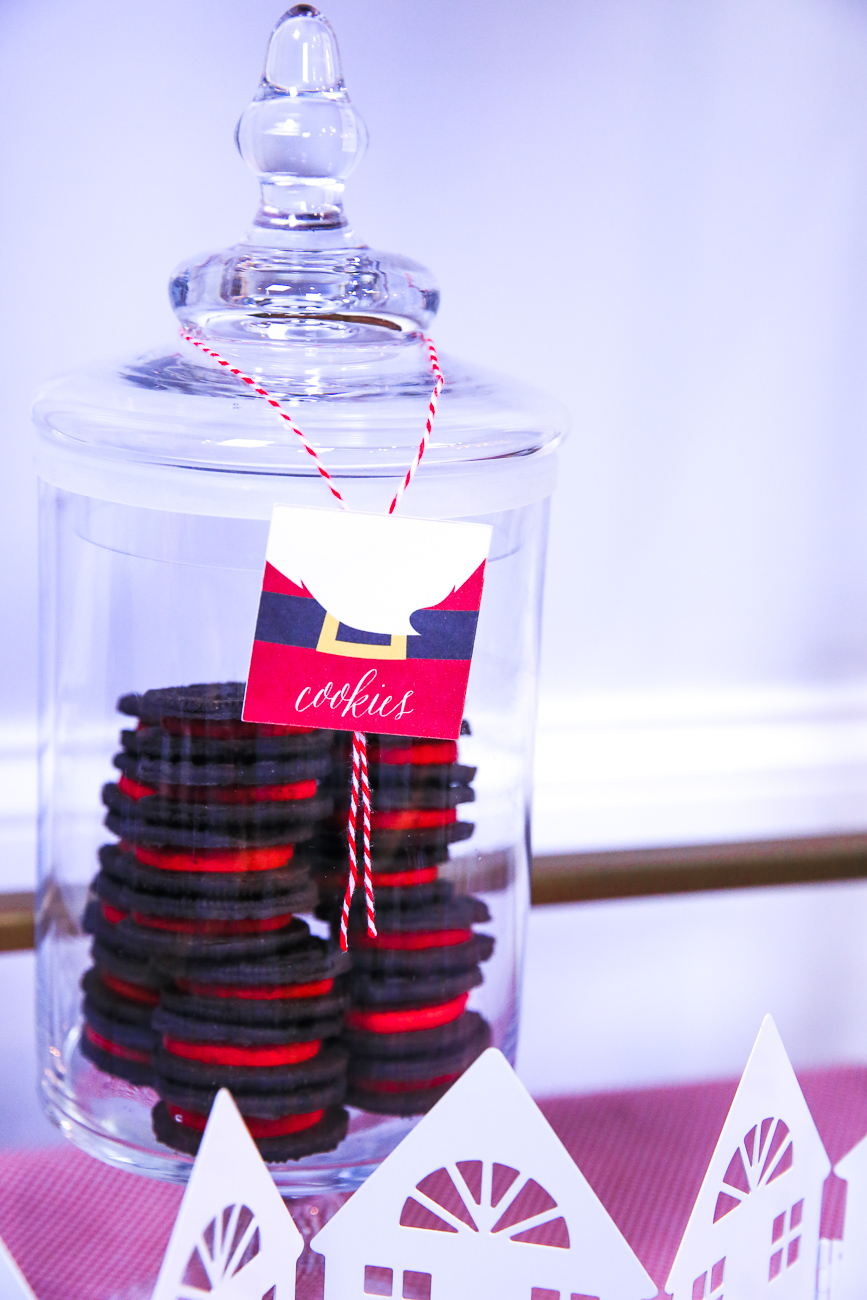 This might just be my favorite spot in the house right now! I hope you'll take the time to make a little spot in your kitchen, no matter how big or how small, to warmly invite family and guests to "warm up" in your home!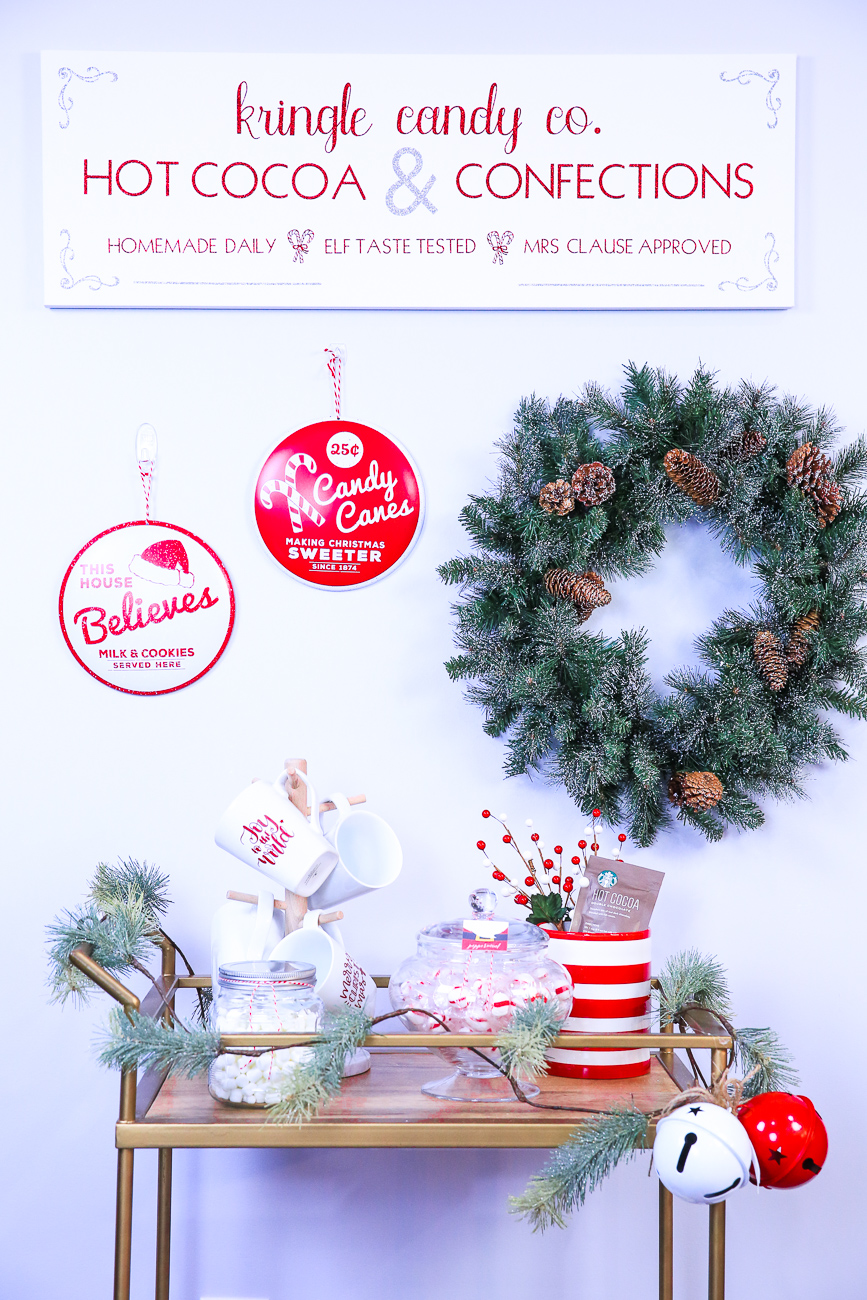 More Christmas Cricut Craft Ideas
Christmas Treat Ideas For Your Hot Cocoa Bar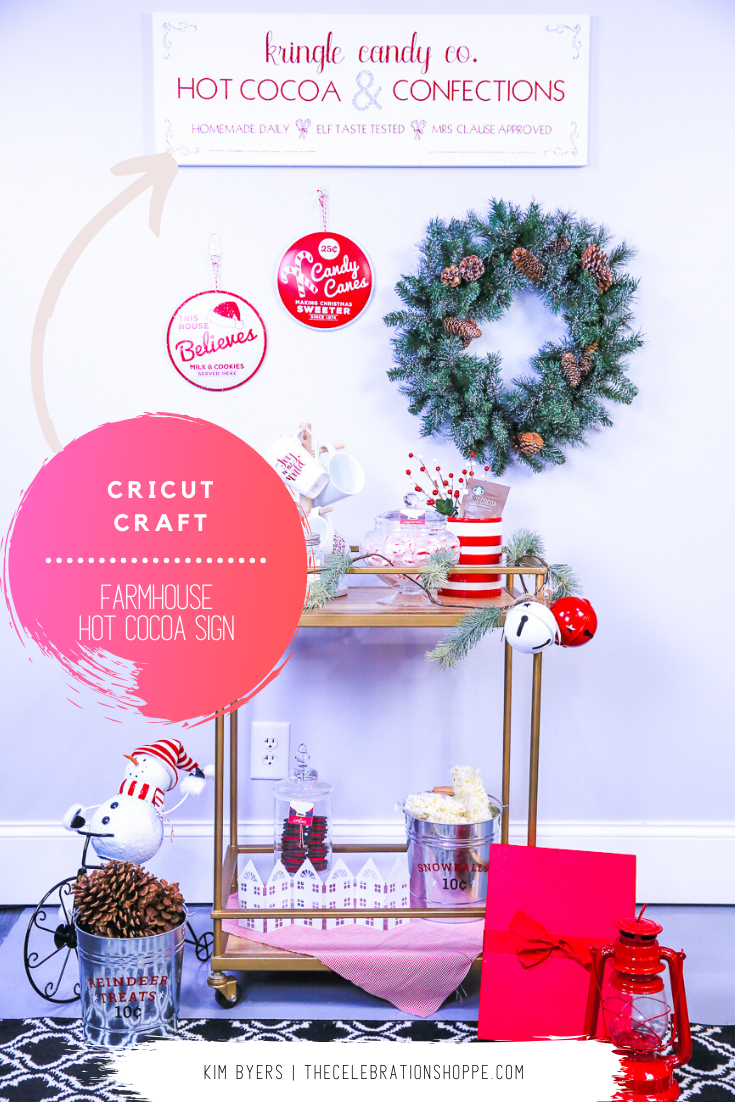 As always, I hope you're inspired to craft, bake, create and celebrate!
INSTAGRAM | FACEBOOK | PINTEREST | GOOGLE+ | TWITTER | YOUTUBE | BLOGLOVIN
This post contains affiliate links, which means if you purchase something through this post I will earn a small fee from the retailer at absolutely no cost to you. They pay me for bringing you to them and I use it to keep the craft room stocked and the coffee pot working! Don't worry. All content, ideas, photography and opinions are that of my own and I'd have it no other way!
Farmhouse Hot Cocoa Bar With Cricut seen first on The Celebration Shoppe.
This is a sponsored conversation written by me on behalf of Cricut. The opinions and text are all mine.