Let's make Thanksgiving Turkey Rice Krispie Treats with a few easy candies and a little imagination!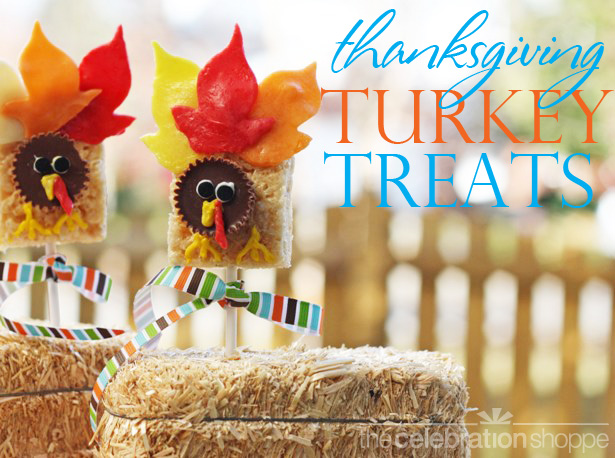 This weekend my boys and I made a test run of the Thanksgiving turkey treats that will grace our kid Thanksgiving table this year. We had so much fun.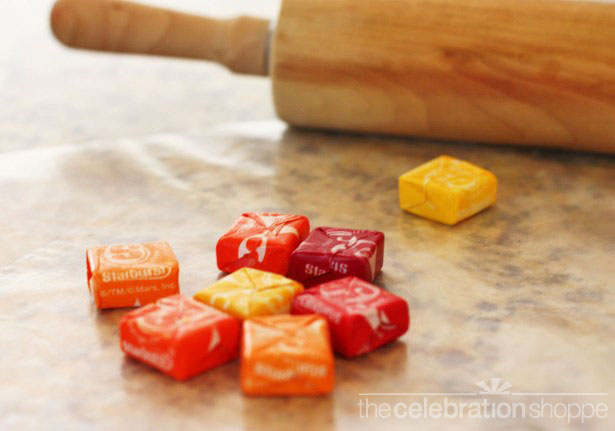 They're super simple to make. I have an entire box of Rice Krispies Treats left over from my oldest son's robot birthday party treats, so we started there. Next we rooted through our Halloween candy and came up with just the right color Starbursts and mini REESE'S cups.
Ingredients For Thanksgiving Turkey Rice Krispie Treats
Rice Krispies Treats (packages or from scratch)
Icing
Yellow Gel Food Coloring
Starburst
Small REESE'S Cups
Small Black Circle Sprinkles
Lollipop Sticks
Need to make them dairy-free? For my youngest son, with dairy and egg allergies, I'll make the Rice Krispies Treats from scratch using Smart Balance Original Light Butter, the Original Light part is important because some of the others have dairy, and substitute the REESE'S cup for another Starburst. And I always use Pillsbury white frosting.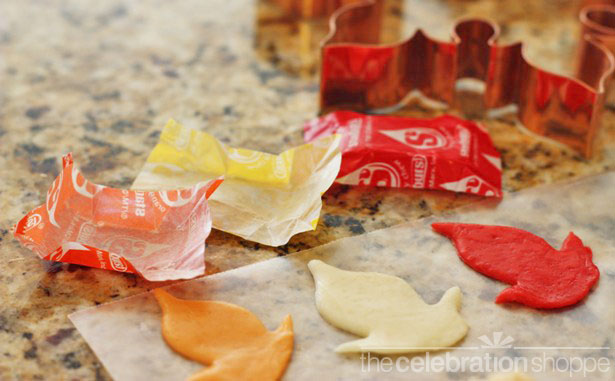 How To Make Thanksgiving Turkey Rice Krispie Treats
Insert a lollipop stick in your Rice Krispies Treats,
Attach your turkey's face (aka REESE'S cup) with a dot of icing,
Add two dots of icing and two black sprinkle dots (from my Halloween mix) for the eyes,
Pipe on a triangle for the beak and little feet,
Attach the Starburst feathers
Twist a small piece of the leftover Starburst to make the turkey's gobbler
TIP! Ever heated and molded Starbursts before?! You can make so many fun things in a ton of colors.
So first, heat each individual square in the microwave (on its wrapper) for eight seconds.
Lightly dampen (you don't want it wet because it will take the candy forever to dry) your wax paper and your roller with water so that the candy doesn't stick, then roll the candy out.
Cut shape by hand with a butter knife, or better, use a cookie cutter. I used a snowflake cookie cutter for these feathers!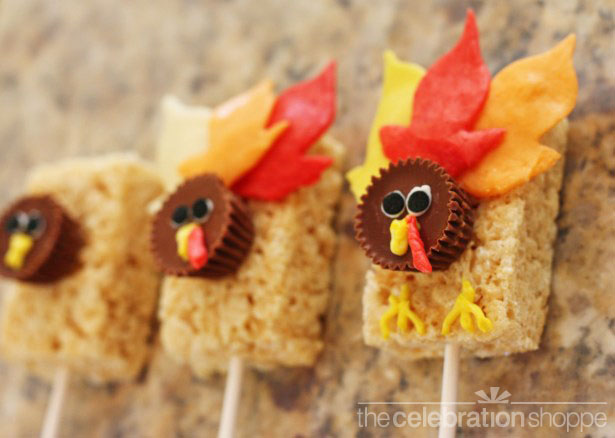 More Thanksgiving Treat Ideas
As always, I hope you're inspired to craft, bake, create and celebrate!
INSTAGRAM | FACEBOOK | PINTEREST | GOOGLE+ | TWITTER | YOUTUBE | BLOGLOVIN
Thanksgiving Turkey Rice Krispies Treats seen first on The Celebration Shoppe.