Let's get crafty and make some Thanksgiving Indian Corn Rice Krispies Treats! One of my favorite things about the holidays is all the fun food!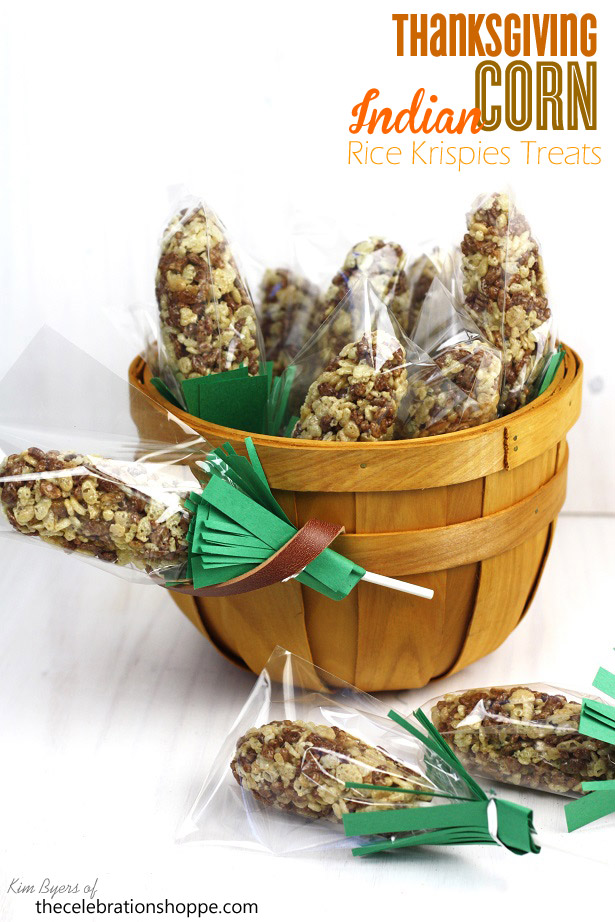 These are perfect for the Thanksgiving Kids Table or for those upcoming Thanksgiving class celebrations. I personally love to make my kids, and all their little friends, smile with special goodies. And as a busy mom, I also want and need them to be quick and simple.
These treats are just the normal Rice Krispie Treat recipe, but using traditional Rice Krispies and Cocoa Rice Krispies. I then molded them with my hands, let them cool and packaged them up really cute!
The kids were giddy over them at my boys class party this year. I looked like a rock star mom and they only took me a few extra minutes. It was worth all the "I want one more Mrs. Byers!" comments I got from the kids!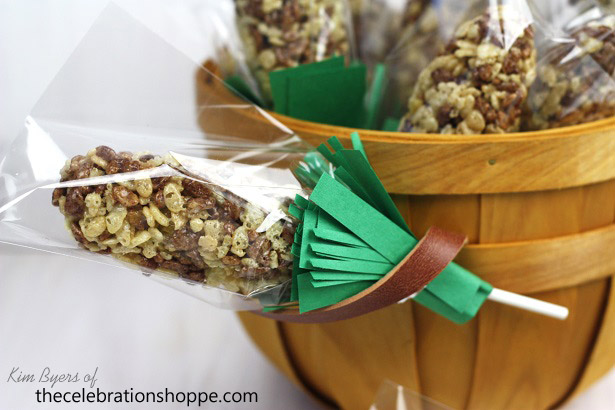 Ingredients For Thanksgiving Indian Corn Rice Krispies Treats
Rice Krispies
Cocoa Rice Krispies
Butter (Smart Balance Light for kiddos with food allergies)
Marshmallows
4″ cello goody bags
Lollipop sticks
Wax paper
Green construction paper
Scissors
How To Make Thanksgiving Indian Corn Rice Krispies Treats
Make Rice Krispies Treats using the directions on the box, but substitute Cocoa Krispies for half (3 cups) of the Rice Krispies the recipe calls for
Apply butter to your hands and mold "corn" onto the lollipop sticks
Allow to cool completely on wax paper
Package in cellos
Cut 3″ strips of construction paper and fringe
Twist the construction paper around the bottom of the cello and close the bag
Yields 20 Indian Corn Treats.


More Thanksgiving Treat Ideas
As always, I hope you're inspired to craft, bake, create and celebrate!
INSTAGRAM | FACEBOOK | PINTEREST | GOOGLE+ | TWITTER | YOUTUBE | BLOGLOVIN
Thanksgiving Fun Food – Indian Corn Rice Krispies Treats seen first on The Celebration Shoppe.