Let's make an Easter egg hunt Christian crafts tote for Easter Sunday! We all have the beautiful baskets, but this tote is for egg gathering!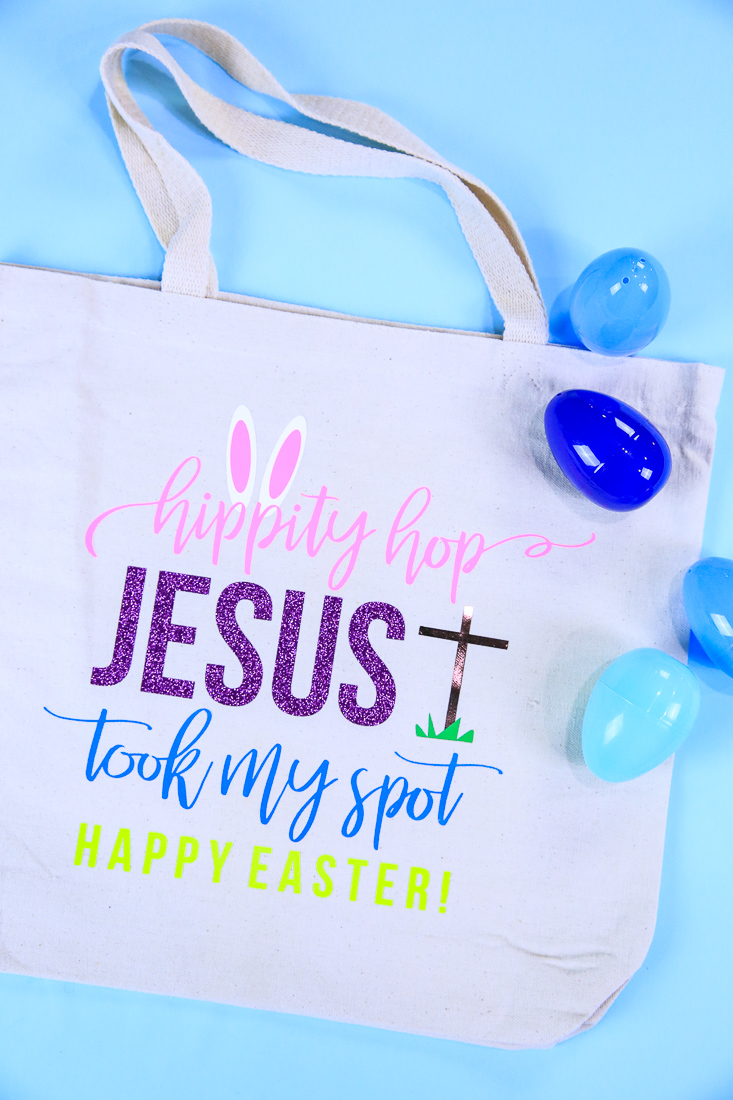 I love the Easter egg hunt, but I always hated the kids dumping their Easter baskets out. So this is my answer. Leave the baskets alone and grab a canvas tote for egg collecting! It will likely hold more candy and eggs anyway!
And I thought it would be wonderful to put a darling iron-on saying on the tote that reminds us all the Jesus gave his life for us. I came up with "Hippity Hop Jesus Took My Spot!" :)
What You'll Learn In This Video
In this video you'll learn several things in Design Space and then on the craft table. If you're a Cricut Maker beginner, start at the beginning, but if you know your way around Design Space, start at minute 12:00 in the video. That is when we go the the craft table! Overall, in this video, you'll learn how to:
Upload a cut file
Change layer colors
Ungroup
Attach
Measure your material and resize the design to fit
Space plan on the material
Stack and layer iron-on
Use EasyPress and change for temps based on materials
Supplies For Easter Egg Hunt Tote
Cricut Maker
Standard Mat
Canvas Bag
Everyday Iron-on (all others)
Glitter Iron-On (purple)
Foil Iron-On (bronze)
Weeding Tool
EasyPress
EasyPress Mat
Christian SVG, PNG, JPEG – Free For First Week To Email List and YouTube Subscribers!
Video – How To Make An Easter Egg Hunt Christian Crafts Tote
I share new videos every week on YouTube to help you learn how to use your Cricut! I'd love for you to come craft with me.
More Christian Crafts
More Easter Crafts
As always, I hope you're inspired to craft, create and celebrate!
INSTAGRAM | FACEBOOK | PINTEREST | TWITTER | YOUTUBE
INSTAGRAM | FACEBOOK | PINTEREST | TWITTER | YOUTUBE
This post contains affiliate links, which means if you purchase something through this post I will earn a small fee from the retailer at absolutely no cost to you. They pay me for bringing you to them and I use it to keep the craft room stocked and the coffee pot working! Don't worry. All content, ideas, photography and opinions are that of my own and I'd have it no other way!
Easter Egg Hunt Christian Crafts Tote With Cricut Maker – Video seen first on The Celebration Shoppe